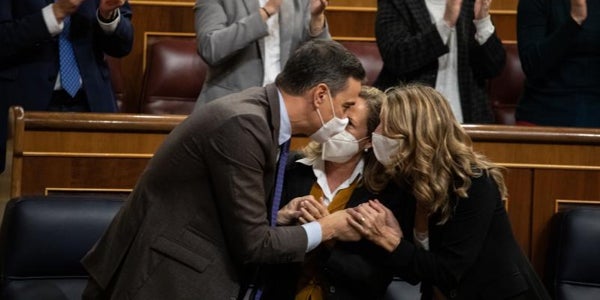 The magical powers of labor reform
Updated:
Keep

Upon knowing the employment data for January, the vice president Yolanda Diaz He expressed in a tweet: «We registered the best month of January in what has to do with the signing of new indefinite contracts of the entire historical series. A milestone in permanent contracts that shows the effects of RDL 32/2021 that contains the new labor legislation. Many people who know that the sections related to the decrease in temporary employment will only come into force on March 30, expressed surprise at the superpowers attributed to its regulations by Díaz.
This has provoked a debate about whether the effects on precariousness are already taking place or not. Some economists believe that it is the result of the impact
of the new sanctions against the concatenation of temporary contracts (up to 10,000 euros per worker), but this sanctioning regime also comes into force on March 30, as well as the star measure against precariousness, which is the end of the work contract and its replacement by the new mode of fixed-discontinuous. The cost savings that would be brought forward by hiring indefinite contracts would not be relevant either, because the contracts of the old regime that are signed in the first quarter of 2022 still have a maximum validity of six months.
The reality may be less 'epic', as the 'millennials'. In January, 238,672 people signed a permanent contract and it is the highest number in a month of January in the last decade. But already in November there were 282,981 undefined. And it is also true that we are emerging from a pandemic crisis that completely distorted the labor market and that, at the end of last year, the Labor and Social Security Inspection (ITSS) developed an intense campaign with letters to companies for conversions to indefinite. In fact, in October, the ITSS reported that it had achieved the conversion of 174,000 fraudulent temporary contracts into permanent ones so far in 2021.
That is to say, the concrete effects of the inspection sticks, which acts with the help of big data so that the letters reach companies that could be falling into irregularities almost surgically, would be much more important than the theoretical psychological carrots of labor legislation. . What is indisputable is that this entire debate is taking place in the midst of an intense propaganda campaign by the press that is addicted to the government. "Young people discover the indefinite contract: 'I feel much calmer'", headlined 'El País' last week and in the same vein notes could be seen on the main newscasts. The great reclassification of precarious employment will begin to be noticed from April, when the legal consequences are fully unfolded. Meanwhile, what there is is an excess of preconceived desires as a result of the crisis that has opened the approval of the reform in the coalition in power. [email protected]
Reference-www.abc.es