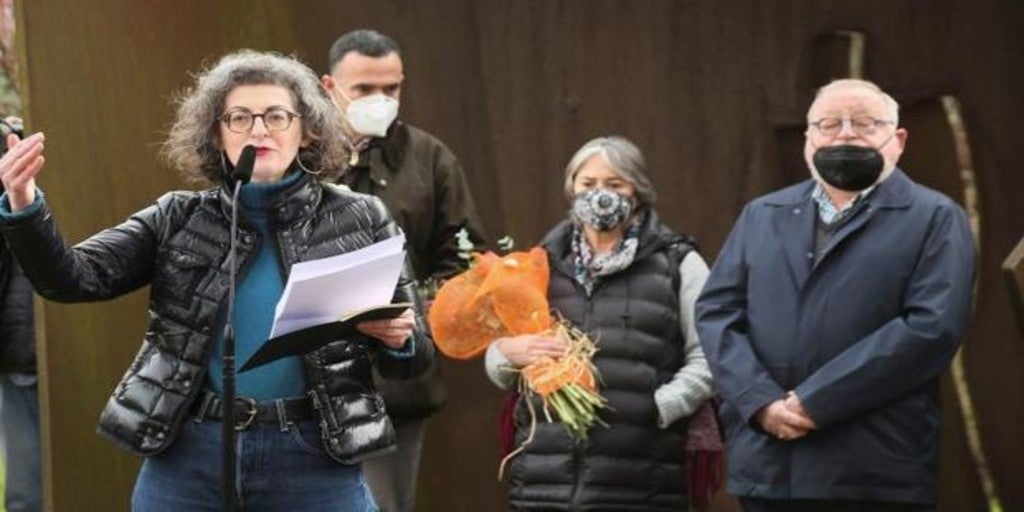 Pagazaurtundua (Cs) recalls that "ETA has not had its Nuremberg" and that "we all need it"
Updated:
Keep

Citizens MEP Maite Pagazaurtundua recalled, in homage to her brother Joseba Pagazaurtundua, assassinated by ETA 19 years ago, that the terrorist group "has not had its Nuremberg. And they need it and we all need it to leave behind once and for all twisting the strategies they keep using».
Pagazaurtundua's family has paid tribute to the former head of the local police of Andoain (Gipuzkoa) on the anniversary of his murder by the terrorist group next to the Andoain Town Hall, in the sculpture in his memory 'El abrazo de Joseba' by Agustín Ibarrola.
The meeting was attended, among others, by the president of the Basque PP, Carlos Iturgaiz, the president of the Gipuzkoa PP, Muriel Larrea, the president of the group of victims of terrorism Covite, Consuelo Ordóñez, the former leader of the UPyD Rosa Díez, and the family of the also assassinated by ETA Fernando Múgica, whose assassination marks the 26th anniversary of this Sunday, among others.
In fact one of his sons, the lawyer Rubén Múgica, has also intervened in the act, as well as the philosopher Fernando Savater. In his speech, Pagazaurtundua defended that publicly remembering his brother is "a way of pointing out reality: that he was killed by those who hated him for political intolerance, due to a phobia of our way of thinking and living" and that "by killing him they terrified many more people". "The murders are the tip of the iceberg of terror," he stressed.
In this sense, he has denounced that "now they do not kill but their leaders, those who handled the killing game, unscrupulous politicians like Arnaldo Otegi, put all their energy into hiding their responsibility." "In hiding the profound meaning of meticulously timed, merciless, systematic persecution, of decades", has influenced.
Pagazaurtundua has argued that "their stubbornness is toxic for them and for Basque society." In this context, he has opined that "every time it seems that they take a step that includes the victims they provoked, it is discovered that there is a trick: to get the prisoners out before they serve their sentence, or to get them out without collaboration with Justice". «They don't condemn the past of persecuting others to impose themselves", he underlined, to later stress that "they hide something terrible", that "they amassed hate to create, year after year, new groups of murderers" and "they do not respect the victims they provoked".
But, in his opinion, "that is what society can change, for them and for everyone." After stating that "humiliating for millions of citizens who cannot believe that buying an imposed respectability is so easy", Pagazaurtundua has defended that "it is time to claim the ethical minimums that have not yet been met".
Thus, he has affirmed that "abandoning the tricks to avoid the trials of the ETA leaders, abandoning the tricks to achieve some kind of judicial or social impunity would be proof that they respect the victims they provoked" and has denounced that "buying their game and pat ourselves on the back was and is unhealthy for democracy.
In this context, he has asked citizens to act "in their environment against tricks and propaganda, however sweetened it may be" and that "demand conviction and justice. And let that truth that they hide be made patent.
"We deserve nothing less than justice and respect"
The MEP has launched some questions to the general coordinator of EH Bildu, Arnaldo Otegi, such as "how many tens of thousands of meetings, in thousands of places, with tens of thousands of pages of minutes were necessary to perfect the horror system».
He has also questioned him about "how many hours he spent, himself, synthesizing slogans so that thousands of liberated prisoners and tens of thousands of sympathizers, collaborators necessary to apply the system of terror, could learn them by heart" and about "how many hundreds of campaigns they approved to transmit hate speech effectively, in addition to camps and so many other techniques, to knead the minds of children and that some of them became murderers».
On the other hand, he lamented that "the crime against humanity was introduced very late in the Spanish Penal Code, as well as the imprescriptibility of terrorist crimes resulting in death." "The latter was approved in 2015," he recalled, and also that "the first trial of ETA leaders for crimes against humanity is pending: against Garikoitz Aspiazu, against Mikel Carrera, against Aitzol Iriondo and against Josu Urrutikoetxea."
"A television series could be made about the enormous use of resources to avoid this trial that we all need," he said. For Pagazaurtundua, "there are no words that serve to cover up the need for these trials to be held to publicize the terror and persecution industry, because the kids don't know it" and because "they see posters of prisoners for terrorism as if they were heroes".
In addition, he has stressed that "we deserve no less than justice and respect" and that "the wounds should not be opened with their new tricks, so twisted, in each layer of whitewashing, or of impunity, with a background so disrespectful ».
Finally, he has argued that "it is not true that it depends on each story whether the damage caused by ETA was unjust or not" and "the almost 400 murdered without justice, the wounded, those who died of grief, the extorted ask for justice". "Justice and condemnation of the past must be the first priorities of this post-terrorism phase", as well as "the collaboration with justice It must be a priority for those who were responsible for the persecution", he concluded.
Criticism of the PSOE for its "alliances"
For his part, Múgica has criticized the fact that the PSOE, "involved in the hackneyed peace", intend to "normalize alliances with those who celebrated and applauded the murders, and they only shrug their shoulders when gunmen like David Pla join the management of that landfill called Sortu».
«The cancer of inanity spread without control, and the Spanish organic left already exhibitsalliances that support even the government of the nation", he has censored, to stress that the central government "manages texts with which to reduce the sentences served by terrorists". For this reason, he has maintained that it must be "the barrier that puts an end to the intrigues of the Prime Minister, Pedro Sánchez, with the courtship of criminals, and denounce any attempt to favor the murderers.
Savater, for his part, has stressed the "responsibility of the xenophobic Basque separatist ideology" in the crimes of ETA and has called for "the abandonment of the criminogenic ideas of separatism criminal» that defends the «rupture» with the rest of the Spanish State and that «has led to ETA and its crimes».
Lastly, he has maintained that believing that there is "some progressivism" in ETA's crime and terrorism, as well as in those "ideas that have led to it, is an aberration" and, therefore, it is necessary to seek the "denounce public" of that "ideology that has led to crime".
Reference-www.abc.es