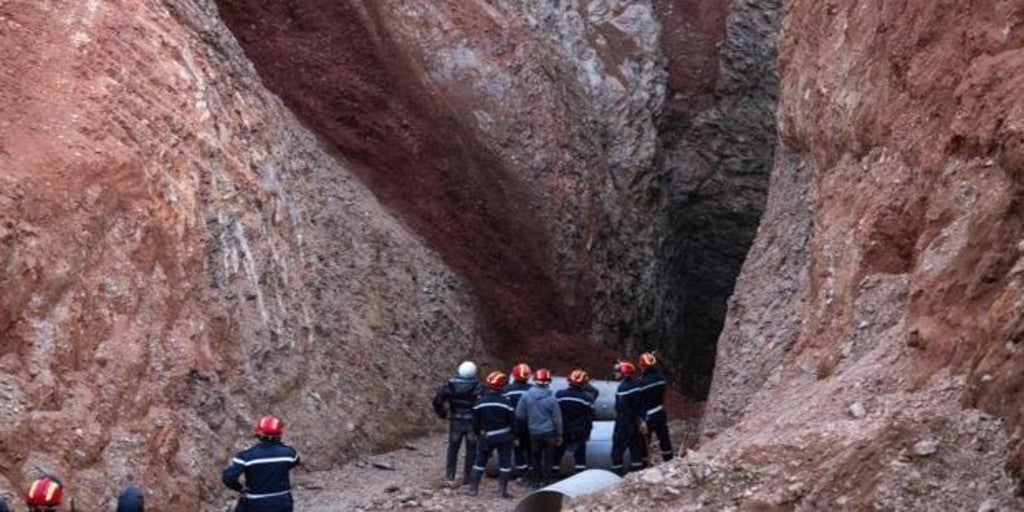 Decisive phase in the rescue of the boy Rayan: the teams manage to overcome a rock and approach the little boy
Updated:
Keep

The outcome of the rescue of the boy Rayan, 5 years old, trapped in a well of Morocco 32 meters deep since last Tuesday, is approaching. The technical team that works to try to free the minor They have managed this Saturday to overcome a rock that was on the road and continue the drilling of one last horizontal tunnel, the one that should give them access to Rayan. According to the Moroccan newspaper 'Le360', drilling work is over and now rescuers are preparing to pull the little one out.
The works have been delayed by a rock, which has been reduced to rubble after three hours of work, reports the Moroccan news agency MAP. Drilling has been done by hand and with machinery light electric to guarantee the safety of the technicians, who have worked continuously during the night from Friday to Saturday.
The new dug well has been reinforced with metal pipes and concrete and Civil Protection sensors and measurement equipment are being used.
Five-year-old Rayan fell last Tuesday into a 32-meter open and unfenced well near his family's home in the municipality of Tamorot, in the province of Chefchaouen, in northern Morocco.
After a first failed attempt rescue through the well through which the child fell, it has been decided to drill a parallel well and then access the place where the child is. On Friday it was reported that the camera introduced into the well detected movement, so it is believed that Rayan is still alive.
"I keep the hope that my son will come out of that well alive," he declared on Friday night the father of Ryan. "I thank all the mobilized people and those who support us in Morocco and other places," said the father in statements to public television 2M, collected by Agence France Press (Afp).
Reference-www.abc.es