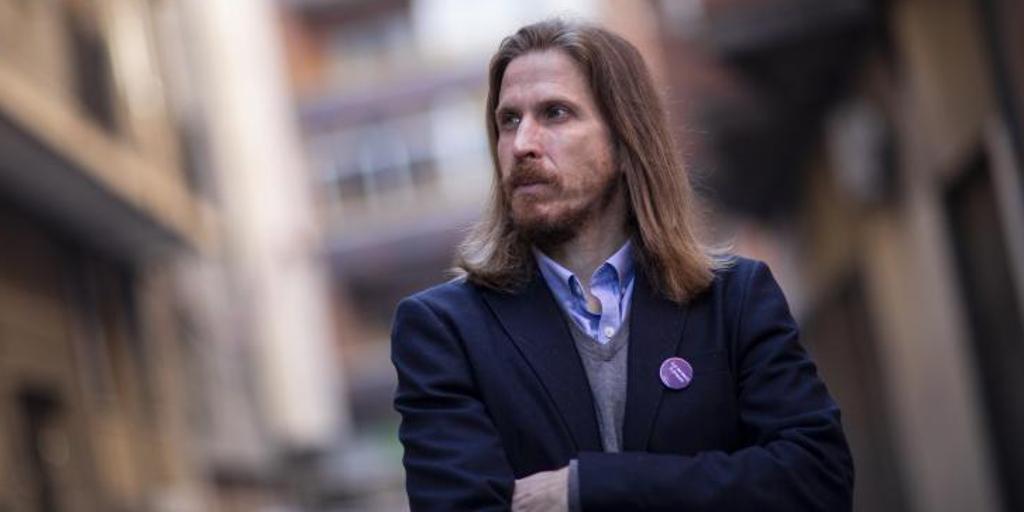 "Many times the PSOE takes one step to the left and two to the right"
Valladolid
Updated:
Keep

After going from ten to two prosecutors and finding themselves within the Mixed Group in the Cortes of Castilla y León last legislature, in the next elections on February 13, United We Canwith their leader Paul Fernandez -number 1 for Valladolid, which in the previous elections obtained its seat after a recount of the votes in León-, at the head, struggles to stay in Parliament and not fade completely in the Community. On this occasion, they come from the hand of Izquierda Unida and Alianza Verde and other civil society actors. A union with which they hope to improve results, achieve a progressive coalition government and unseat the PP.
– 'Let your voice be heard' is the motto of your campaign to convince the voter, but how to do it in a land where the majority resists the left?
-Because we believe that after 35 years of PP translated into depopulation, corruption, deterioration of public services, precariousness and exile, the Castilian and Leonese citizens are already tired of the same policies, fed up with having to emigrate and leave. We want to bring the voice of those thousands of people who want strong public services, quality employment, boosting the self-employed, caring for the elderly and opportunities for young people,…
-What quantitative objective is set?
-Our objective is to evict the PP from the government, substantially change the policies carried out in this community in the last 35 years and radically transform Castilla y León, in the sense of going to the root of the problems that this land has and providing solutions. in order to revitalize this community.
-And as for the number of attorneys?
-The objective is to be decisive in that change of government that gives a Copernican turn to the policies developed in this land. It is difficult to set a number of seats.
-You assured that the coalition of Castilla y León would be the "first step" of Yolanda Díaz's project, but from the team of the second vice president of the Government they spoke with you because they did not like that you convey that idea, since they have wanted to put aside their future brand of this campaign. What did they tell him?
-Perhaps I did not express myself in the most appropriate way. What I wanted to say is that in Castilla y León we had followed Yolanda Díaz's philosophy of expanding the political space and creating a space that transcended Podemos and brought together other forces, as well as adding agents and actors from civil society. But it is true that this is one thing and another is the project headed by Yolanda Díaz, which I am sure will culminate with her as Prime Minister.
-The exposure of the vice president is being minimal. It remains unconfirmed in which act it will be and avoids making allusions to this campaign on the networks. Do you understand why you are doing it or would you like more presence?
-It has been totally focused on labor reform. I am sure that once it is approved, we will be able to fit in with his agenda and he will come to Castilla y León to campaign.
-Is the controversy surrounding Minister Garzón's statements about meat going to give or take votes away from Podemos?
-In my opinion there was no controversy, but rather an interested hoax spread by the macro-farm industries and also, among others, by Mr. Mañueco. From there, Garzón's statements are words backed by science, endorsed by the Government of Spain and corroborated by the 2030 Agenda and by the WHO. What he said is a common sense thing. From then on, this coherent position will favor us in Castilla y León.
-The leader of the PSOE in Castilla y León, Luis Tudanca, assured that Garzón was better off keeping quiet….
-It is an error on the part of the PSOE to have bought the hoax on the right. The Socialist Party on too many occasions takes a step to the left and two to the right in order to want to obtain electoral revenue.
-In a campaign in which the rural and depopulation is very present, do you think that the parties of the Emptied Spain are going to turn the board of majorities and pacts upside down?
-They are going to be an important force and I think that they are going to alter the current panorama in the hemicycle. But, it is necessary to differentiate between those that have a long history, like Soria ¡Ya!, from that of Valladolid, which I call 'Cs in B', which is made up of 18 former positions of that party and has arisen from opportunism.
-Will these parties remove votes from the left, the right or both?
-The truth is that I do not know. I have no answer.
-The most optimistic forecasts would indicate that for the left to govern they would have to join a series of parties, beyond Podemos and PSOE. Is that how you imagine it?
-I think it is possible and feasible for there to be a progressive majority and, if the numbers add up, we would have to talk to other forces, surely some of them from the emptied Spain.
-The truth is that the polls point to a victory for the PP.
-I want the right not to govern, I think the polls can be wrong and I see a lot of nervousness in Mañueco and in the PP.
-But is a PP-Vox coalition government an option that does not seem very far away?
-That there were advisers from Vox would be the worst scenario, without a doubt. It would produce an enormous involution in rights and freedoms.
Reference-www.abc.es