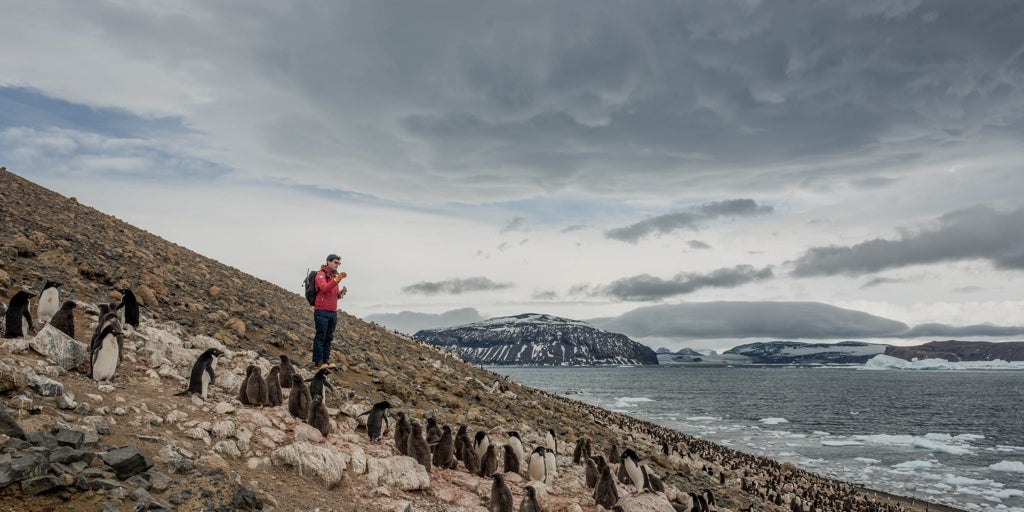 'Climate haven' in remote Weddell Sea
Madrid
Updated:
Keep

During the month of January, Greenpeace carried out an Antarctic expedition with scientists aboard Stony Brook University (New York, USA) in which they have discovered that vast colonies of Adélie penguins have remained stable for the last decade in the remote Weddell Sea. This provides a new real evidence that these areas are a climatic refuge for Adelaide penguins, considered a sentinel species.
The Adelaide colonies at Penguin Point, Devil Island, and Vortex Island are roughly similar in population size to when they were last sampled. Scientists counted 21,500 Adelaide chicks at Penguin Point, 11,978 at Devil Island, and 6,397 hatchlings at Vortex Island.
All were last studied before 2010. These findings provide important support for the theory that the Weddell Sea can provide an important refuge for biodiversity from the worst impacts of the climate crisis. The Weddell Sea is the marine space where a large Marine Protected Area (AMP) was proposed for the first time almost a decade ago by the Southern Ocean Commission (CCAMLR), which has not yet been approved by the Commission.
The data collected reinforces the urgent need to protect and preserve the Weddell Sea while maintaining an intact and fully functioning structural ecosystem. A Global Ocean Treaty would allow for a voting procedure to ensure that one or two countries do not block protection proposals that are supported by a large majority of countries as has happened in CCAMLR.
"It is amazing to see places in Antarctica that are still protected from the worst impacts of the climate crisis. Governments need to protect this area now. Last year, they failed once again to give the Weddell Sea the protection it needs, a decade after promising its protection. We urge you to act before it is too late," said Louisa Casson, campaign manager from the Arctic Sunrise in the Weddell Sea.
Again in October 2021, CCAMLR allowed fishing exploitation to set its agenda. Currently, only 5% of Antarctic waters are protected, despite a commitment by the Commission to have a representative network of marine protected areas completed by 2012.
Last week, Stony Brook scientists aboard the Arctic Sunrise discovered a new gentoo penguin breeding colony on Andersson Island. This discovery provides clues that the ecosystem at the outer edge of the Weddell Sea is changing, though in ways that do not appear to have negatively impacted the Adélie penguins, who have called this region home for centuries.
"The Weddell Sea is hardly immune to climate change, but it appears that the Adélie penguins that breed in this area remain protected from the worst of the threats facing those rapidly declining populations on the western side of the peninsula. Antarctica, where temperatures are rising. Our understanding of the ecology of this inhospitable landscape continues to grow every year, but everything we learn points to its conservation value." Dr. Heather J. Lynch, Professor of Ecology and Evolution at Stony Brook University, one of the expedition leaders.
Climate refuges for wildlife offer hope and Greenpeace warns that the most destructive industries must not be allowed to approach these areas. Governments must act to protect Antarctica and the oceans before it is too late. Ministers are currently ignoring calls from scientists to protect at least a third of the world's oceans by 2030, and time is running out. The oceans need protection: this has to be the year that governments create Antarctic ocean sanctuaries and agree to a Global Ocean Treaty.
Reference-www.abc.es