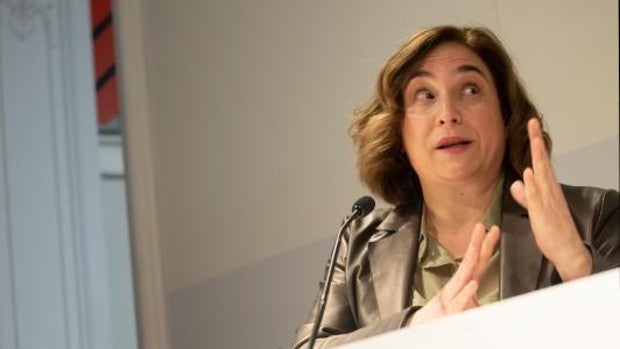 Colau violated the City Council's Code of Ethics by finger-hitting the partner of a councilor
Barcelona
Updated:
Keep

Call of attention to Ada Colau, once again, for her favorable treatment with like-minded people. The Ethics Committee of the Barcelona City Council considers that the municipal government breached the Code of Ethics and Conduct by directly appointing Alicia Ramos, then the partner of Councilor Lucía Martín, as municipal advisor in her area in September 2020.
The municipal group of Cs presented a letter in September 2020 questioning this hiring and received the resolution to its consultation at the end of last week, in which it is clear that the Ethics Committee considers the appointment of Ramos "an damage to the prestige and public image of the institution«.
In addition, the resolution, to which ABC has had access, asks the mayor not to repeat more "cases of real or potential conflict of interest in the appointment of temporary positions."
«It is a fact that there has been the appointment of a person who was a partner at the time of the councilor assigned to the same Mayor's Office where said person had to be incorporated and, therefore, that the case could be dealt with at first glance as a conflict of interest, something reprehensible according to the aforementioned regulations", the resolution points out. The text also adds that »no reason or document« was presented to prove their signing and that both involved belong to the same party, Barcelona en Comú.
«Institutionalized modus operandi»
Ramos was appointed in September 2020 by Colau as an advisor to the Fourth Deputy Mayor's Office, the same one in which Martín works (as Councilor for Housing and Rehabilitation) with a full-time and salary regime. Shortly after, the municipal group of Cs took the case to the Ethics Committee lamenting "the institutionalized modus operandi in the City Council consisting of appointing people with family or affective relationships as temporary trusted personnel", as Luz Guilarte, its municipal leader, explained. From the orange formation they remember at least two other cases of hiring related parties.
The Code of Ethics and Conduct of the City Council establishes that there is a conflict of interest when there are personal interests, such as family members, including those of the spouse or person with whom they live in a similar emotional relationship«. In these cases, ask "Refrain from participating in appointments" to avoid these potential conflicts of interest.
Reference-www.abc.es