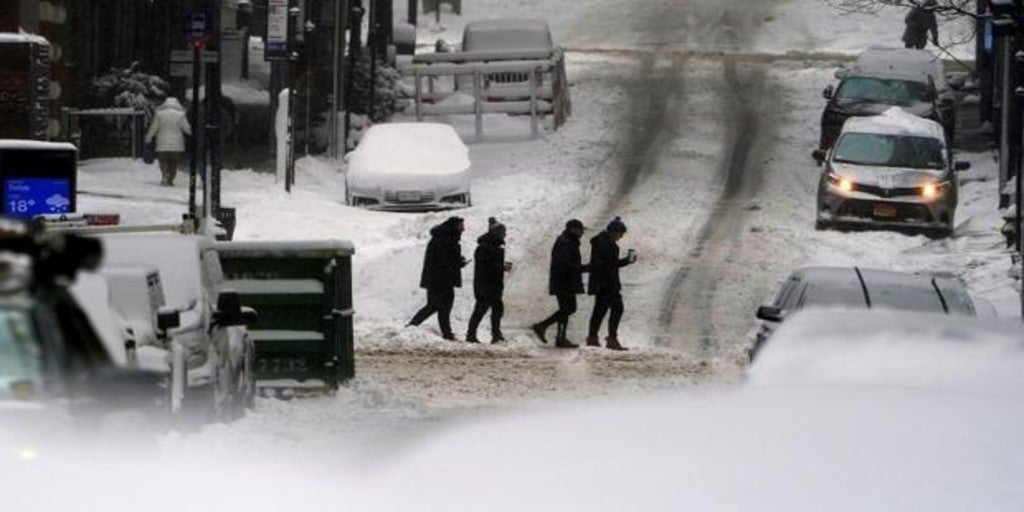 More than 120,000 people are left without power in the US due to the intense snow storm on the East Coast
Updated:
Keep

More than 120,000 people have stayed this Saturday Without eleectricity due to an intense winter storm that hits the east coast of the United States and has caused the cancellation of more than 3,500 flights in the North American country.
"Hold in for 24 hours, and sometime tomorrow, you'll be able to go back out and resume some of your normal activities," Rhode Island Acting Director of Emergency Management Tom Guthlein advised the population on Saturday. picks up the chain CNN.
In addition to the 120,000 people who have lost power due to the winter storm on the East Coast, there have been scattered blackouts in other northeastern states, such as New York, where more than 600 people have lost power.
They have registered gusts of wind that have exceeded 97 kilometers per hour in parts of the New England region and heavy snow has also occurred from Rhode Island to North Carolina. In the city of Bayville, New Jersey, the storm has left 19 inches of snow, a record similar to the one that has fallen in New York.
The winter storm has caused the declaration of the state of emergency in several states, as in Maryland, Massachusetts, New Jersey, New York, and Rhode Island.
These weather conditions are expected to persist as the storm moves across Maine, with snow levels estimated to reach 1.1 to 1.5 centimeters per hour in some areas, particularly along the coast and in the Downeast Maine and during the day the storm will disperse, as reported by CNN.
Nearly 19 million people were under a winter weather watch in six states Saturday night, from southern New York to Maine, including New York City and Boston. Blizzard conditions are possible through early Sunday from eastern Massachusetts to eastern Maine, the National Weather Service said.
More than 3,500 flights have been canceled in the United States from 9:00 a.m. (local time) this Saturday, with the cities on the east coast being the most affected, according to FlightAware.
The storm has caused the widespread cancellation of flights and New York's LaGuardia airport has announced that 98 percent of the flights scheduled for this Saturday have been canceled.
For its part, New York's JFK International Airport has canceled 80 percent of flights, while neighboring New Jersey's Newark Liberty Airport has canceled 90 percent.
Likewise, Boston's Logan International Airport has canceled 91 percent of all flights, according to tracker FlightAware.
The storm will affect 75 million people this Sunday from the southeast to New England, where dangerously heavy snowfall and winds approaching hurricane intensity will occur, CNN has reported.
"This storm is likely to strengthen at a rate and intensity equivalent to the most powerful hurricanes, so the high-level potential of this storm cannot be underestimated," CNN meteorologist Brandon Miller warned. .
Reference-www.abc.es