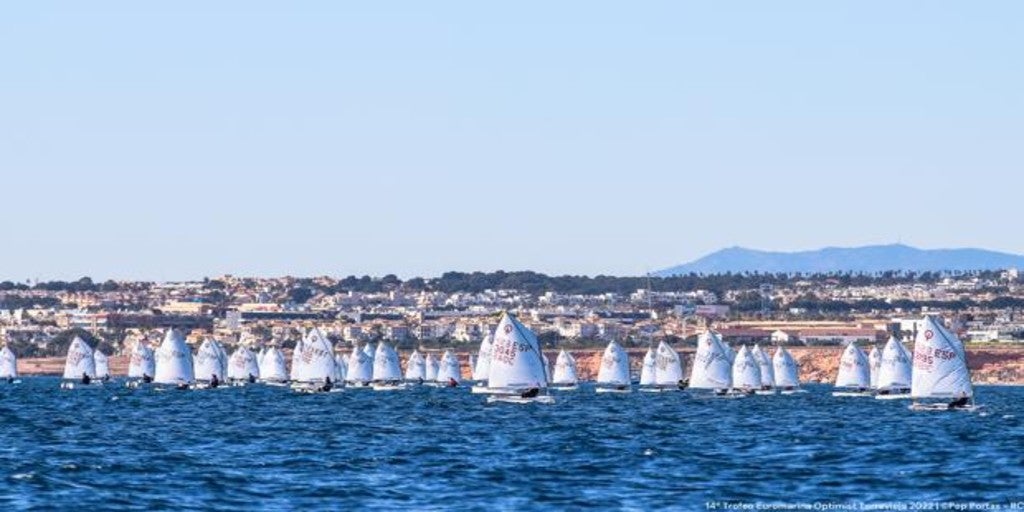 Weka Bhanubandh, virtual champion of the Euromarina Optimist Torrevieja Trophy
Torrevieja (Alicante)
Updated:
Keep

The Thai Weka Bhanubandh has today taken a giant step to win the 14th Euromarina Optimist Torrevieja Trophy, in a day marked by little wind and also very long, as happened yesterday. Bhanubandh, with partials of 8-4-11, adds 24 points after the applied discard. Some figures that leave the representative of the Royal Varuna YC as the virtual champion of this edition in the waters of Torrevieja.
In the absence of a single day and three scheduled tests, Bhanubandh has a very important advantage over the second in the table, with a difference of 52 points. That second place is occupied by the Greek Fragkiski Kosma (PFCN), adding 72 points, to 48 of the Thai. Kosma, in addition, snatches the first place from the Spanish Blanca Ferrando (RCN Valencia), for whom today has not been her best day, marking some numbers that are little or not favorable for her interests.
Provisional bronze goes to another Greek representative: Eleni Alchanati (PFCN) 38 points behind the Valencian.
In the first test he did not drop from position 49, he improved in the second with a 6, but the last straw came in the last test of the day with a 63 that was going to weigh heavily on him. The difference in the women's category, between the Greek and the Valencian, is 58 points, with three tests remaining to be completed.
Dani García (CN Masnou) with partials of 17-10-46 is placed second in the men's category and only has to defend his silver metal since the Andalusian Roberto Aguilar (CNM Benalmádena) is only two points behind García.
As for the U13s, little or no change in the general provisions. The Finnish Lily-Sofie Latvala (HSS) occupies the first place, followed by the Valencian Marta Ferrando (RCN de Valencia) and Mar Infante (RCMT Punta Umbría), while in the men's category the podium closes with one day to go and three tests with José Manuel Cuellar (RCN Adra), followed by Ignacio Sánchez (RCR Alicante) and the Dutchman Maurits Mellens.
Tomorrow fourth and last day, maintaining the scheduled time of 10:00 am for the start of the first test of the day. About 5:30 p.m., except for changes, the delivery of trophies is scheduled at the RCN in Torrevieja.
Reference-www.abc.es