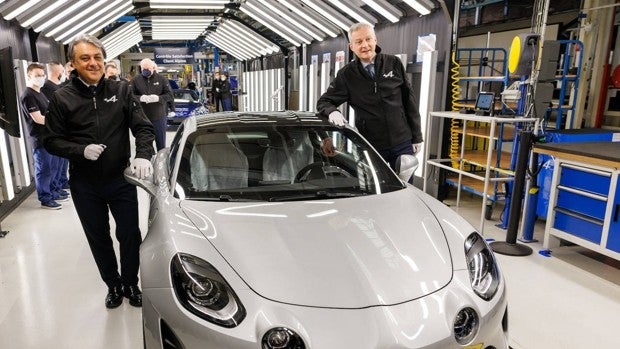 Alpine will manufacture the new electric X-Over GT in Dieppe
Madrid
Updated:
Keep

The brand's new product plan
Alpine he is ambitious. Unveiled in early 2021, Alpine's strategic plan calls for the development and launch of three new electric models and sports cars (a compact, an X-Over GT and a replacement for the A110) by 2026. Luca de Meo, CEO of Renault Group, and Laurent Rossi, CEO of Alpine, have announced the production of the future X-Over GT Alpine at the Dieppe plant.
This first X-Over GT Alpine will combine the brand's experience in competition and the group's experience in electric vehicles, with all the excellence that defines the Alpine brand in terms of sports cars. The introduction of this 100% electric X-Over GT it will involve investments in the Dieppe plant to accommodate the latest CMF-EV platform and new facilities to produce a vehicle with unprecedented content and equipment in this market segment.
It will thus become the first 100% electric vehicle manufactured in Normandy.
This project falls under in the "Re-New France 2025" plan, completed in December 2021 and which places France at the center of the group's industrial and technological activities with the assignment of nine new models to French plants. It was also the subject of an ambitious action agreement called "CAP 2024" aimed at preparing the ground for the introduction of this new vehicle.
Manufacture Alpine Dieppe Rédéle
In homage to its founder, and to embody all the know-how that characterizes its activity, the industrial center of Dieppe takes the name of: Manufacture Alpine Dieppe Jean Rédélé.
Passionate about motorsport, designer and distinguished driver, Jean Rédélé founded Alpine in 1955. Designed on the basis of the 4CV, his compact and lightweight sports coupés soon became famous in competition. With this track record, Alpine built its legend both on the track and on the road. and a legitimate reputation for its sports models. Given the success and growing demand, Alpine officially associated with Renault in 1965 to further its development. The Dieppe production site, now renamed the Manufacture Alpine Dieppe Jean Rédélé, opened in 1969.
Reference-www.abc.es