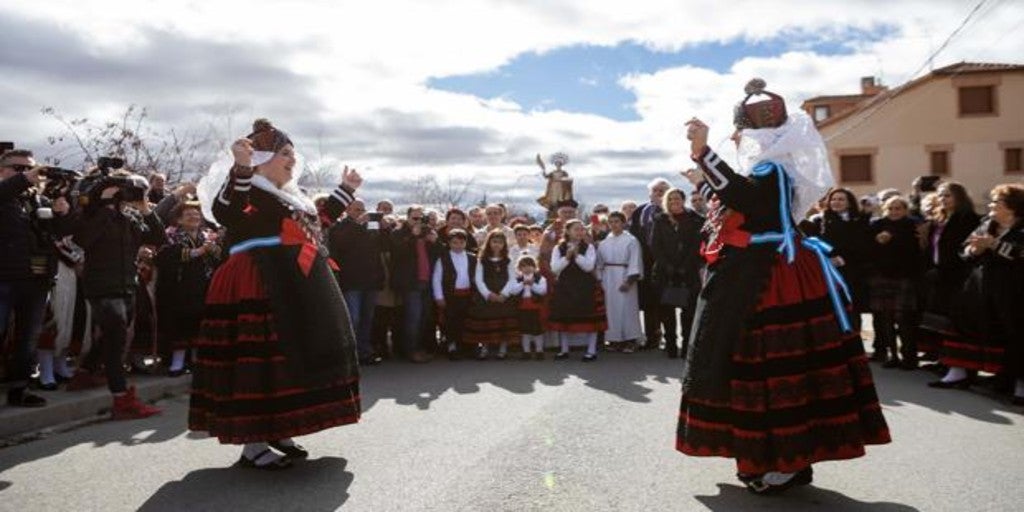 Zamarramala (Segovia) will recover the celebration of Santa Águeda
SEGOVIA
Updated:
Keep

The Mayoresses of Zamarramala (Segovia) 2022, Alicia Calvo Matesanz and María Elena Rincón Arribas, They were in charge of announcing yesterday the appointments of the Santa Águeda festival, after the parenthesis due to the 2021 pandemic, with the election of Laura Baena Fernández, founder of the Club de Malasmadres, as Matahombres de Oro; as Ome Bueno and Leal to the National Police Corps, the Civil Guard, the Armed Forces and the Local Police of Segovia. The proclamation, Sunday February 6, will be in charge of the journalist and head of the Provincial Press, Elena Gutiérrez.
The publicist and communicator Laura Baena, founder in 2014 of the 'Club de Malasmadres', will receive the greatest recognition of this festival of Santa Águeda de Zamarramala, the pin stuck in a wooden stump, the 'Matahombres de Oro'.
The mayors highlighted their desire to change the world, with a community of women that already exceeds one million followers on social networks.
This club works to "demystify motherhood and seek a new social model for mothers", so that they can opt for the same job opportunities and watch their children grow. In addition, Laura Baena is the founder and president of the 'I did not resign' Association that works for the reconciliation of family, work and personal life, which has had to, with the pandemic, "more effort than ever" so that care of the children is a priority for the Government, informs Ical.
The mayors of Zamarramala made it clear that this year's appointment as 'good and loyal Ome' was for the men and women who "cared for us and protected" "our civil guards, police and Armed Forces." The ceremony was attended by the Colonel Director of the Artillery Academy, Alejandro Serrano, the Mayor of the Local Police of Segovia, Julio Rodríguez Fuentetaja, as well as the sub-delegate of the Government, Lirio Martín.
The proclamation of the party will be in charge of the Segovian journalist Elena Gutiérrez, who is currently the Press Officer of the Provincial Council and is also the president of the Segovia Sports Press Association. In both cases, she is the first woman to access these positions.
Alicia Calvo, a zamarriega by birth, said that they are "pleased to return" because, until the pandemic, only "the Civil War" had managed to suspend the party. "We resume the celebrations, more than ever that everything will return to normality", as in what happened in 1940, they start with the same illusion, being mayor precisely an aunt of their mother.
Reference-www.abc.es