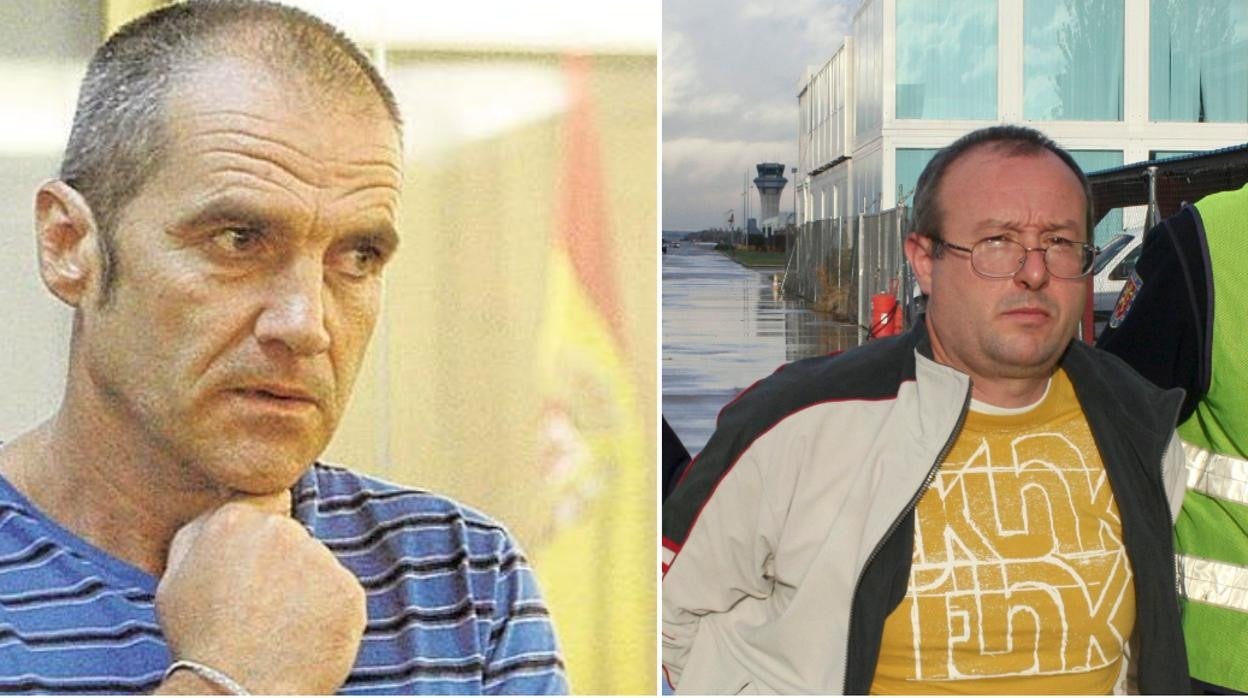 The murderers of Miguel Ángel Blanco and Gregorio Ordóñez, among the beneficiaries
The Government of Pedro Sánchez is working on a legal reform to release 50 prisoners from the terrorist group ETA. This measure would allow terrorists to discount the years they spent in prison in France.
These are 12 of the 50 ETA prisoners who could benefit from this reform.
He is convicted of the murder of the popular councilor Gregorio Ordóñez, of the chief police inspector Enrique Nieto Viyella and of the Army brigade, Mariano de Juan Santamaría, all three in 1995. Sentenced to 89 years in prison for these murders, he was scheduled to serve a sentence in 2034. Now with the possible reform it could come out next year.
MARÍA ARREGUI EROSTARBE 'FITI'
The oldest ETA member (74 years old) who remains in prison, fell in the police operation against the leadership of ETA in Bidart in 1992. Considered the main expert in explosive devices, he was responsible for the attacks on Hipercor and the Zaragoza Barracks House, among others. He entered prison in 2000. He is serving a sentence in 2026 and now he could be released this year
FRANCISCO JAVIER GARCIA GAZTELU 'TXAPOTE'
Convicted for his participation in the murders of several politicians from the Popular Party and the PSOE, such as Gregorio Ordóñez, Fernando Múgica, Miguel Ángel Blanco, José Luis Caso Cortines, José Ignacio Iruretagoyena and Manuel Zamarreño. He accumulates sentences that exceed 450 years in prison. He would serve his sentence in 2031 and with the reform that the Government contemplates he would be released from prison in 2025
JOSÉ JAVIER ARIZKUREN RUIS 'KANTAURI'
Military chief of ETA, serving a sentence for being responsible for 20 murders and the assassination attempt on King Juan Carlos in Mallorca in 1995. Leader of the military apparatus, he ordered the murder of Ermua councilor Miguel Ángel Blanco in 1997. He was arrested in the territory French in 1999. He would serve his sentence in 2032, and now with the reform, he could be released next year.
ISMAEL BERASATEGUI ESCUDERO
He belonged to the 'Behorburu' commando, which was dismantled at the end of 2001, although Berasategui fled to France. He was arrested there in May 2002. When he was in preventive detention, he managed to escape thanks to his brother, who supplanted him, although he was arrested again in 2003. He was extradited in 2013 and entered prison on November 8, 2013. He is 25 years old conviction for the crimes of havoc, possession of explosives, forgery and possession of weapons. He is serving a sentence in 2034 and with the possible reform, he would be released from prison next year.
ANGEL MARIA LOPEZ ANTA
He is serving a sentence in the Álava prison, for being part of the 'Bolueta commando' and committing crimes of attack, havoc and fire and was currently in the Algeciras prison. He was accused of trying to assassinate in January 2001 the mayor of the PSE of Arboleda (Vizcaya) Martín Martínez. The total of his sentence is fulfilled in 2029 and with the possible reform he could leave this year.
JOHN MARY SAINT PETER WHITE
Known among ETA members as 'Jon', he was extradited from France in 2004. Arrested in French territory in 1999 along with Kantauri or four other ETA members, he was part of the Matalaz commando, which supported the Vizacaya commando. Arrested in 1991 for belonging to this group, he was released from prison four years later and his whereabouts were unknown until 1999. He was convicted of the attack with an explosive device on the car of a police officer from Barakaldo (Vizacaya) on the night of June 6 of 1991. The total of his sentence was fulfilled in 2026. Now he could leave this same year.
BALBINO SAENZ OLARRA
He was a member of the Madrid Command. Sentenced for attempted murder to 108 years in prison. He entered prison on June 22, 2010, convicted among other reasons for the attempted assassination of former socialist ministers José Barrionuevo and Matilde Fernández. He is serving a sentence in the Álava prison. Saénz Olarra is serving a sentence in 2029 and could be released this year.
ALVARO ARRI PASCUAL
Alias ​​Munipa, for his past as a former municipal police officer in Erandio (Vizcaya). He is serving a 208-year sentence for participating in the attack committed on July 29, 1994 in Plaza Ramales in Madrid, in which three people died. It was linked to the support structure of the Vizalla command and in the 1990s it became part of the Madrid command. In 1995 he was arrested by the French authorities and in April 2003 he was imprisoned in Spain after being handed over by France. He is serving a sentence next year and could be released this year.
JESUS ​​GUINEA SAGASTI
Jesús Guinea Sagasti, born in Baracaldo (Vizcaya) on October 19, 1977, was arrested in France in December 2002 together with Balbino Sáez larra, Lorena Somoza Camizo, Iker Heredia de Elu, Joana Núñez, José María Arrugaeta and Naia Zurriaría Mendiguren. . The seven were carrying weapons and false documentation at the time of arrest. Guinea allegedly participated in the burning of a bank branch using incendiary devices. He would be released this year from prison.
JESUS ​​MARIA ALTABLE
Alias, Txuma, entered prison on November 20, 1999 and is serving a 30-year sentence for murders. In 1999, the French authorities expelled the member of ETA, after having served a sentence in the neighboring country. He was immediately arrested at the border by the Civil Guard after his expulsion. Altable accused by the Spanish police of five murders committed in Pamplona between 1982 and 1984, when he belonged to a legal command (with members not registered by the police) called X-1, which allegedly collaborated with the Nafarroa command. He would be released this year from prison.
Reference-www.abc.es