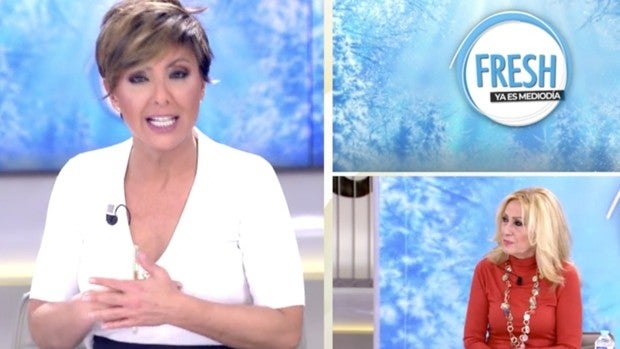 'It's already noon' reveals who notified the press to take the photos of Urdangarin and Ainhoa ​​Armentia
Madrid
Updated:
Keep

'It's already noon' has exclusively revealed this afternoon the name of the person who notified the press to photograph Iñaki Urdangarin Y Ainhoa ​​Armentia together. The images obviously caused a stir and the subsequent statement reporting the interruption of the marriage formed by the Infant Christina and Inaki Urdangarin. However, and despite the fact that the separation is already a fact, the matter still focuses the interest of the different media, which do not cease in their attempt to extract some statement from those involved or from some people in their closest circle.
pablo urdangarin, son of the couple, and Clarie Liebaert, mother of Iñaki Urdangarin, have been some of the relatives who have spoken before the television cameras.
However, now a third person has come into play, who has given the name of who notified the press to photograph the new couple.
A person from the inner circle of Ainhoa ​​Armentia, Urdangarin's new romantic partner, has contacted Stephanie Ruiz, a reporter for 'It's already noon', to reveal when Armentia's relationship with Infanta Cristina's ex-husband began and who was interested in the photos seeing the light.
The person, who has remained anonymous, has been giving hitherto unknown data about the relationship, such as the fact that it began in May 2021, that Ainhoa ​​Armentia's family knew about it and did not agree because it was a married man and has even pointed to Ainhoa ​​Armentia herself as the person responsible for bringing the romance to light.
old-fashioned family
«Since May, they were already together. The parents did not take a good view of this relationship because it is a very old-fashioned family and because she has been the lover… Ainhoa's husband knows it and the one who also knew it was the son, the one who is speaking… I think his name is Pablo , no? She was the one who told him (the photographer) to take pictures, that they were going to walk on the beach… She was interested in making herself known, so that Cristina would know, not being the lover. If Urdangarin knows that she is the one who has made this ruckus… he leaves her».
On the other hand, and with this information in hand, the cameras of 'It's already noon' have searched for Ainhoa ​​Armentia's mother, who has wanted to stay out of all this commotion and has only declared that the family is "fine" and that he was not going to "make a statement." In the end, he asked for respect for his family: «We have nothing to do with this matter. we are normal people».
Reference-www.abc.es