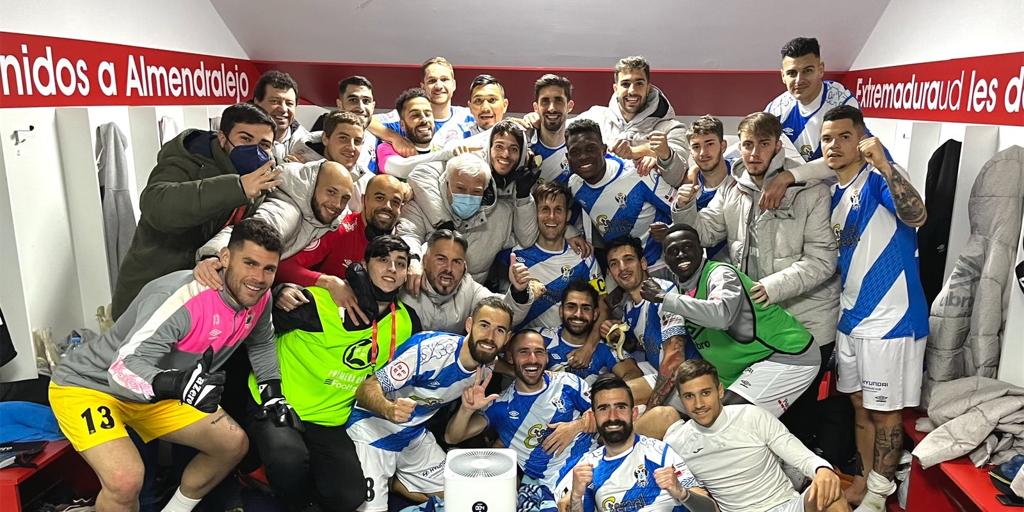 0-2: CF Talavera wins in Almendralejo and comes out of relegation
Updated:
Keep

CF Talavera beat Extremadura UD this Thursday afternoon by 0-2 with goals by Ernest Folgàs and Rodrigo, breaks a streak of four straight losses and comes out of the relegation places of group I of the First RFEF. The victory was 'mandatory' for the Blue and Whites due to the weakness of an opponent who only presented nine players with a professional cardhe; the rest were from the quarry. In addition, the call from Extremadura was just 14 players. The Almendralejo team is going to have a very long second round and, in fact, it is more than possible that it will withdraw from the competition due to the serious economic problems that it has been carrying since the start of the championship.
In the fourth minute, Dani Pichín connected with a good semi-volley that forced Álex Guillén to make an effective save.
Talaveran dominance continued and in the 13th the 0-1 came, in a cross from the left by Dani Pichín that Ernest Folgàs finished off in a semi-miss on goal. In the 18th the ceramic team was able to increase its advantage as a result of a loan from Cristian Perales that Dani Pichín spliced ​​well, but ran into a foot from the local goal. And already close to the break, Perales had the 0-2, but he fell asleep before the local goalkeeper and Assane removed the danger.
The entire second half was left over, since Extremadura did not approach Rubén Miño's goal with any danger. For its part, Talavera had options to score the second goal in two separate shots by Rodrigo. However, in stoppage time, there was a big scare for the Blue and Whites when a center by Peteiro headed Mosquera, but the ball went high. And already in the last play, a corner kick launched by Víctor Ruiz led Rodrigo to the net for the final 0-2.
There was also time for Dani Ndi to debut. CF Talavera's next game will be this Sunday, at 5:00 p.m., when they host Tudelano, the current bottom team player, at 'El Prado'.
– Extremadura UD: Álex Guillén; Parada, Felices, Murillo, Peteiro; Mulero (Fran Rosa, m. 80), Assane, Cortés, Moi; Carlos García (Pau Silva, m. 56) and Mosquera.
– CF Talavera: Rubén Miño; Choco (Víctor Ruiz, m. 46), Bourdal, Juanma, Góngora; Folgàs (Toño Calvo, m. 46), Ortega, Ceberio, Dani Pichín (Jordi Martín, m. 85); Añón (Dani Ndi, m. 80) and Perales (Rodrigo, m. 67).
Referee: Diaz Escudero. Yellow to the locals. On the visiting side, to Perales, Choco (full cycle) and Folgàs.
Goals: 0-1, m. 13: Ernest Folgàs; 0-2, m. 93: Rodrigo.
Incidents: Match of day 20 of group I of the First RFEF played at the 'Francisco de la Hera' stadium in Almendralejo before some 1,400 spectators. First game of the second round. In the first round there was a 1-1.
Reference-www.abc.es