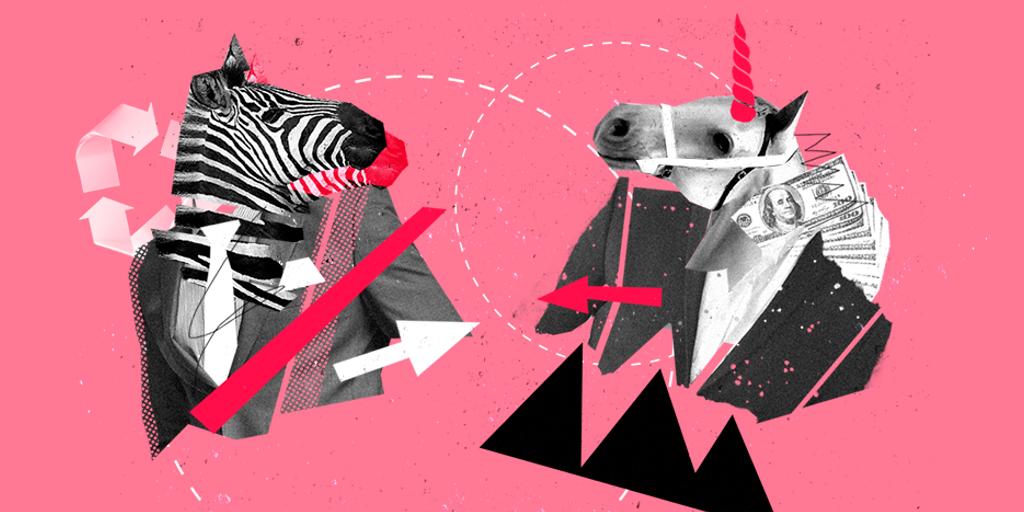 Zebra businesses, more purposes than making money
Updated:
Keep

The new generations no longer (only) dream of being Mark Zuckerberg. Coming up with a brilliant idea, if possible a technological one, and becoming a millionaire in the shortest time possible is one way to break into business, but not the only one. At least it does not seem that it will be so for the new generations.
These meteoric get-rich-quick runs with hardly any established structure are known as 'unicorn' companies. Specifically, they are emerging companies ('startups') that have achieved a valuation of more than 1,000 million dollars before going public.
Many have been protagonists of the new economy that takes advantage of the almost magical properties (such as those of unicorns) of the aforementioned new technologies. They are well known. SpaceX, Airbnb, Epic Games (Fortnite), Cabify, Glovo… The term was coined in the place where this very American 'ball' culture is sucked, Silicon Valley (California).
But times are beginning to change to make room for other entrepreneurial models. As opposed to the 'unicorns', the 'zebras' movement is born, or as they are defined, slow-growing businesses, with a long-term vision and a social focus. Their reason for being goes beyond just making quick money, since they put a purpose at the center with which to contribute to a fairer and more sustainable society.
North American counterculture, the origin
It was in 2017, in Silicon Valley itself, that the term 'zebra' was coined to address the culture of unicorns. It was the initiative of four enterprising women who found it very difficult to obtain financing for their 'startups'. They wrote a manifesto calling for investors to back new companies that seek to be profitable but also improve society, rather than go after classic unicorns.
"When shareholder returns trump collective well-being, democracy is threatened. The reality is that business models breed behavior and, to some extent, that behavior can lead to far-reaching and sometimes destructive results," the manifesto read.
Currently, investor interest in zebras is growing, attracted by the 2030 Agenda and the Sustainability Goals set by the UN for administrations and companies. These non-magical but dreamy startups are associated in a
international official movement. In its space on the internet, anyone can register and advertise their project in order to attract investors.
ambitious but dreamy
One of the Spanish companies that is part of the network is Living Crowdland, a marketing company whose philosophy, says its founder, Koldo Ugarte, focuses on taking care of the team so that it gives the highest quality to the work and to the client. "Helping to grow is above our own benefit. It does not mean that we are not ambitious and dreamy, but there are different paths to reach the goal set," he explains.
In Spain, there are initiatives that could be framed in the philosophy of the 'zebras'. The reference is
True, an association of companies with a triple balance (economic, ecological and social) whose objective, they declare, is "to transform the traditional business model, contributing to building a more sustainable, fair and equitable society".
All kinds of businesses have a place in this association: architecture, consultancy, marketing, energy, landscaping, fashion, training, tourism, communication…
Two women with the purpose of transforming
But to move from intention to action, you also have to know how to ground good intentions in real projects that are socially and economically profitable.
To train in this new movement of entrepreneurs aligned with the SDGs, initiatives such as that of Cristina Sopo and Gema Requena are born, who have launched an academy to train future zebra professionals,
Grow to impact Syllabus.
Sopo, also an entrepreneur in the world of sustainable fashion (with The Nordic Leaves), explains that what they pursue is "offering the possibility for professionals, entrepreneurs and intrapreneurs (within the companies they work for), to learn about trends , favoring the democratization and capitalization of them towards sustainability and positive impact, while accelerating the necessary skills to promote the creation of better futures, better projects and better companies».
The academy has a flexible format focused on useful experiences that in turn generate a space for reflection on the purpose to be implemented, in which real formulas are also handled on how to carry them out. To do this, they incorporate active experts to share their vision and experience of positive impact, so that practice sparks inspiration.
Reference-www.abc.es