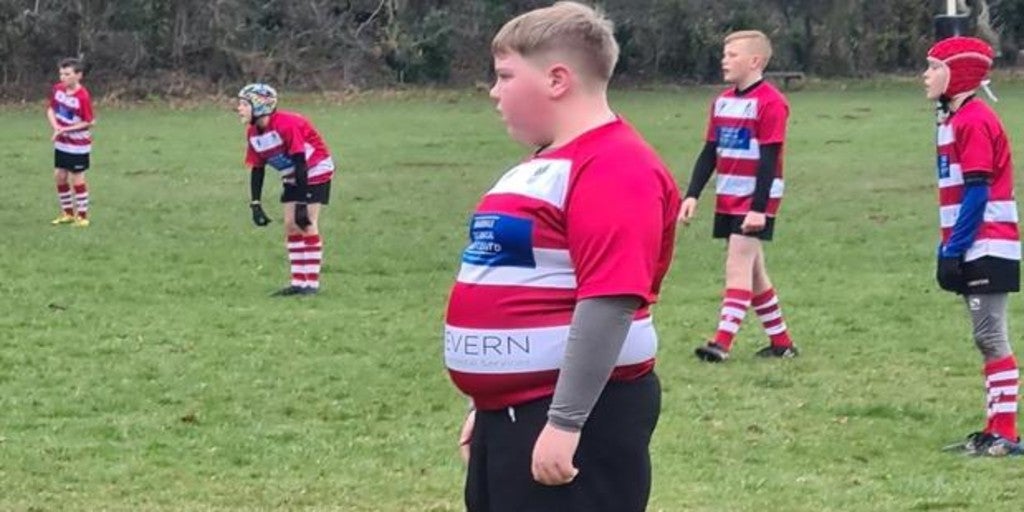 The Rugby family closes ranks around Alfie, the boy 'trolled' for his size
Updated:
Keep

the people of the rugby has once again shown that it is made of another paste. Despite not reaching the unrivaled relevance of soccer, or the dizzying figures of its distant relative, American football, his community once again demonstrated values ​​unimaginable in other areas of sport. On this occasion closing ranks with fierceness and passion around a child, amateur and practitioner, who is not even 12 years old and who has been 'trolled' on many occasions due to his size.
Everything was unleashed with a message from his father on social networks, denouncing a new criticism of the boy. "I had to delete a Facebook post because some idiot posted a comment saying my son he is too old to play with those under 12 and that he is not healthy.
If only people could know how hard you work to get in shape and how low your self-confidence is. Don't worry Alfie, I will always be your biggest fan," Mark Pugsley shared. A message that hours later accumulated endless reactions between retweets, 'likes' and responses from all over the planet.
Had to remove a post from Facebook as an idiot commented saying my boy is to "big" to play under 12s and isn't healthy. If only people knew how hard he works to get fitter and how low his confidence has been. Don't worry Alfie I'll always be your biggest fan. pic.twitter.com/cDkA9BQOG8

— Mark Pugsley (@Puggster) January 23, 2022
"I decided to close the page so that family or friends would not see the comments. I didn't want the negativity to increase," the father explained in an interview with
the local outlet 'Wales Online'. "It was a shame when I saw the comment because Alfie is not very confident and has only just started to believe in his ability this season and realize how important he is to the team."
"The person who made the comment had no idea how hard Alfie has been working on his fitness. He's been going to the kids' classes at the gym I go to, he's been walking places instead of getting on elevators. He is really working hard and all the coaches say how good he is in training, he doesn't stop running."
"People talk a lot about body awareness in young girls, but I think there's a lot of that in young boys as well. It just isn't talked about enough," he added.
Del Oakdale a los All Blacks
Among the reactions, those of rugby players and clubs, both amateur and professional, referees or federations, who turned to Alfie, soon began to follow one another. Even world-class stars wanted to give their support to a child who simply does what he likes best.
The first response was from his rugby club, the Oakdale, from South East Wales: "Alfie is highly respected as well as one of the key members of our team. And above all a lovable boy. The Oakdale coaches let you know that he has our full support and will always be by our side."
And among the words of encouragement, two messages stood out above the rest. Firstly, that rugby is a sport for all kinds of people, and secondly, that he never stops doing what he loves because of what others think.
"Alfie, rugby is an amazing sport if you're having fun, that's all that matters. Enjoy every minute, keep working and be aware that you have a lot of people supporting you," the International Rugby Federation wrote on its official profile. "You also have many fans here, Alfie, the rugby family supports you", also came from the legendary All Blacks. «Try to give everything, but always enjoy. I will go to whistle one of your games and I hope to see it. Keep smiling," referee Nigel Owens asked him in turn.
And among the superstars the same idea circulated: «Alfie, I had to hear all my youth that I was too small, too thin, too skinny. When I read your dad's post, my heart aches. Never lose hope. Believe in your dreams. Your dad is your first fan. I am the second. This is how the French international Matthieu Jalibert felt.
"Our beautiful game is for all genders, all walks of life, all shapes and sizes. Keep that smile on your face and your magnificent work," wrote New Zealander Jerome Kaino. "Keep working, Alfie, if you enjoy it, that's what matters," explained Welshman Liam Williams.
Dude, you have my full support. I also went through the same thing once when people hammered me about my size and questioned whether I was old enough to compete in my age group. Keep your head up and never let the haters get to you. The game of rugby is for everyone", dedicated the South African Tendai Mtawarira.
Alfie has become famous in his country and almost all over the world.
At 'Wales Online', his father stressed that the messages of support that have reached them "are not just players, but people from different backgrounds who join the project and spread the message that rugby is for everyone and that you should not judge a book by its cover".
"Usually when I post something on Twitter, I'm lucky if three or four people like it. All this has left us speechless. The reaction has been overwhelmingly positive in terms of feedback. This has really restored my faith in the rugby family."


Reference-www.abc.es