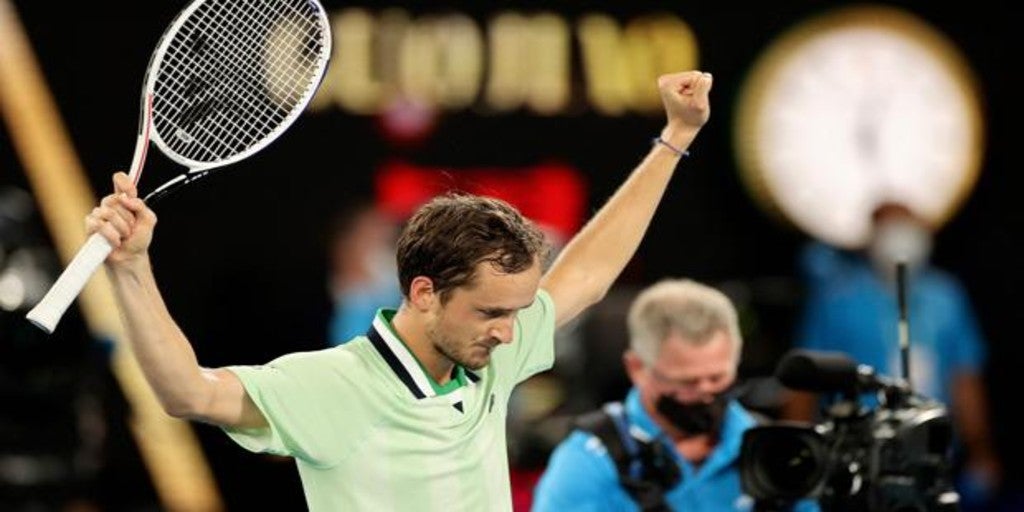 Medvedev remembers Djokovic after the victory and the public is on top of him
Updated:
Keep

Daniil Medvedev signed this midday a victory of great caliber against promising Felix Auger-Aliassime, which allowed him to advance to the semifinals of the Australian Open where he will face the Greek Tsitsipas. The Russian was in tow practically the entire duel and suffered greatly against the Canadian, who through his explosive serve and his self-confidence had the number two in the world on the ropes. After the duel, with the microphone in hand, Medvedev He was clear about who inspired him to create his great comeback: "I don't know if people will like the answer, but I told myself what Novak (Djokovic) would do and how he would deal with that situation."
"I asked myself 'what would Novak do?'" 😬

Fair to say Medvedev got a mixed reaction when he revealed his comeback inspiration! 😲#AusOpen – Live on Channel 9 and 9Now pic.twitter.com/WQRAgFtdu5

— Wide World of Sports (@wwos) January 26, 2022
The appointment did not please the stands of the Rod Laver Arena in Melbourne, as the Serbian tennis player unleashed an international conflict when he tried to enter Australian soil without being vaccinated, with Australian public opinion being one of the sectors most critical of the Balkan.
Medvedev began to be booed and quickly qualified his words. "Any of the great champions like Novak, Nadal or Federer because they have won a lot of matches of these characteristics."
Medvedev, in a great moment of form and favorite to win the title in the antipodes, has had several clashes with the fans in recent months. Six days ago, when he faced the local team in the second round Nick Kyrgios, the Russian saw how during his serves he was whistled from the stands, most in favor of the local tennis player. After the match, Medvedev hit them back. "It's a bit annoying that they make noise at that time. Those who have done this have a low intellectual level.
The number two in the world also had them with the Madrid public during the last Davis Cup in early December. The tennis player received whistles from the stands and he gave them a defiant gesture, calling for calm with his hands.


Reference-www.abc.es