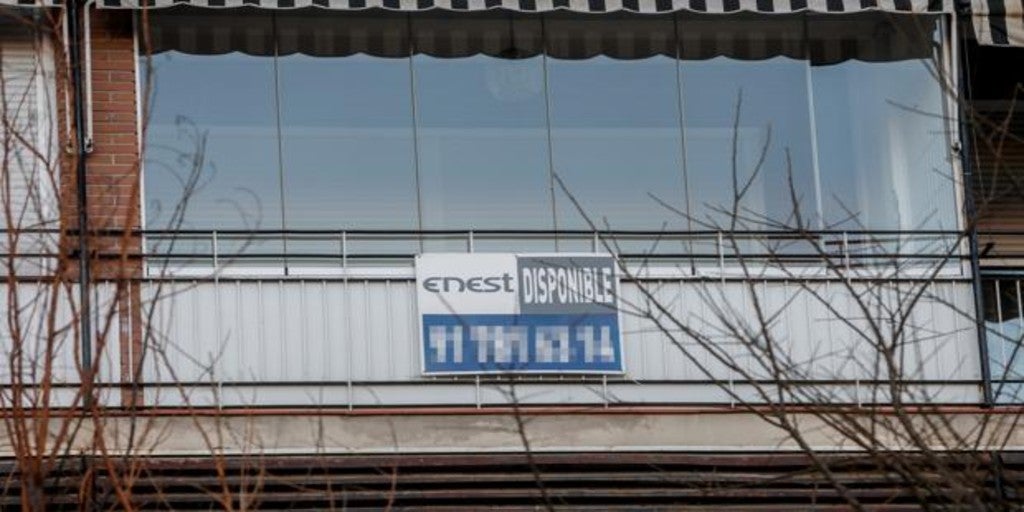 Less than 40% of rental homes in Spain could access the Government youth bonus
Madrid
Updated:
Keep

The youth rental bonus, the Government's star measure to facilitate access to housing for young people, has some gaps. The clearest has to do with the income limit of 600 euros set by the Ministry of Transport. The department you lead Rachel Sanchez established that limit for those tenants under 35 years of age who do not exceed income above 24,318 euros. However, real estate agencies point out that it will be difficult for most young people to meet this requirement.
This is shown, for example, by the Impact analysis of the youth bond according to supply and prices carried out by the real estate portal Fotocasa, which analyzes the supply of housing equal to or less than 600 euros existing in the 50 Spanish provincial capitals.
According to the data collected,Only 38.8% of the supply of rental housing in the 50 provincial capitals meet the income limit of 600 euros, which allows the tenant to access the 250 euros of aid.
The problem is greater in some capitals, where the price of housing rentals has already been tightening in recent years. Cities such as Pamplona (0.0%), Bilbao (0.5%) Barcelona capital (0.8%), San Sebastián (0.8%), Madrid (1.4%), Palma de Mallorca (1.7%), Vitoria (2.4%) and Valencia capital ( 3.6%) could not directly apply for the public bond. In these capitals, less than 4% of the rental housing stock is below 600 euros. A condition that could be avoided if the communities decide to set the cap at 900 euros. For some cities like Madrid and Barcelona, this increase would not be enough, because according to his analysis there would not be enough supply available either.
«This bonus will not really reach the pockets of young people who make the most salary effort when paying rent, since this aid does not contemplate the reality of the most stressed cities such as Madrid, Barcelona, ​​Valencia or the Basque capitals. It is precisely those under 35 years of age who reside in these cities who dedicate more than 55% of their salary to paying the rent for their home and therefore who most need this public bond", explains the Director of Studies and Spokesperson for Fotocasa , Maria Matos, who believes that "it would be convenient to extend the limit of €900 of income and that it be applied according to the salary effort made by each young person".
Seville and Malaga below 14%
Because, if the requirements are not relaxed, in the rest of the provincial capitals, large and small, access to the youth bonus would also be complicated. Namely, cities such as Seville (12.9%), Malaga (13.2%), Segovia (17.3%), Gerona (18.8%), Las Palmas de Gran Canaria (19.1%) and Alicante only have an offer of between 10% and 20% of rental homes equal to or less than 600 euros in order to apply for the youth bonus.
On the other hand, in Cádiz (22.2%), Santa Cruz de Tenerife (23.5%), Santander (29.0%), Tarragona (31.0%), Granada (31.5%), Logroño (32.3%), A Coruña (32.8%) , Guadalajara (33.9%) Toledo (34.1%), Salamanca (35.4%), Albacete (38.8%) and Zaragoza (39.0%) count with a housing offer of less than 40% that could opt for the public bond.
With more slack supply would be Lérida (40.7%), Murcia (42.0%), Huesca (44.8%), Soria (45.5%), Burgos (45.6%), Valladolid (46.3%), Pontevedra (46.9%), Castellón de La Plana (48.4%), Badajoz (50.0%), Cuenca (50.0%), Almería (50.9%), Huelva (51.5%), Córdoba (52.8%), Oviedo (53.4%), León (54.5%), Jaén (67.4%) and Lugo (67.8%), with between 40% and 60% of rental homes below 600 euros per month.
Definitely, only 7 of the 50 Spanish provincial capitals have a supply of housing greater than 75% of housing whose rent is below the price of 600 euros: Ávila capital (75.5%), Teruel capital (80.0%), Ourense capital (80.2%), Cáceres capital (81.5%), Palencia capital (86.1%), Zamora capital (88.4%) and Ciudad Real capital (94.4%) .
Matos believes that, in any case, "this public bond would only be a temporary respite (for very few), since it would not solve the real root problem: the temporary nature, instability and job insecurity of those under 35 in our country. This should be only the first step while attacking the underlying problem: the shortage of rental housing. It is necessary to expand the rental housing stock and encourage the growth of affordable rental housing. This would increase the offer in our big cities, being a measure that would benefit the containment of prices and the cooling of the market when necessary by the administration».
Reference-www.abc.es