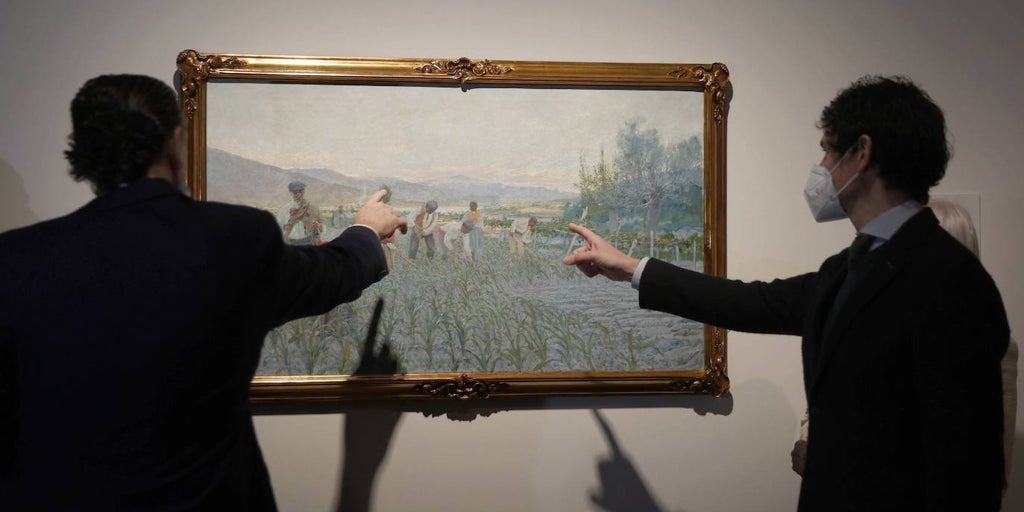 Zuloaga, Guinea and Barrueta increase the funds of the Bilbao Fine Arts Museum
Bilbao
Updated:
Keep

Anyone who visits the Bilbao Fine Arts Museum starting this week will be able to enjoy three unpublished paintings. They are 'La salla del maiz', by Anselmo Guinea; 'Picador Gitano, by Ignacio Zuloaga and a self-portrait by Benito Barrueta. These are the last three donations that the Bilbao art gallery has received and that come to magnify, in the words of its director, Miguel Zugaza, the "value" of your own collection.
Perhaps the most captivating is 'The corn room'. Guinea quickly manages to capture the visitor's interest with the softness given off by a palette of blues and grays that is only broken by the green of the trees or the color of the protagonists' berets and scarves.
The canvas shows how several peasants uproot thistles and weeds from a cornfield that would be located in the Biscayan town of Murueta, today within the Urdaibai Biosphere Reserve, at the end of the 19th century.
As Zugaza explained, it is an "important work in the production of the Basque painter and painting." "It belongs to a series of works dating from those same years in which Guinea represents field work," he added. The author immortalized this print on his return from his first trip to Paris, and in it you can see how he has incorporated impressionist aesthetic from the time when "his colleague Adolfo Guiard" introduced him.
Premiere of the bullfighting theme
With the 'Gypsy Picador', the Bilbao Fine Arts Museum incorporates for the first time into its collections a painting on a bullfighting theme that is so "characteristic in the painter's production and one of the keys to his international success," Zugaza assured. In fact, it is estimated that Zuloaga created it in 1903, in his time of artistic maturity and when he experienced the greatest success of his career.
The work was acquired in Venice and later formed part of collections in Frankfurt and Madrid. It was finally acquired by Plácido Arango and his heirs have donated it to the art gallery in his memory. "The works are now part of the museum's collection thanks to the generous donation of collectors», wanted to thank the director.
The Berrueta's self-portrait, the third of the paintings that have been presented this Tuesday, is the smallest of the three, but it is no less impressive for that. The author made it in 1905, about forty years before another self-portrait of his that is also in the museum's custody, so it will allow visitors to appreciate the passing of time.
In the one that has been presented this Tuesday, Berrueta takes us back to his most bohemian era while he looks at us defiantly. It is, as Zugaza has described, "the vital effigy of one of the most notable artists of Basque painting, a permanent tribute to modern painting following the example of Velázquez".
Reference-www.abc.es