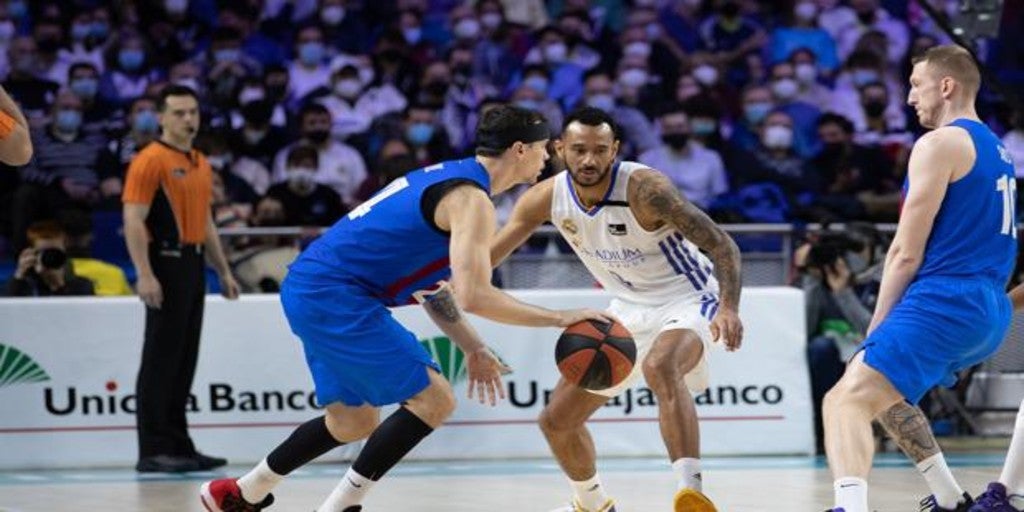 The referees of the classic, from Hanga's anger to Mirotic's hesitation: "You are missing all the shots"
Updated:
Keep

The duel between Real Madrid and Barcelona was a high-flying game, with changes in the scoreboard and great performances by several of its protagonists. Despite the fact that the headlines were taken by players like Tavares or Laprovittola, the Endesa league has published a video in which you can see what it feels like to be the referee of a classic. From the colloquial talks to managing the anger of the coaches, quite an experience.
The refereeing trio formed by Benjamin Jimenez, Oscar Perea and Alfonso Olivares started the game in a relaxed way, talking to both players (Nikola Mirotic) and coaches (Pablo Laso). With the Real Madrid coach, the talk floated from Covid to the NFL and, in the first minutes, when the game was only an expectation, the referees tried to approach positions with the players after their decisions.
🎙️ In a match at the height of the Clásico, many eyes are on the referee trio.

Us, in addition to the eyes, this time…

This is how the duel between @RMBaloncesto Y @FCBbasket in the skin of @benjama01.#LigaEndesapic.twitter.com/hdMD4NhA4t

– Endesa League (@ACBCOM) January 24, 2022
However, as the game progressed and the atmosphere at WiZink heated up, friendship gave way to tension. Laso was constantly at odds with the Barça coach, Conversation Jasikevicius. "Let me do my job and you do yours," the Lithuanian told the Vitorian during the meeting. Jiménez intervened on several occasions and even received a racy response from the Barça coach: "I can drop my pants if I feel like it and you have to decide, right?"
The last minutes, in which Barcelona had a good advantage, although not definitive, was also a litmus test for the referees. "We have controlled the pace of the game. If it goes from there, we cut it. You have to be prepared for what's coming." They even allowed themselves the occasional joke with Mirotic. "You are missing all the released shots," Jiménez told the Montenegrin.
One of the moments that generated the most discord was the unsportsmanlike behavior that the trio whistled at Rudy Fernández when the forward was trying to cut off a counterattack by the visitors. "It goes behind, it is unsportsmanlike"They settled quickly. An action that was followed by another foul that generated a lot of protest from the madridistas. "Isn't that a foul?" Adam Hanga said, to which Jiménez replied: "Stop, don't yell at me. I come running and I don't see him."


Reference-www.abc.es