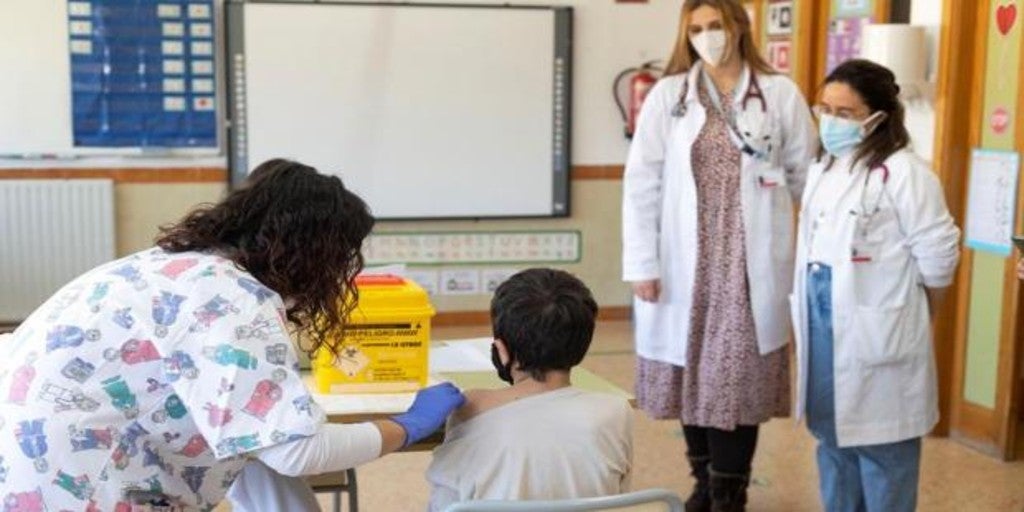 The Generalitat Valenciana has vaccinated 60% of school-age children against the coronavirus and is already announcing a rescue
VALENCIA
Updated:
Keep

The Valencian government has surpassed in his campaign vaccination child of the coronavirus 60% of children between eleven and five years of age, exactly 215,641 children out of an estimated 350,000 – and has already announced a rescue plan by the end of the planned calendar, in March. Thus, infected schoolchildren or who for any other reason have not been able to get immunized, have another opportunity.
This was announced in a statement, in which he recalled that since pediatric vaccination was resumed with the start of the school year after the Christmas holidays, 107,896 doses have been administered. The vast majority of them (92,834) have been aimed at children between 8 and 5 years old, the age group on which immunization is currently focused and which will continue to be vaccinated during this week.
Another 15,062 doses have been administered to children between 11 and 9 years of age who did not receive the vaccine during the first immunization phase, during the week before the Christmas holidays, and have been rescued in this new vaccination phase.
The Minister of Universal Health and Public Health, Ana Barcelo, has highlighted that the campaign coordinated by his department together with the Ministry of Education, «continues to advance to very good rhythm in the Valencian Community ».
"This week we will finish administering the first dose in schools to boys and girls between 5 and 8 years old, while we also rescue those between 9 and 11 years old who, for whatever reason, could not be vaccinated before," Barceló pointed out.
Second dose at eight weeks
The second dose The 9 to 11-year-old age group will resume on February 7, and school vaccination will end in March with the administration of the second dose for the youngest children (the second pediatric dose of Pfizer Is administered eight weeks later having received the first).
"As we have been doing for months with adults, when the pediatric vaccination that is now being carried out in schools is completed, they will provide new opportunities of vaccination to those infected minors, in isolation or who have not been able to receive the vaccine for any other reason at their school", Barceló specified.
"Rescue" in March
In this way, at the end of the pediatric vaccination campaign in schools, Health will enable specific rescue actions in each health department so that students who have not been able to be vaccinated at school due to being infected or confined, or for any other reason , you can receive the dose that corresponds to you.
The Location and the hours of operation of the points where minors pending vaccination can go will be defined based on how many children remain to be immunized and the singularities of each health department.
The decision of the High Court of Justice of the Valencian Community (TJSCV), which next Wednesday, January 26, decides on a request from a father and lawyer, Curro Nicolau, which calls for the suspension of vaccination in schools and that it be carried out in health centers, as with adults. The Ministry does not refer to this matter in its statement this Sunday.
[La vacunación infantil del coronavirus en los colegios valencianos se dirime en los tribunales tras varios errores]
In the last week, they have met three cases of errors for alleged negligence in administering the drug to children without the consent of their parents, in one case, with a minor who suffered from cardiovascular problems and was contraindicated by his pediatrician.
Booster dose for adults
Ana Barceló's department has also reported that the administration campaign of booster dose and reinforcement in the age groups authorized by the National Vaccination Strategy, citing people likely to receive the additional dose of the vaccine via SMS or phone call.
The administration of these doses will be promoted in the coming days with the reopening and concentration of immunization at mass vaccination points in the main urban centers, as is the case in the city of Valencia (in the Príncipe Felipe Museum in the City of Las Arts and Sciences) or Alicante (in the field hospital, next to the General Hospital).
[Vacunación del coronavirus en la Comunidad Valenciana para la semana del 24 al 30 de enero]
In addition, to facilitate vaccination for those people pending receiving the first or second dose, this coming week, Health will again organize days without an appointment The sports pavilion of Toscar, in Elche, will be enabled again as a vaccination point from Monday 24 to Friday 28, from 9:00 a.m. to 8:00 p.m.
Vaccination will also continue at the Benetússer Municipal Coexistence Center, between Monday 24 and Wednesday 26, from 3:30 p.m. to 8:00 p.m. At this point those people can go from 12 years who have not yet received the first or second dose, and also people who have pending the additional or booster dose, second Janssen and vaccinated with AstraZeneca. In Castelló de la Plana, on Friday 28 from 4:00 p.m. to 9:00 p.m., first and second doses will be administered in the Pérgola.
Reference-www.abc.es