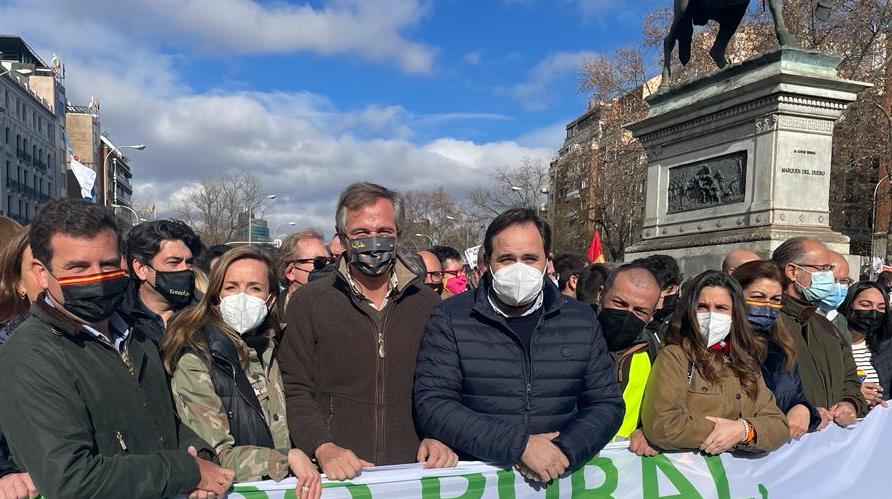 Paco Núñez, in the demonstration of farmers: «I do not understand that Page does not demand the dismissal of Garzón»
Toledo
Updated:
Keep

The president of the Popular Party of Castilla-La Mancha, Paco Nunez, has pointed out that the party «has always been clear about it and continues to be clear about it, since We are with the rural world, with our towns and with our primary sector because we believe in farmers, ranchers, fishing in rivers, bullfighting or hunting. We believe in the Castilla-La Mancha of the opportunities that it brings so much to the country as a whole».
This has been indicated by Núñez, in statements to the media in Madrid, where he has participated in the demonstration in defense of the rural world, organized by the Association for the Development and Defense of the Rural World (Alma Rural).
The regional leader of the PP has said that does not understand the attacks of the Government of Sánchez to the primary sector, but «even less the positioning of Page when Minister Garzón says that you have to eat less meat, that Spain exports poor quality meat or that you should not go to bars, refusing to demand his dismissal in the regional Parliament».
For this reason, he has asked the Castilian-La Mancha community as a whole to "have no doubt that the PP believes in them because we love our peoples, we feel with our towns and we like our towns».
«Today in Madrid defending the opportunities of the rural world and always at all points in the region. Believing in Guadalajara, in Toledo, in Ciudad Real, in Albacete, in Cuenca and in Albacete, because we believe in Castilla-La Mancha, because we love Castilla-La Mancha and because we are going to work for the future of the Castilian-La Mancha people", has finished Nunez.
Reference-www.abc.es