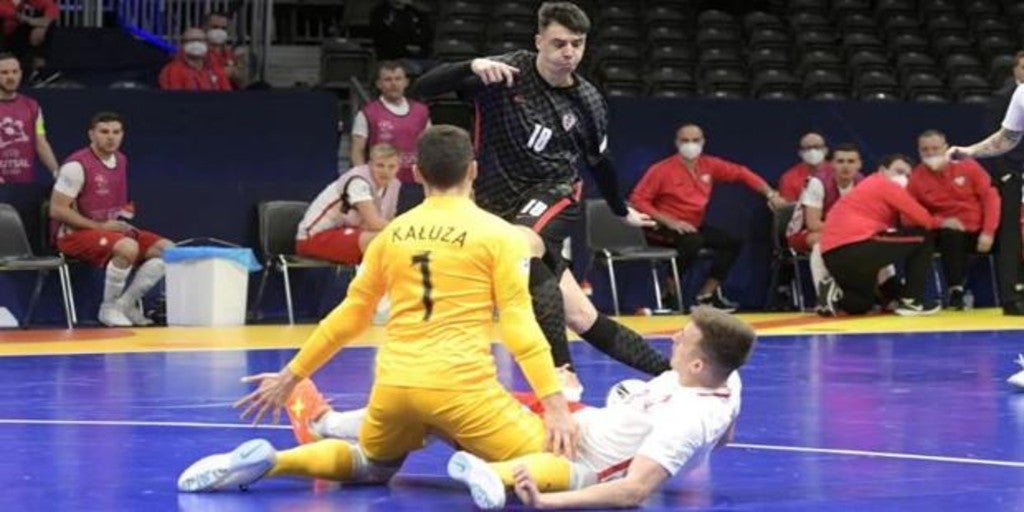 The Croatian Horvat dresses as Ricardinho to sign the best goal of the tournament
Updated:
Keep

When it seemed difficult for any play to surpass those left by the third day of the Netherlands Futsal European Championship, Matej Horvat scored this Friday what could become the goal of the tournament. His play and his so much rabona made us forget the volleys, pipes and spectacular shots of the previous day.
The Croatian player made us forget the Kazakhstan-Slovenia and the Italy-Finland on Thursday, two brilliant games despite both ending in draws and which left goals and viral plays.
Emulating the Ricardinho of other times, Horvat pulled a goal from his sleeve with a skilful maneuver that included a 'croquette', a step in front of the goalkeeper, and a tight shot from rabona.
Croatia finally beat Poland 1-3 and is a clear candidate in Group C to get through to the knockout rounds.
🇭🇷 Matej Horvat, that is 𝗢𝗨𝗧𝗥𝗔𝗚𝗘𝗢𝗨𝗦! 🤯

Sensational dribble followed by a cheeky 'rabona' finish 🤤@HisenseSports | #FEUROSkills | #FutsalEUROpic.twitter.com/34KjKYOkN1

— UEFA Futsal (@UEFAFutsal) January 21, 2022
Despite the fact that it is just closing its first round of group stage matches (this Saturday Spain finally makes its debut in group D), the European Championship in the Netherlands is leaving numerous quality details and a lot of spectacle. Perhaps the absence of the public is making that the players take off the corset of the environmental pressure and they are getting to show what they are capable of doing with a ball at their feet.


Reference-www.abc.es