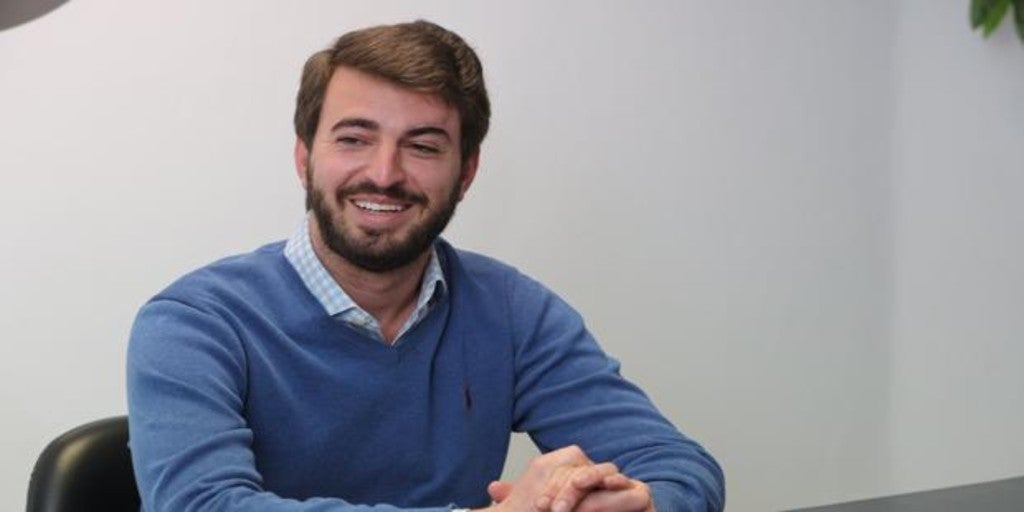 «PP and PSOE seek their own survival and Vox that of Castilla y León and Spain»
Juan García-Gallardo acknowledges that his appointment as a Vox candidate was even a surprise to him. He defines himself as "a young man from Burgos (30 years old) with a mother from Santander, a lawyer, an athlete, with firm convictions, with the capacity for dialogue" and who is looking forward to assuming the Presidency of the Board "to provide an alternative for the future of the community" .
-PP and PSOE are running for these elections looking for their own survival as a party, seeking to achieve power as an end in itself and not as a means and, however, Vox is running for the survival of Castilla y León and, therefore, , from Spain.
as Chairman of the Board would be…
-The fundamental one is a firm commitment to the birth rate, with direct aid and tax incentives. The second, a radical tax cut and, later, the protection of the local product and the defense of our primary sector.
-These three measures have also been announced by the PP, such as the baby check.
-When I was born, 30 years ago, the PP was already governing, but Alfonso Fernández Mañueco is running for these elections again promising things that he has promised over and over again. The big difference is that Mañueco now, given the massive support we are receiving, is trying to copy Vox's measures, but citizens want the original product, not the white label.
-Are you afraid that the platforms of the emptied Spain will subtract votes?
-I prefer to talk about abandoned Spain. We all know that these platforms are going to be the PSOE's crutch, as Teruel has been Exists to, abusing the trust of citizens with a serious problem such as depopulation, support the PSOE.
-Will Vox give the Board to the PP?
-Vox is not presenting itself to facilitate the presidency to Mañueco or to give him a blank check, but to offer an alternative and what as a candidate I am not going to do is disappoint the expectations of the citizens who are asking us to take advantage of this historic opportunity to reverse the course that the PP and the PSOE have set in recent decades.
-Those are the intentions, but then the seats are what they are.
-At this point we are not going to talk about negotiations. Once the citizens have spoken and depending on the representation they grant us, we will exercise it responsibly.
-You have said publicly that you wanted to "integrate" a government in Castilla y León.
-I have presented myself to preside over the Junta de Castilla y León.
-Everyone says that, but the reality in votes is stubborn.
-I have only stood for two elections in my life: class representative and mayor in my residence hall, and I have always won them with a very large, absolute majority. I don't want this third time to be any different. We did not present ourselves to form a coalition. Our goal is to get an absolute majority. We know that this is very difficult, but now our task is to tell citizens that there is a different model than the one they have been suffering from for 30 years. What a PP leader most resembles is a PSOE leader, but a Vox voter resembles one of the PP.
– Do you see vice president?
-I don't see myself as vice president, what I would like is for citizens in a few years to see a politician who acted responsibly and fulfilled his objectives.
-And if Vox's abstention from a PP government is the only way not to return to the polls?
-Vox does not appear to condition the government's action or to make an opposition but to integrate. Castilla y León cannot afford more years of despair.
-Have you already maintained any contact with the rest of the candidates and especially with Mañueco?
-No, but since I respect diversity and I have the capacity for dialogue, I will be delighted to be able to speak with Mañueco and explain to him why I am presenting myself. And I hope that he accepts and respects the result. In any case, it is him who should be asked if he would like to be García-Gallardo's vice president.
-Garzón's statements questioning the quality of the meat have been a 'gift' for you
-Garzón's last attack has been against meat and now Mañueco criticizes him, but he is the one who puts on that colorful roscón that represents the 2030 Agenda and tells us that we have to eat synthetic meat or that we have to shower with cold water to combat the climate emergency.
-You are young, with very good training, a promising career, from a good family, a fan of horse riding… your detractors call you a 'posh boy'.
-I am lucky to have had many opportunities, both educational and professional, and I have always taken advantage of them. My father is a lawyer and no one has given him anything; my mother took out the opposition in record time and I have followed her example of effort.
-Your appointment as a candidate started with controversy with the publication of some tweets in which you spoke of "faggots", "feminazis", "whores"…
-All the tweets have an ironic tone, they were expressed in a private forum and have been completely taken out of context. It is not interesting to know my opinion about homosexuals but to attack me because I represent Vox and, if it had not been this, it would have been something else.
-Tell me then what do you think of homosexuals.
-Some of the most important people in my life are homosexual and they are homosexual for being good people and for their own personal value. I judge people by their kindness, not by their race or sexual orientation.
– And of feminism?
-The women in my life have achieved their successes with effort. Neither with loudspeakers nor with gender quotas, nor with impositions or collectivization by feminist 'lobbies'.
Reference-www.abc.es