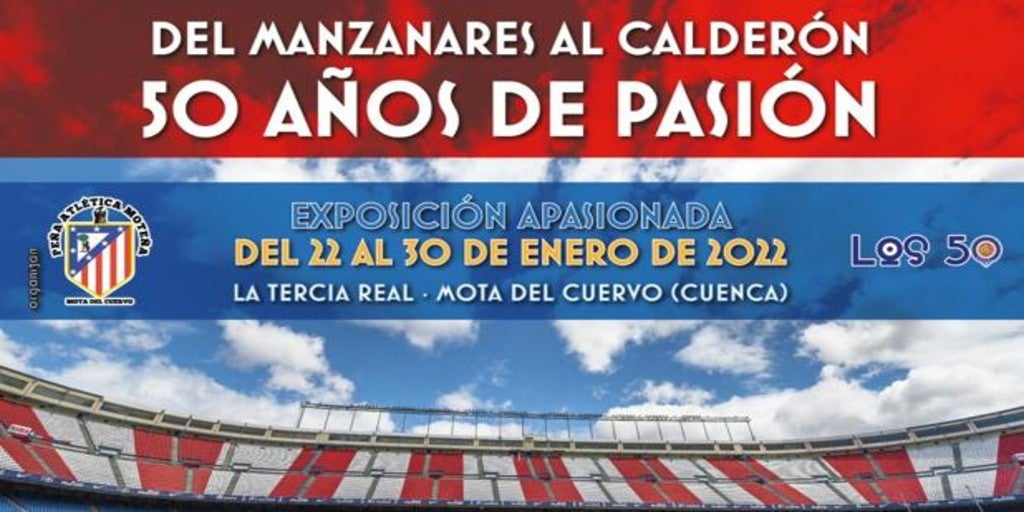 Mota del Cuervo hosts the athletic exhibition "From Manzanares to Carlderón, 50 years of passion"
Toledo
Updated:
Keep

The historic building of the Tercia Real de Mota del Cuervo hosts from this Saturday the tribute that the athletes from La Mancha pay until January 30, 2022 to the glorious Vicente Calderón stadium through the exhibition "From Manzanares to Calderón, 50 years of passion".
It is about following in the footsteps of the LOS50 Athletic Association, through an exciting and unique collection of graphic images that take us back to the most epic and exciting moments lived or felt with Atlético de Madrid on the banks of the Manzanares. The exhibition is accompanied by banners from the La Mancha athletic clubs that have had their presence at the Calderón.
At 12 noon this Saturday, the opening ceremony took place, with the presence of fans, local and provincial authorities and the entities collaborating with the event: Globalcaja, Cooperativa Nuestra Señora de Manjavacas and Mota del Cuervo City Council.
The exhibition will be open every day in the afternoon from 5:00 p.m. to 8:30 p.m.
The presentation of the exhibition was carried out by the president of the LOS50 association, Julio Ruiz Llorente, and the president of the Peña Atlética Moteña, Rafael Peñalver Castellano. There was also a colloquium-debate on "Experiences in the Calderón", coordinated by José Antonio Martín Otín 'Petón', with the participation of Juan Luis Cano, Miguel Pérez, Tomás Reñones, Santi Denia and representatives of the athletic clubs. For his part, Ennio Sontanaz, member of the LOS50 Association, will present his book "Memoria del Calderón".
On Sunday, January 30, at 12 noon, the closing ceremony will take place in the halls of the Manjavacas hermitage, the first international contest of red and white Manchego porridge, which will be accompanied by excellent Manchego wines. The jury will be made up of old red and white glories (still to be confirmed).
These events are organized by the Peña Atlética Moteña, with the participation of the LOS50 Association and the athletic clubs of Albacete, Tomellosos, Quintanar de la Orden, El Toboso, La Puebla de Almoradiel, Campo de Crisptana, Corral de Almaguer, Pedro Muñoz , Iniesta, Villarrobledo, Socuéllamos Raúl García and International Union of Supporters Clubs.
Reference-www.abc.es