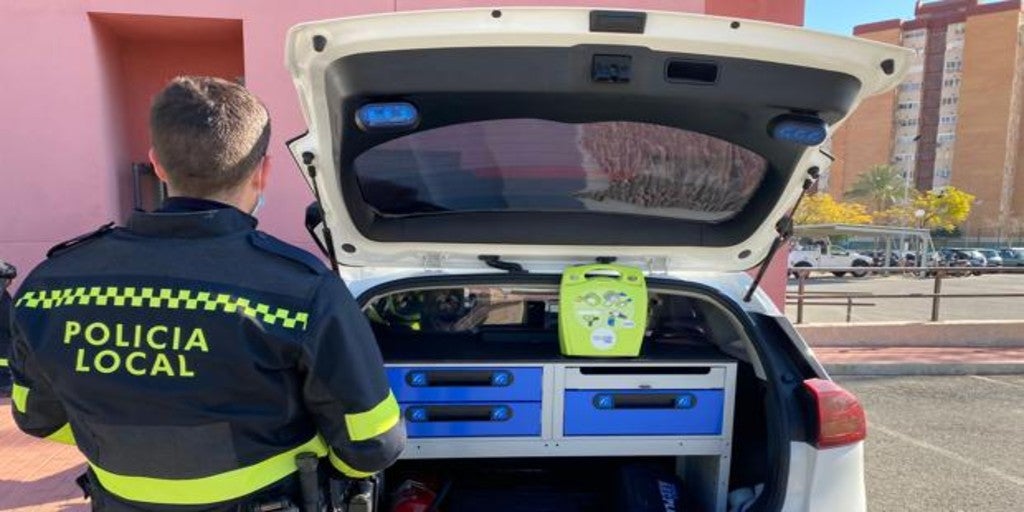 Two local police officers from El Campello save the life of a 46-year-old man after suffering a heart attack in the middle of the street
Alicante
Updated:
Keep

The Local Police of El Campello has managed to revive a 46-year-old man who collapsed on the ground after suffering a cardio-respiratory arrest that left him unconscious. Resuscitation was possible using the defibrillator device with which police patrols are equipped. When the agents arrived, notified by the 112 emergency service, the man presented a very critical picture, with a lost look, dilated pupils, rigid, unable to speak and bruised skin.
The defibrillator discharges have been decisive for the patient to come out of the critical condition and regain consciousness. Minutes later, a unit of the SAMU He was transferred to the hospital, where he is recovering satisfactorily. Overcome the crisis, the emergency doctor has called the Local Police Headquarters to communicate that the actions of the agents has been "decisive" to save the life of the man, who may be discharged in the next few hours.
The events occurred on San Ramón street.
Immediately, the policemen began the activation protocol of the portable defibrillator with which they were equipped and the placement of the mandatory patches on the victim's chest, after checking his vital signs. The two acting agents were relieving himself in resuscitation maneuvers until the man, of French nationality, regained consciousness.
"Saving a single life is fundamental and of the utmost importance, and it is confirmed that the policy of turn El Campello into a heart-healthy municipality it gives results", said the Councilor for Public Health, Rafa Galvañ (PP), who has provided defibrillators to the Local Police, Civil Protection, public schools and institutes, sports facilities and municipal buildings.
The actions of the agents have been valued by the mayor Juanjo Berenguer, the councilman himself and the head of the Local Police, José Antonio Cano. both will be welcomed this same Monday in an official hearing by the first mayor to directly receive congratulations for a job well done.
Reference-www.abc.es