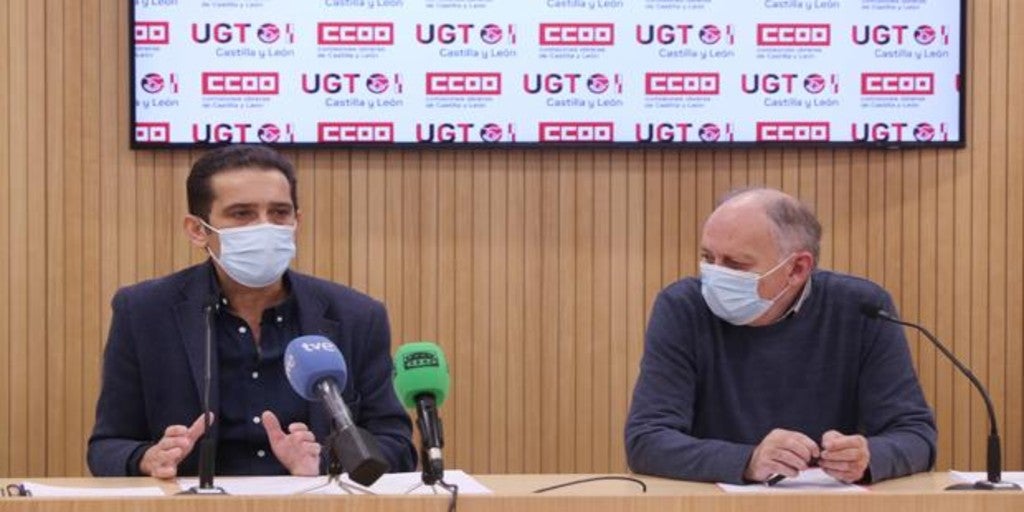 The unions 'comply': they call for a "change" of government and to veto Vox
VALLADOLID
Updated:
Keep

Faithful to their principles and to what is already a tradition prior to the regional elections -this time without municipal ones-, the general secretaries of the CCOO and UGT in Castilla y León, in this 'vintage', Vicente Andrés and Faustino Temprano, yesterday made an appeal «to the massive participation» of the citizens in the meeting on February 13, considering -once again- that it is a «historic opportunity» to achieve «change» in the Community.
Without asking the PSOE for a direct vote, perhaps because of what they will say but also without leaving room for any doubt, Early stated that the current model, after 35 years of the PP in power, "has not worked and has aggravated the problems", for what "the only way to change policies is to cast the vote so that there are social policies that put people at the center," he defended.
More explicitly, Andrés stated that "we must look forward" because Castilla y León "has a future", but that requires a different government, because "alternating is good". "Other policies must be put on the table to get Castilla y León out of lethargy," he said.
The union leaders lamented an "inopportune" call for elections due to the "failure" of the coalition government, while demanding a debate on the Community without national interference and that of other autonomies, and demanded that the parties with the possibility of reaching the College of the Assumption that they establish a 'sanitary cordon' so that Vox, the "far right", does not enter the next government, reports Ical.
No to the "Ayuso model"
The ugetista addressed the president of the Board and PP candidate to repeat as head of the Board, Alfonso Fernández Mañueco, and demanded a campaign that talks about the Community, in which «there are no experiments with national policies or parliaments of other autonomies" to conclude that "the Ayuso model is not needed in Castilla y León, but one of its own", he made clear.
Both El Temprano and Andrés especially charged against Vox and its threat to end subsidies to their organizations, when they are "protected by the Constitution." The leader of Commissions warned, in this regard, that "Castilla y León would be the shame of Spain" if Santiago Abascal's party enters the next government and appealed to the responsibility of the forces to defend a model on equality, solidarity and democracy.
Andrés was in charge of breaking down the main proposals of the document prepared by the two unions and highlighted the need for their own recovery, transformation and resilience plan, Early also pointed out that it is necessary for the industry to gain weight and stop depending on services and tourism, because it is the only sector that guarantees stable and quality jobs.
The CCOO secretary demanded a fiscal pact in the Community, which allows raising income, to guarantee quality public services in Castilla y León. "What is not worth it is lowering taxes on the most powerful," he said. His counterpart denounced at this point that in Castilla y León "the rich are getting richer and there are more and more families at risk of poverty."
Andrés also claimed in terms of employment, that the agreement for 35 hours a week be fulfilled in the regional administration, which would generate jobs and "improve the quality of public services."
First, the left
Early specified to finish that they will start this Thursday with PSOE, United We Can and IU the presentation of their proposals, and they will do the same with the PP on January 24. Likewise, he announced a second phase after the formation of the next government in which they will again make their demands and warned that the electoral programs are a "contract" and "are to be fulfilled",
Reference-www.abc.es