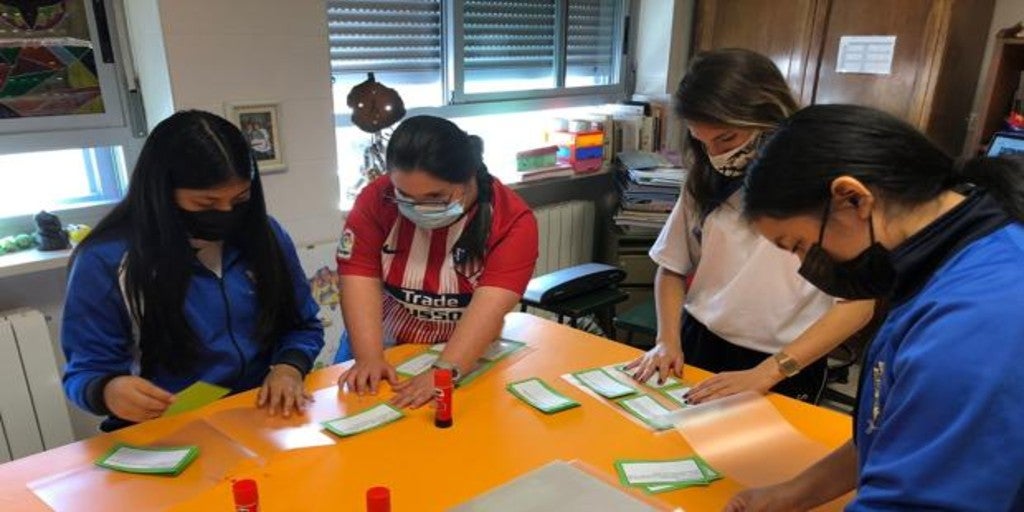 San Estanislao de Kostka School in Salamanca, an example of coexistence
Updated:
Keep

Since last September, the six hundreds students of the Jesuit school San Estanislao de Kostka they have seven more companions with whom they share their center and different activities. There are seven students from the training unit that the Aviva Foundation -dedicated to defending the rights and improving the quality of life of people with disabilities and their families- has been implemented in the Salamanca school. This is a pioneering initiative that makes it possible for schoolchildren from both groups to share not only space, but also joint experiences and get to know each other beyond disability.
The San Estanislao de Kostka School already had a previous relationship with the Aviva Foundation because its partners carry out adapted sports in its facilities, to which the social and labor training unit "This is how I want my life" has been added, in which the seven students participate .
They made adjustments in the spaces so that they would have classrooms and now they work on socio-occupational skills with adapted itineraries: they study language, mathematics, but also other activities that help them in their development and prepare them for the future.
"This is how I want my life" is a project that provides support to improve the skills and abilities of kids with some type of disability through personalized itineraries. The strengthening of conceptual, social and practical skills is one of the objectives of this initiative, although the most innovative thing is that this project is carried out in a standardized training space, such as a school attended by students from Early Childhood Education to THAT.
The director of the Jesuit school, Juan Antonio Vicente, explains that "for our part, we gain a lot because the students see these people beyond their disabilities based on the encounter", and that happens "at all levels". He relates how before Christmas, one of those boys had a special "challenge" to look for him to deliver a congratulations for him and for the school. Small steps that make a difference for these students and that help them in their growth.
"The rhythms are different" in education for the two groups of schoolchildren, but the differences remain there, as Vicente adds: "Yesterday they did a virtual talent show -due to the measures set due to the pandemic- and they also participated with a video and came in third place after the votes; the boys valued them like the rest and for us it is very remarkable that our students talk about them like one more than the rest of their classmates».
A very plastic relationship
Many of the activities they share are circumscribed to the plastic arts environment. They have a board of tasks that their classmates from 3rd year of Secondary have done for them in the art workshop, as part of a service-learning activity. But they also share other spaces and initiatives, such as the collection of acorns and tetrabriks in the environmental project, the celebration of the school party in the church, on November 13, or the commemoration of the International Day of Persons with Disabilities.
Juan Antonio Vicente highlights the part of education in values ​​that this project entails, which "is very important, because there are many values ​​that do not need to be worked on in the classroom, but with coexistence and sharing they are acquired naturally", something that , in his opinion, should not only be given "because it is a religious school, but it should be universal". Also for this reason, his idea is to spread the example and this pilot project can be replicated in other educational centers.
Reference-www.abc.es