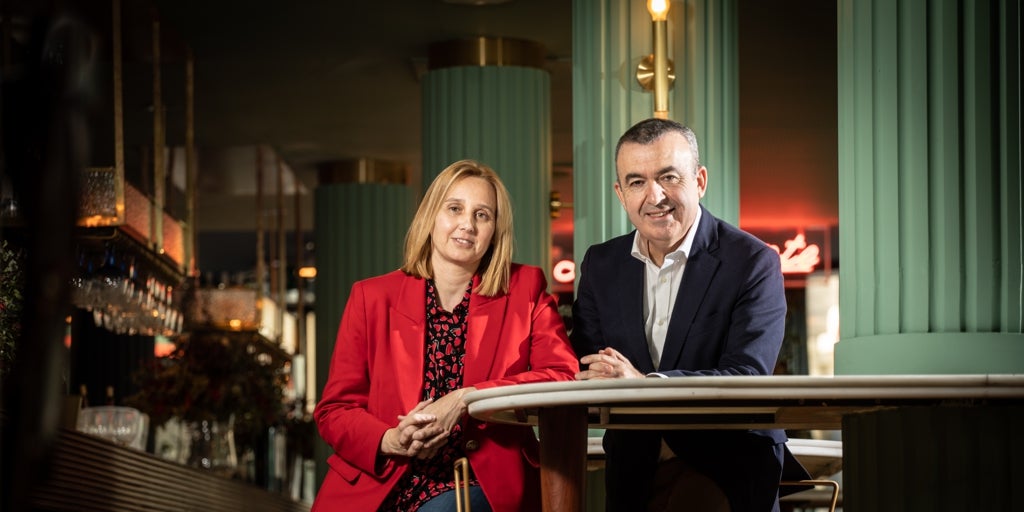 Lorenzo Silva and Noemí Trujillo write the black novel of the pandemic
On March 14, 2020, the same day that the Government decreed the state of alarm due to the health crisis, Noemí Trujillo received the news that her mother had died of coronavirus. Then came the duel, a difficult duel, like that of so many others: unable to move, away from family, friends, always keeping the damned safety distance. I didn't know it then, but that experience would end up being the germ of 'La forja de una rebel' (Destiny), the second novel (black, which is the color of mourning) in the series by Manuel Mauri, who writes with four hands with his partner, also a writer Lorenzo Silva.
"It was very hard. For me it was a challenge and a
need, almost, to tell the human side of the pandemic. Count that difficulty of passing the duel in those conditions. And it was my greatest interest to be able to speak from a human perspective of all the feelings that we have been having. Diverse, very complex feelings, of which it was very difficult to talk, "Trujillo now says, with a certain tremor in his voice. Beside him, Silva nods. "We do not try, because it would be pretentious and even foolish, to make an in-depth analysis of the pandemic when it is not even over. Literature can analyze reality, but with a certain distance, and at this moment it is premature. It is not a novel 'about' the pandemic, it is a novel that tells an investigation 'into' the pandemic.
So the book begins, precisely, with the death of the mother of the best friend of the police Manuela Mauri, and from there it unfolds a map that is all too familiar to us: fear, exhaustion, teleworking, closed schools, masks, nerves. . The leaden atmosphere of those months, go. And in those a double crime in Alcalá de Henares to solve, because evil does not end even with a global pandemic. "Of course the evil continues. It is that there were crimes during the pandemic. It is that there were police investigations during the pandemic. There were people who had to do what Manuela does in the novel: look for people, interrogate them with the mask, from end to end of a long table, with the window open, or in the park. That happened," says Silva. In fact, he insists, the story is based on a real event: a double crime perpetrated in the Toledo municipality of Villarejo de Montalbán during the state of alarm.
The authors dedicate a lot of space to discomfort, to the limping walk of life among so many viruses. For example: Manuela is doing an interrogation but she can't stop thinking about her children, who are insufferable and aggressive. Or in his relationship with Alberto, who is very strange due to the forced coexistence between them. Why a novel like this, now? Are we still interested in tragedy even after having lived through it? Do we want to revive it? "Fiction allows you to approach tragedy in a kinder way. Literature always sublimates it or stylizes it a bit, because you can approach tragedies by stripping them of the dimension of pain: we all know that we are facing a fiction, in a parallel dimension. It also has a restorative point that comes from the Greeks: what they wrote for the instruction of the population were tragedies, they were not comedies, "replies Silva.
To lighten the theme and tone of 'La forja de una rebel', the duo draws on literature and a certain erudition. Rilke, Kafka, Melville appear out there, in addition to Arturo Barea, whom they honor from the title. Trujillo says that while he was writing he was thinking about the Europe between the wars, which was a devastated Europe, and how at that time many chose to approach literature as a game, as an escape, as a shield, too. That is why he cites Cortázar so much, who "combines the writer's commitment and writing as a game," in his words.
«In this book, to contrast the tragic effect of the pandemic, there is a tribute to reading and to the books that have accompanied us throughout this time. I don't know what I would have done in a pandemic if I didn't like to read. My go-to writer is Joyce. And during confinement I made the decision, to isolate myself from my personal pain, to reread 'Ulysses'. It is a book that I love to return to, a magical book that always reveals something to you, and that makes you be in another universe. We were overloaded with information. And we still have uncertainty… So many months of the pandemic have made us forget to celebrate life. And one way to celebrate life is love, but another way to celebrate life is reading," she concludes.
Reference-www.abc.es