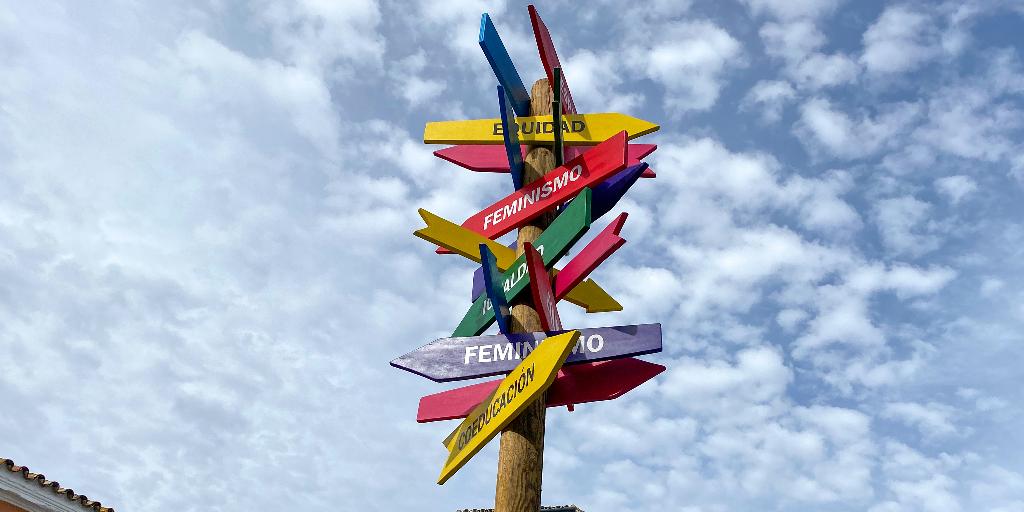 Why is equality a goal for a sustainable future?
Updated:
Keep

Equality is among the 17 Sustainable Development Goals (SDG) set by the UN. In terms of sex, but also of race, religion, identity, nation or economic and social condition. It is also a key SDG so that the rest can be achieved. Ginette Azcona, Research and Data Specialist at UN Women, is blunt about it: "Why do we still think we can? Zero poverty and hunger by definition means eradicating these social ills for everyone: women, men, girls and boys alike. The SDGs and the future they represent will not be achieved unless inequality is tackled head-on."
The problem, furthermore, is that instead of making progress, in some cases there is a setback in terms of equality as a result of Covid.
According to UN Women's global analysis of progress on gender equality and women's rights, despite the fact that women have played a key role in the response to COVID-19, they are still largely ignored for jobs. of leadership they deserve. "Gender equality is fundamental to fulfilling the promise of the 2030 Agenda. The success of the agenda, whether it is to eradicate poverty or create inclusive and peaceful societies, depends on the incorporation of a gender perspective in all the SDGs", Azcona emphasizes.
But when we talk about equality as one of the sustainability objectives, we are not only referring to gender, but it affects any other area. All dimensions used to marginalize subgroups of the population are relevant in the quest for equality, including gender but also income, race/ethnicity, age, religion, marital status, etc.
"The ways in which we, as a society, create division are, in many ways and unfortunately infinite and can vary from one context to another," explains the UN expert.
In the case of women from marginalized groups, they are often doubly affected by discrimination, both because of their sex and because of other discriminations, which can end up multiplying this inequality.
In addition, from UN Women they assure that these problems transcend the levels of development, so that both rich and poor countries must face great inequalities based on sex and other socioeconomic characteristics.
Miriam García Armesto, from ODS for Business, underlines in this sense that poverty, zero hunger, health and equality are the four basic goals of the Millennium, without which the rest of the goals cannot be fulfilled. "If someone, for whatever reason, does not have access to sufficient food, education or health, it is clear that they cannot be integrated into society in the same way, nor can they contribute to creating wealth like the rest," he details.
For García Armesto, one of the problems is how to integrate this SDG within companies and how to measure that these parameters are being met. "In energy or economics, there is a lot of literature and many metrics on how our way of doing things can be converted to be more sustainable and comply with the SDGs," he explains. «But how do you measure the most social issues, of discrimination or differences of gender or race? How to do it with the impact that, as a company, you have on social equality?", he asks.
According to this expert, depending on the size of the company, it must choose two or three SDGs with which it wants to comply, preferably related to its business.
On the subject of equality, it recommends carrying out an analysis of how its workforce is made up and checking "how it is distributed, if it is representative of society, if you are paying everyone the same, if equal opportunities are identical…".
Once this analysis is done, it is recommended to observe certain segments of the population that you would like to support as a company. "Many times people in a situation of discrimination tend to be highly motivated when they have a job, which makes them highly productive and competitive, although they may not be the first profile that comes to mind when we have a vacancy," he puts as an example.
To achieve this SDG, both public and private organizations have a key role to play. "The private sector has a crucial role to play in promoting and accelerating gender equality, now more than ever, particularly as we see women's employment severely impacted by the economic fallout from the COVID-19 pandemic," Ginette Azcona remarks.
UN Women is advocating the introduction of labor laws and reforms that guarantee quality employment for all people as well as eliminating the legal barriers that exist in some countries so that married women can work.
"These policies were important before the pandemic and they are still important. But the crisis in women's employment means that action must be taken now, recognizing that we need to do things differently, with a greater focus on work-life balance, because it's good for women, for men and for the bottom line, as companies compete to keep talent," says this expert.
"By implementing such policies, private sector organizations will contribute to a more sustainable society. Companies will enjoy diverse and inclusive employees and workplaces, diversity of thought and increased creativity", not forgetting that, as much research shows, gender equality can help improve corporate performance.
García Armesto also recalls that simply by promoting some corporate social responsibility actions in companies, these actions generate a feeling of belonging and pride among employees. "There are many small things that everyone, as citizens and as companies, can do. Companies are precisely the ones that have to embrace other types of objectives", beyond being more energy efficient and environmentally responsible, he concludes.
Reference-www.abc.es