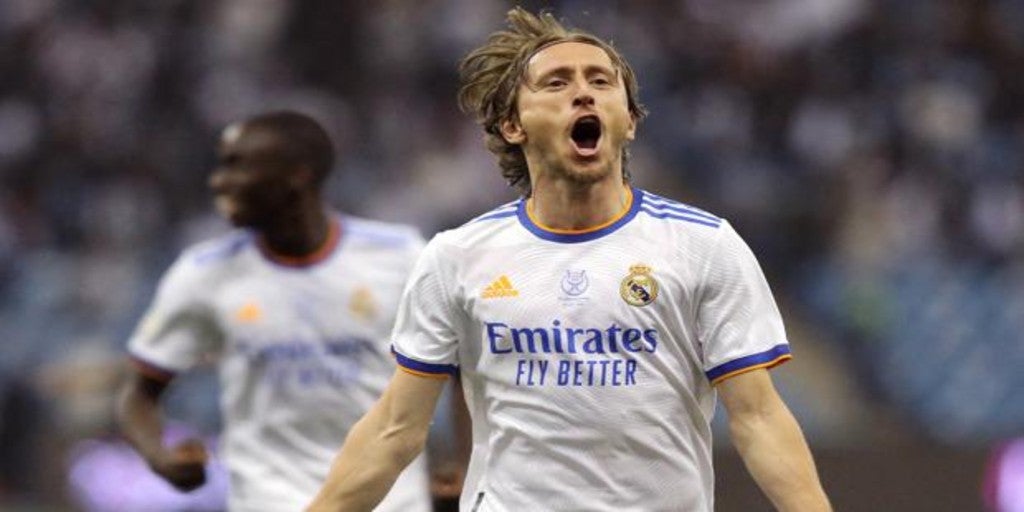 Modric's declaration of love to Real Madrid
Updated:
Keep

Real Madrid midfielder Luka Modric was designated MVP of the final of the Spanish Super Cup this Sunday against Athletic Club, where he scored the first goal of the victory (0-2) for his team to continue enjoying football and the titles, something that he hopes to "follow many years" doing.
«I am very happy for the victory and for winning the first title of the season. The MVP is the least of it, the most important thing is the victory and the first trophy of the season. Now we have to celebrate, but continue because there is a long season ahead, "said the best player in the final at the King Fahd Stadium in Riyadh. "I never get tired of winning. This club taught us that it is very important to win and it is going well for us," he added.
The 36-year-old Croatian player scored his first goal of the season, which had been around especially in recent games, and confessed his desire to continue waging war. "I always try to give my best and help the team in any way I can. I am enjoying football like never before. At this age you enjoy more because you never know how long you will last. I hope to continue for many years like this because I am physically and mentally well, "he said.
«I finally scored, because this year I have given a lot to the sticks and missed many opportunities. It was an important goal in a good play. Rodrygo faced three players and left me a good ball. I scored a good goal and it helped us gain confidence for the game. At the end of the match we went too low and gave Athletic the ball a lot", he added.
With this Super Cup in Saudi Arabia, Modric lifted his 18th title with Madrid. «It is something incredible what I am experiencing in the best club in the world. I am very grateful for everything that is happening to me and reaching 18 titles is impressive. I hope to win more in the future. Thank you very much for this support and we must continue together until the end of the season. I hope we celebrate titles together in Cibeles", he added.
"With the renewal it takes 2 minutes"
Some statements in which he abounded talking about his renewal, because despite the fact that his contract ends in June, he says he is not worried about his future: «I continue to have good relations with the club and I'm sure we'll reach an agreement». "Always with the renewal it takes two minutes, so right now I'm not thinking about that," he recalled.
Finally Modric also praised his coach, Carlo Ancelotti, whom he assured that "since his arrival he has given me a lot of confidence, he has put a lot of faith in me and when you have someone like that supporting you, everything is much easier."
Reference-www.abc.es