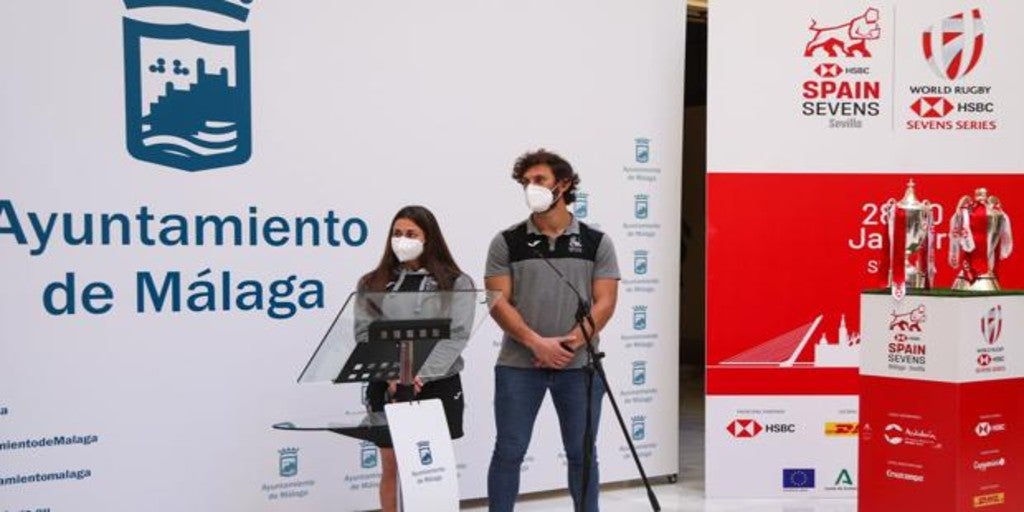 Malaga, the Spanish capital of rugby
Updated:
Keep

The captains of the Spanish men's and women's 7-a-side rugby team, Jaime Mata and Anne Fernández de Corres, attended the Malaga City Council this Monday, January 17, to present the HSBC Spain Sevens Series, the world championship that will be played from this Friday, January 21 to Sunday, January 23 at the Ciudad de Málaga Stadium and will end the following weekend, from 28 to 30, at La Cartuja in Seville.
Malaga wanted to throw itself into this international event, with an unprecedented festive atmosphere, which will arrive in Spain for the first time with the men's and women's teams from all over the world.
Argentina (bronze medal at the Tokyo 2020 Olympic Games), Australia, Canada, Scotland, Fiji (Olympic champions at Tokyo 2020), Germany, France, Wales, England, Ireland, Japan, Kenya, Samoa, South Africa, USA and the Spanish team.
For their part, the teams from Australia, Ireland, Fiji (bronze medal at Tokyo 2020), USA, Canada, France (Olympic runner-up at Tokyo 2020), Russia, Belgium, USA, Canada and England, in addition to the Spanish team.
The group stage matches will be played on Friday and Saturday, a day that will also host the playoff matches. Sunday will be the time for the finals, both in the male and female categories.
The captain of the Spanish rugby team, Anne Fernandez de Corres, has encouraged "everyone to come to Malaga and Seville to cheer on the Spanish team, which is playing an international rugby tournament in Spain for the first time."
For its part, Jaime Mata, player of the Spanish men's team, insisted during the presentation that they are "very excited that this championship will be held here and to be able to teach the little ones the values ​​that this sport transmits".
The presentation was also starred by the mayor of Malaga, Francisco de la Torre; the Councilor for Sports of the Malaga City Council, Noelia Losada; the Director of Sports of the Diputación de Málaga, Borja Vivas; the Secretary General for Sport of the Junta de Andalucía, José María Arrabal; and Mirella Ruiz, responsible for KiwiHouse, the promoter of the event.
The Councilor for Culture and Sports of the Malaga City Council, Noelia Losada, has insisted that "this event means that rugby has the place it deserves in the sports field and in the city of Malaga." "HSBC Spain Sevens will be able to be seen in up to 30 countries, which will make Malaga the Spanish capital of rugby," he added.
Reference-www.abc.es