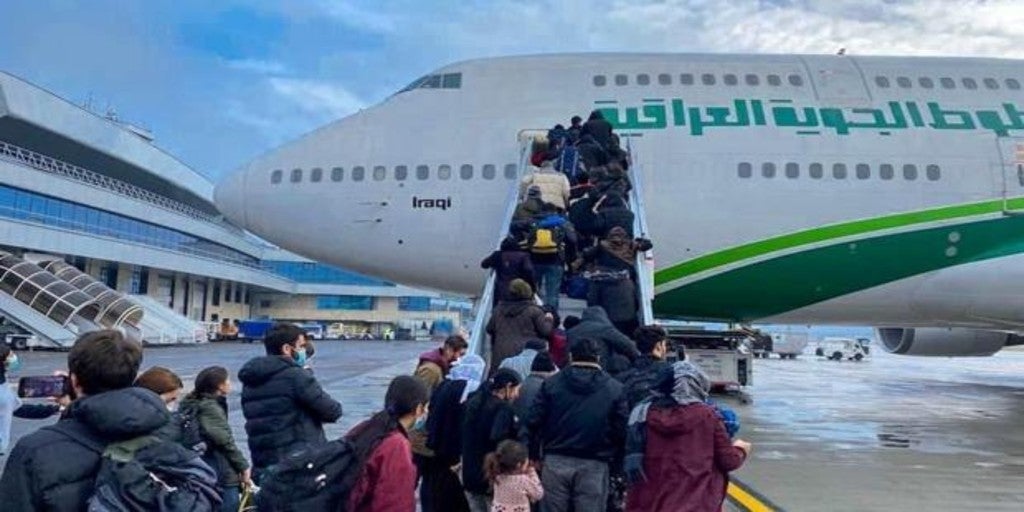 Iraq announces having repatriated 4,000 immigrants from Belarus in the last two months
Updated:
Keep

Baghdad has repatriated since mid-November to some 4,000 Iraqi immigrants blocked at the borders of Belarus with Poland, Lithuania and Latvia, the last three members of the European Union (EU), announced its Foreign Ministry on Sunday.
As of November 18, the Iraqi government organized a total of "ten flights from Baghdad to Belarus» that repatriated thousands of people, said Fuad Hussein, head of Iraqi diplomacy, at a press conference in Baghdad together with his Lithuanian counterpart, Gabrielius Landsbergis, currently visiting Iraq.
In this way, "we were able to repatriate some 4,000 Iraqis who were blocked at the borders of Belarus with Poland, Lithuania and Latvia," he continued. More precisely, "in the last two months (…), 3,817 Iraqi migrants were repatriated from Belarus and 112 from Lithuania," Ahmed al-Sahaf, spokesman for the ministry, told AFP.
These planes generally land first in Iraqi Kurdistan, the region of origin of many of the migrants, and then continue on to Baghdad.
Sahaf stressed that many Iraqi immigrants are still stuck in Belarus, but "the adverse weather conditions and the complex nature of the terrain do not allow rescuers to determine the exact amount.
The head of Lithuanian diplomacy, who later met with Prime Minister Mustafa al-Kazimi, declared his intention to "provide new ideas on ways to cooperate" with Iraq.
Since last summer, thousands of immigrants, mainly from the Middle East, in particular from Iraq, have crossed or tried to cross from Belarus, the EU's eastern border, into Latvia, Lithuania or Poland.
The West accuses Belarus of orchestrating this crisis by luring migrants to the Western European border through the granting of visas and the false promise of easy postage, in retaliation for the sanctions imposed on the country by the EU – which Minsk denies.
Reference-www.abc.es