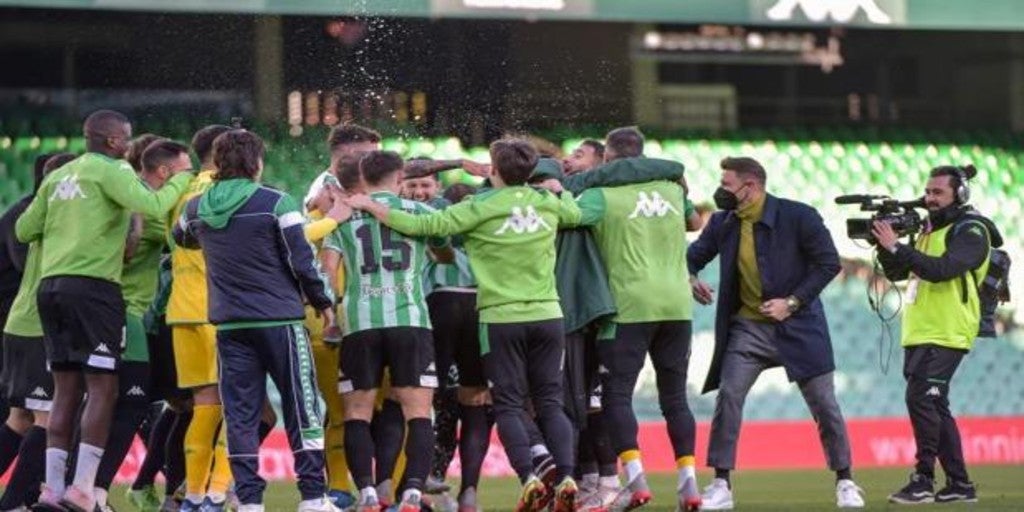 The gesture of Guarda in the celebration of Betis that angers Sevilla
Updated:
Keep

Not even the end of the game calmed down the spirits between Sevilla and Betis. The former, because they felt disadvantaged by having had to play without Jordan and with the fright still in the body; the latter, because they showed little elegance in celebrating the pass that qualifies them for the Cup quarterfinals.
A few minutes after the end of the match, the Betis victory already consummated after Canales' goal, the players of the Verdiblanco team celebrated on the pitch. It was then that Guardado, the club's midfielder, grabbed a bottle of water, threw it at himself and he threw himself to the ground simulating an assault. A controversial gesture that has ignited again the spirits between both hobbies.
In the middle of the celebration… watch out for Guardado's gesture! 😮#CopaDelReyDAZN 🏆 pic.twitter.com/DTSG08UI3m

— DAZN Spain (@DAZN_ES) January 16, 2022
So what Monchi, Sevilla's sports director, had come out asking for calm and quiet. His words were worth nothing in the face of Guardado's gesture.
He did not like the celebration of the Mexican, who joined the criticism of some of his teammates who claimed that Jordán had simulated the dizziness that ended up suspending the duel last night. Lopetegui, coach of Sevilla, appeared very angry at a press conference, where he showed his discomfort at having to play the match without Jordán on the pitch.


Reference-www.abc.es