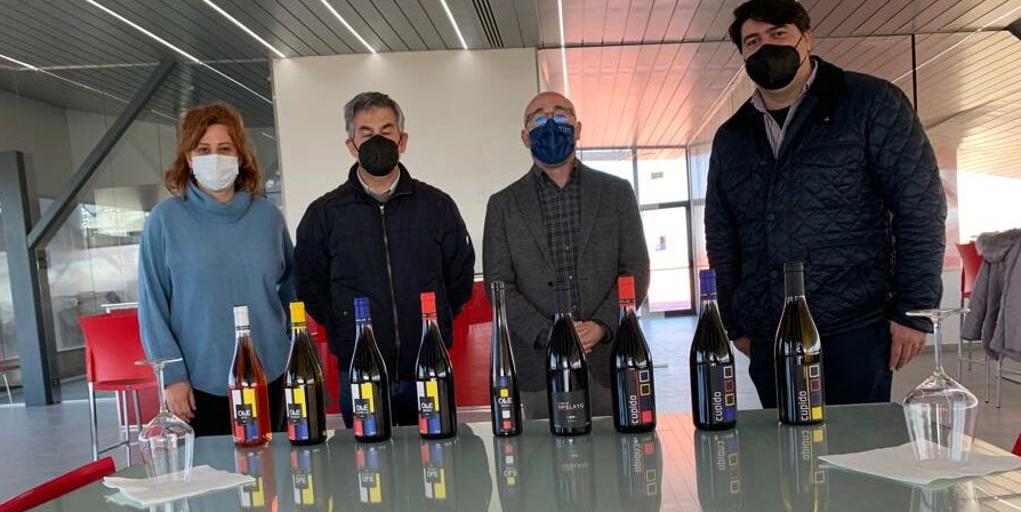 The companies Azafranes Manchegos and the La Cepa de Pelayo wineries join the 'Campo y Alma' brand
Albacete
Updated:
Keep

The Government of Castile-La Mancha has incorporated the agri-food company located in the town of Alcalá del Júcar in Albacete, Azafranes Manchegos and the La Cepa de Pelayo wineries, within the promotional campaign and guarantee mark 'Campo y Alma', which identifies products with denomination of origin or protected geographical indication of the autonomous community.
The provincial delegate of Agriculture, Water and Rural Development, Ramon Saez, has visited these two companies in this municipality of Albacete, explaining that in the case of Manchego crocuses marketed under the 'KarKom' brand integrated in the La Mancha Saffron Denomination of Origin and La Cepa de Pelayo wineries, under their 'Olé', 'Cupido' and 'La Cepa de Pelayo' brands, registered in the Manchuela Denomination of Origin .
Sáez has stressed that these two companies are "example" of marketing quality products in addition to a commitment to establish population in rural areas, job creation and internationalization, the Board reported in a statement.
The representative of the Ministry of Agriculture, Water and Rural Development, Ramón Sáez explained that Azafranes Manchegos is a family business with a long history dedicated to the production and marketing of saffron.
The current company was founded in 1987 by Francis Martinez, current manager and fifth generation of his family that works with saffron. They market saffron under two brands: 'Al-Júcar' with packages of 2 to 30 grams of strands, in addition to ground saffron and 'KarKom', in packages of 1 to 29 grams.
In addition, Azafranes Manchegos also sells other products with saffron among its ingredients, such as candies, gin, liqueurs, salt and honey.
As for turnover, it exceeded 480,000 euros in 2020, although in 2019 it was much higher, with more than 1.6 million euros. 60 percent of its commercial purchase operations are imports and 35 percent of its sales are exports.
The provincial delegate has also visited in Alcalá del Júcar, the La Cepa de Pelayo winery, a third-generation family business dedicated to wine, which in recent years has made a commitment to innovation, development and tradition.
Its winery is an example of avant-garde design and aesthetics, expanding its activities towards wine tourism and gastronomy. The grapes come from their own vineyards of the Bobal and Macabeo varieties, which are over 30 years old. The wine project is focused on the maximum quality of the wines with the most respectful production techniques with the grape: manual and nocturnal collection in boxes, refrigeration upon arrival at the winery, selection of clusters, separation according to plot of origin, concrete deposits with fully controlled temperature for fermentation, and a temperature-controlled cellar with French oak barrels.
La Cepa de Pelayo offers white and sweet wines, 100 percent of the Macabeo variety; 100 percent Bobal rosés; and 100% Bobal and 100% Tempranillo reds.
The winery's production declaration is made in the name of Tevatova SL and this campaign they have declared 676 hectoliters of red/rosé wine and 335 hectoliters of white.
The Provincial Delegate of Agriculture himself has pointed out that La Cepa de Pelayo had a four-year Vinati 2014 file, between 2015 and 2018, for the construction and equipment of the winery and a tasting room. The total eligible investment was practically 819,000 euros and the aid received was more than 260,000 euros.
Reference-www.abc.es