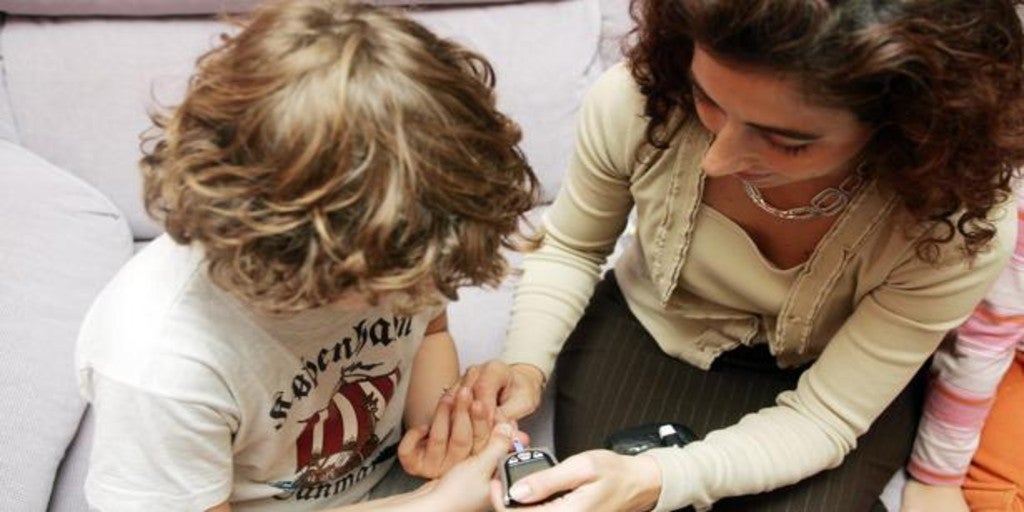 Diabetes in children, another of the threats of Covid-19
The latest weekly report from the
US Centers for Disease Control and Prevention. (CDC) warns of an increased risk of diabetes among people under the age of 18 who have had Covid-19, regardless of the severity of the disease.
The document, put into circulation this week, confirms that people under the age of 18 with Covid-19 seem to have more likely to be diagnosed with diabetes 30 days after infection than those who had not had Covid-19 or those who had suffered from other pre-pandemic acute respiratory infections.
Does that mean that Covid-19 can become a risk factor for diabetes? the authors of the report wonder while, while
This issue is resolved, they underline the importance of following "coronavirus prevention strategies in this age group, including vaccination for all eligible people and the prevention and treatment of chronic diseases."
In the report, the authors found that children who were infected with Covid had between a 30% and 166% (0.3-fold to 2.6-fold) more likely to develop type 1 or type 2 diabetes at least 30 days after infection than the uninfected.
The results obtained after analyzing information from two US health insurance databases, which include more than 500,000 people, support two facts that are already known about the relationship between Covid and diabetes: for children and adults , the disease can worsen the symptoms of diabetes, and people with diabetes are at higher risk of severe Covid infection.
However, he warns the
President of the Spanish Society of Diabetes (SED), Antonio Pérez, that «this is an observational study and the association does not mean causality», Therefore, unfortunately, «it is not possible to draw definitive conclusions without more research on why children with Covid-19 more often develop diabetes».
Of the same opinion is Santiago Conde Barreiro, coordinator of the
Diabetes Group of the Spanish Society of Pediatric Endocrinology (SEP). "This is an observational study with many limitations and does not state that Covid-19 is the cause of an increase in diabetes cases in children."
However, this primary school doctor from Barbastro (Huesca) assures that "we have had the feeling that there were more cases of type 1 diabetes as a result of Covid-19", but we have not been able to "measure it".
The problem is that in Spain there are no national epidemiological records that allow us to carry out a study similar to this one. "There are local ones, but they are also imperfect," says Conde.
And he explains that the diagnoses of diabetes cases are highly variable over time, "we always have ups and downs every year. Sometimes you have 2 or 3 years in a row with more cases, but they cannot be associated with a specific problem. With Covid-19 we saw it and we have tried to measure it among several colleagues in the work group, but we do not have clear conclusions that they have increased, especially since there is no reference population either.
In Spain, says Conde, "the only thing we can confirm is that when we have studied the cases in a study involving hospitals in Madrid, Valencia, Aragon and Andalusia, we have seen more cases of ketoacidosis during the pandemic period (a complication of diabetes), probably because they have been consulted later".
As for how diabetes can be attributed to Covid, CDC researchers posit that Covid could directly attack cells in the pancreas that express receptors called angiotensin-converting enzyme 2 (ACE2), which is part of the mechanism that protects the body against diabetes. The SARS-CoV-2 virus uses ACE2 cells throughout the body as an entry point for infection. Another potential contributor could be stress hyperglycemia as a result of the cytokine storm seen in infection, or it could be the result of more general changes in glucose metabolism caused by infection.
In this sense, Pérez acknowledges that the mechanisms are complex and probably go beyond the well-established stress response associated with severe disease and the glucotoxicity induced by sustained hyperglycemia. "The pro-inflammatory milieu induced by Covid-19 can lead to a high degree of insulin resistance, thus increasing the insulin requirement. The pancreatic β cell (insulin producer) expresses ACE2, which helps the virus to internalize and causes β cell dysfunction, so it is also possible that the coronavirus can penetrate the pancreatic islets and damage beta cells , causing insulin deficiency, aggravating the course of diabetes and triggering acute hyperglycemia even in people without prior diabetes.
Furthermore, he explains, "drugs used in the clinical care of patients with Covid-19, such as systemic glucocorticoids or antiviral agents, contribute to worsening glycemic control».
The report also questions whether diabetes may be the result of SARS-CoV-2 infection itself or treatments. "Both are potential factors mechanisms involved in the development or aggravation of diabetes -points out the president of the SED-. Although the contribution that each of them may have to the deterioration of control or the development of newly diagnosed diabetes is currently unknown.
Because the study shows that children with Covid have a much higher risk of developing diabetes than those who have not had it, more than double, the SEEP doctor considers that the data, "are a good clue and must be seen." if it continues to be fulfilled.
However, he warns, "if this is true, it is possible that after these waves, in which many more children are being infected, we will see many more cases of diabetes in the child population in the coming years."
Reference-www.abc.es