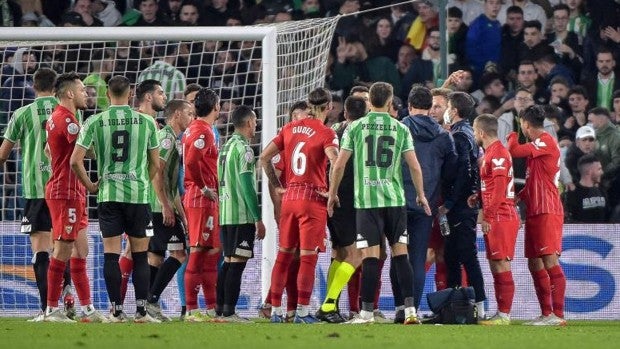 Betis-Sevilla ends this Sunday behind closed doors
Updated:
Keep

The Copa del Rey round of 16 match between Real Betis and Sevilla FC, suspended on Saturday after an object thrown from the stands hit Joan Jordán in the head, will resume this Sunday at 4:00 p.m. behind closed doors at Benito Villamarín, has confirmed the Royal Spanish Football Federation (RFEF).
The RFEF Competition Judge has decided that the match will resume only one day after being suspended and before the celebration of the Spanish Super Cup (7:30 p.m.), despite the fact that this "may imply that the footballer who suffered the impact cannot take part in the restart and must be replaced by a teammate.
Real Betis requested that the game be resumed this Sunday "for logistical reasons", while Sevilla requested that, "in the event of a resumption", it not take place "before Wednesday, January 19" to allow Joan Jordán, that must be 24 hours under observation, could be in the resumption.
The match was stopped in the 40th minute, just after Fekir's goal for 1-1 at the Benito Villamarín. After the local goal, with the Sevilla players near the back of their goal, a bar hit Jordán in the head and the game was stopped for about 45 minutes until it was finally suspended.
Reference-www.abc.es