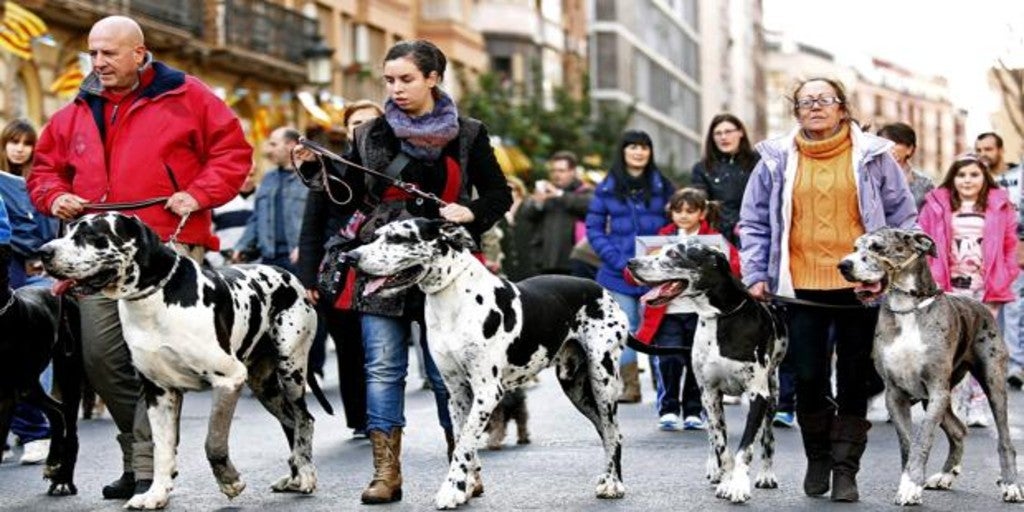 Valencia hosts this Sunday the traditional blessing of animals and solemn Eucharist in honor of San Antonio Abad
VALENCIA
Updated:
Keep

The Valencian neighborhood of Sagunto will host this Sunday the traditional blessing of animals and the solemn mass in honor of Saint Anthony Abbot, patron saint of ranchers and protector of animals, which is celebrated in more than a hundred towns in the diocese with masses, processions and animal blessings.
The solemn Eucharist will take place at ten in the morning in the San Antonio Abad parish, located on Calle Sagunto de Valencia. At the end of the celebration, the bread that will be distributed later will be blessed.
Next, the traditional blessing of animals will be celebrated with a procession in which the Major Falleras of Valencia that they will release pigeons, as indicated by the Brotherhood of San Antonio Abad.
In the procession Numerous people will participate with their pets, as well as the Local Mounted Police, and cavalry and canine units of the National Police, the Civil Guard and the Military Emergency Unit.
This year the celebration of San Antonio Abad, whose liturgical festivity is January 17, is celebrated exceptionally the day before, Sunday, because it could not be celebrated due to the coronavirus pandemic. coronavirus in person last year when the party did coincide on a Sunday.
Among the numerous Valencian towns that also celebrate San Antonio there are some that have parishes dedicated to him as Alcublas, Alginet, Canals, Casas de Moya, Casas de Pradas, Cerdá, Cullera, Gilet, Los Isidros, Quesa, Rafelbunyol, San Antonio de Benagéber and Sumacàrcer.
The town of Canals also celebrates the festivities in honor of its patron saint, San Antonio Abad. This Sunday, the parish will host the solemn vespers where a candle will be lit, representing the "Bonfire burning", considered "the largest in the world in honor of this saint according to the book of records", according to the parish priest Emilio Salvador Úbeda. Next Monday, the parish will celebrate solemn mass in the morning and in the afternoon, at 8:00 p.m., there will be a procession. Likewise, on Tuesday the blessing of animals will be celebrated.
San Antonio Abad was born into a wealthy family of Egypt in the year 250 and opted for the evangelical advice of detachment and delivery of all goods to the poor, retiring to the desert. Despite this, many tried to follow him, so he introduced a new stage in religious life organized in a communal way, instead of individual isolation.
The little pig that the iconography traditionally places next to Saint Anthony did not initially represent the patronage of the saint over the animals, contrary to popular belief, but instead "symbolizes the temptation of which he was subjected by the devil when he remained in the desert, abstaining from eating meat.
Reference-www.abc.es