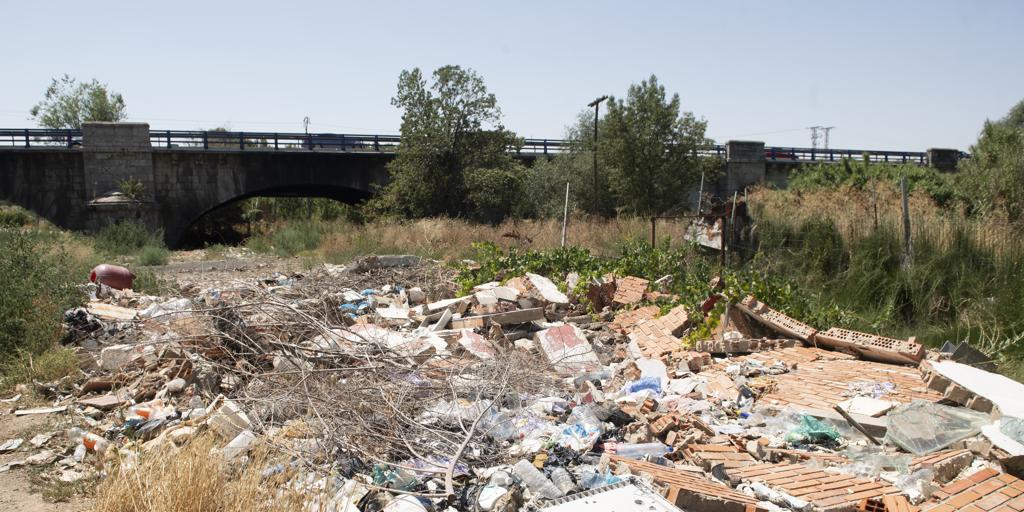 The innovative plans to seal the cracks of recycling in construction
Updated:
Keep

The construction sector remains one of the least sustainable in the world: generates 36% of CO2 emissions in the European Union, is the country that consumes the most energy and generates the most waste. And, although the new foundations of the sector are committed to materials that are more respectful of the environment (natural, recycled, recyclable or reusable) in construction, the circularity in building demolition It is still a pending subject.
Despite the fact that the European directive required that 70% of construction and demolition waste be recycled by 2020, today Spain barely reaches 40% and a large amount ends up deposited in landfills. A reality that highlights Recycled Aggregates-RCD Group of Interest, which brings together the associations of Andalusia, Madrid and Galicia committed to the recovery of debris.
"Despite the possibilities and quality offered by recycled aggregates, only a quarter of construction and demolition waste reaches recycling plants and overflows throughout the country in landfills," he says. Paul Perez, technical director of the RCD Recycled Aggregates Interest Group. A practice that brings environmental consequences such as soil contamination or leaks of possible contaminants into aquifers.
Landfills and quarries
"It is essential to eradicate this type of practice and illegal rubbish dumps to get closer to a true circular economy. In Spain, 45 million tons of demolition waste are generated per year, if proper recycling were carried out, 28% of the demand for aggregates could be made with recycled material».
Much of this debris that does not reach the recycling plants ends up filling old mining holes. Recycled aggregates point out that this practice constitutes a makeup to recycling. "The quarries have to be restored with natural or recycled materials with less technical capacity but which are fabulous for restoration, but in no case directly with waste," Pérez points out.
In addition, it points out that what is serious and worrying about this situation, in addition to constituting a possible environmental crime, is the existence of commercial illegal dumping that charge for discarding waste without carrying out any type of treatment and operate with recycling plant authorizations that are not verified by the authorities.
In Spain there is no problem in the supply of natural aggregates, but in a global context of scarcity of raw materials, the recycling of this construction waste is key to talking about a circular economy. «The main remains of the work (concrete, ceramic materials and asphalt agglomerate) are one of the few residues that can be recycled infinitely. Recycled aggregates are one of the best examples of circular economy, they are recyclable in percentages close to 100%, allowing a waste to become a resource and reducing the environmental impact generated by the extraction of natural aggregates", he points out.
The main materials obtained after recycling are mainly used for pavement layers, wearing courses, such as sand bed under pipes or drainage layers, and for the sector to increase the demand for its use, it is necessary, according to Pérez, to have certifications that guarantee the quality and properties of the material. In addition, it considers key that the proper management of waste can be carried out, even on site.
iceberg project
To advance in the circularity of this waste, the european iceberg project with the aim of developing innovative solutions that demonstrate the efficient recovery of construction materials at the end of their useful life. The project, which will end in 2024 and has budget of 15.6 million euros, aims to design, develop, demonstrate and validate advanced technologies for the production of high purity secondary raw materials. And for this, studies will be carried out that cover the circularity of wood, concrete, plasterboard, ceramics, mixed aggregates, glass, polymeric insulating foams and inorganic superinsulating materials. Germany, Belgium, Spain, Finland, France, Greece, Italy, the Netherlands, the United Kingdom and Turkey are the countries chosen in this project in which a total of fourteen large companies, ten SMEs, nine research centers and universities and two environmental public companies participate.
virtual model
Iceberg is led by the Tecnalia technology center. David Garcia Estevez, Project Manager, explains that "we are working on the development of a BIM-assisted digital demolition aid tool, which allows a virtual model of the building to be demolished to be generated quickly and with sufficient precision. Thanks to her we will be able to make a reliable estimation of the type and amounts of waste expected; as well as knowing the environmental and economic impact derived from the tasks of demolition and waste management. For this expert it is important to focus on a new concept: the deconstruction of buildings (selectively and with separation of materials in situ) instead of demolition. "We have to bet on new circular and economically viable solutions for a more efficient recovery of secondary raw materials for the construction sector from CDW and continue creating awareness of circularity."
In addition, it explains that a digital platform and an authentication system based on wireless technologies will be established in order to improve the identification and traceability of materials and products. But in addition, for each of the main materials used in construction, various recycling and purification technologies will be improved, allowing the added value to be increased. Subsequently, new construction products with a high content of recycled materials and higher levels of circularity will be designed and manufactured.
Separation on site
Another of the technologies to be implemented for sorting and recycling will be a mobile unit to improve the separation of mixed waste. The unit will have hyperspectral vision sensors, machine learning software and blower nozzles to improve the efficiency of waste separation. The Basque technology center Gaiker together with the company LENZ Instruments will be in charge of contributing to the development of this mobile unit for the automatic separation and classification of RCD. "We adapted hyperspectral vision technology and developed calibration methods to be able to analyze what kind of materials each construction waste contains so that they can be classified correctly and obtain from them new materials with the highest possible purity so as not to waste raw materials and close the cycle", explains Iñigo Cacho, recycling and circular economy researcher at Gaiker.
Reference-www.abc.es