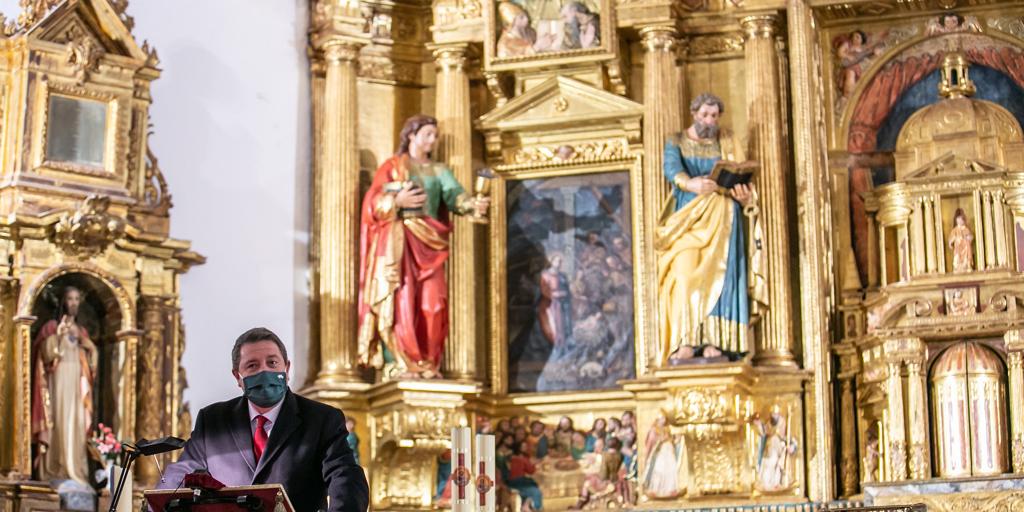 The church of Nuestra Señora de los Olmos in Torre de Juan Abad (Ciudad Real) as a Site of Cultural Interest
Real city
Updated:
Keep

The President of Castile-La Mancha, Emiliano Garcia-Page, announced this afternoon, in the Ciudad Real town of Torre de Juan Abad, that the regional government will begin to process, "in the coming weeks", the declaration of the church of Nuestra Señora de los Olmos, "as a whole", as Well of Cultural Interest (BIC).
This has been advanced by the head of the regional Executive from the temple itself, during the inauguration of the rehabilitation of its main altarpiece, an architectural jewel whose origins date back to the year 1581, when Francis Cano, one of the most significant artists of La Mancha, began its construction. "Culture is not only an industry that generates tourism and employment," said the Castilian-Manchego president, but its promotion and care "makes us better people," he stressed.
In this framework, the regional president has considered it appropriate "that we address the process of protecting the entire church", which will also include the recently inaugurated altarpiece, the altar or the organ, an instrument that dates back to of the year 1763 and is conserved with the same elements with which it was built.
During this inauguration, Emiliano García-Page has been accompanied by the Minister of Education, Culture and Sports, Rosa Ana Rodríguez; the Minister of Economy, Business and Employment, Patricia Franco; the delegate of the Board in Ciudad Real, Carmen Teresa Olmedo; the president of the Ciudad Real Provincial Council, José Manuel Caballero; the mayor of the municipality, María del Señor Fresneda; as well as by the parish priest of the church, Urbano Patón.
Reference-www.abc.es