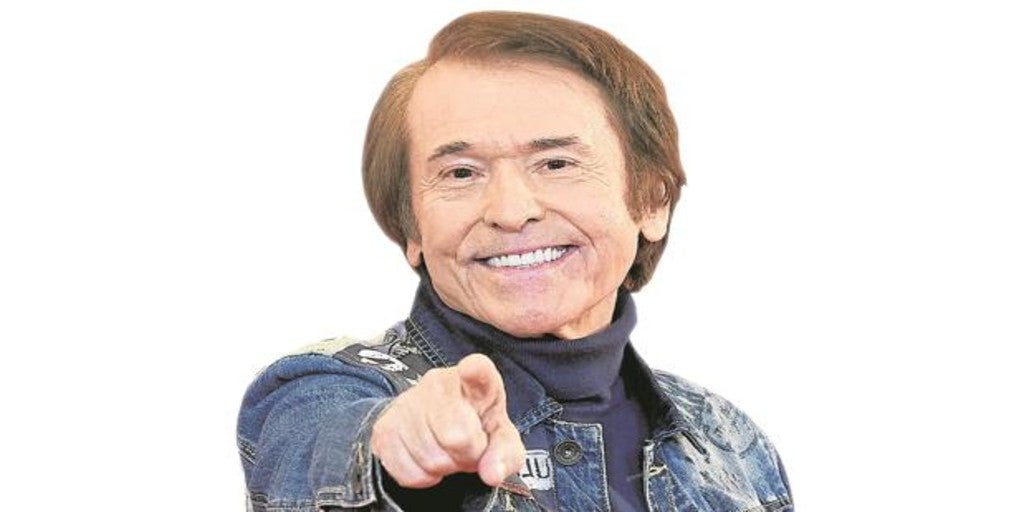 Raphael: «Natalia is the one who understands me best»
Madrid
Updated:
Keep

Six decades on stage and a life that very few can tell. That and more is discussed in the four-part documentary 'Raphaelism' (Movistar) that this week has been presented in Madrid with the entire singer's family. Friendly and without duplicity, the one from Linares confesses to talk about success and love, fears and the future. And let them say what they say.
Can you explain to me what 'raphaelism' is?
A movement, a form, a definition that has happened since the public began to attend my performances. 'Raphaelism' exists because I am an artist who does things my way, I don't follow a canon but I trust my intuition. I don't look like anyone and it's me.
With how discreet you are despite everything you have achieved in your career, how do you feel today as the protagonist of this documentary series and take a dip in the crowds?
Very good and very quiet. As soon as this cry is produced, I am prepared for everything. I fight for my things and I give myself thoroughly in what I do but I try to maintain balance in everything that happens to me, that's why I don't get drunk with success or sink in the face of a setback. I am one of those who believes that it is better not to arrive before going over.
Do you think it has happened many times?
Sometimes yes, but fortunately I am the first to notice and that is why I immediately correct it.
In this 2022 he will celebrate his golden wedding anniversary with his wife Natalia Figueroa. How do you manage to be happy with your partner after so long?
It seems like yesterday and time flies. We are as we are and we do not pay attention to others. There is no trick to these things, I simply believe that Natalia is a wonderful woman who has been able to understand me perfectly and understand that if I have to travel it is because I need it for my work.
And do you understand your wife?
Perfectly.
Why is this documentary coming now? Is there a need to look back?
On many occasions I had been offered to do a project similar to this one but I had never accepted because I am one of those who believe that things have to be done as soon as possible. I've been struggling for enough years now to be able to afford it, and I've always liked measuring my times in a natural and intuitive way.
And now what's up? What does your artist's nose tell you?
We are in a wonderful moment of our lives in which I feel miraculously so well, with my voice and desire in its place, acting where I want, working what I want, that I assure you that the most incredible thing is to see that I have a birthday but not in the voice. The day the years show in my voice, I'll tell you that I'm going to be very upset.
He has had very delicate moments of health that he openly narrated in the television series where he recounted his problems with alcohol and the liver transplant he had to undergo. His recovery has been spectacular and here he is to prove it.
I give thanks to life every day and every time I sing that song in my concerts you can be sure that I interpret it with everything I've been through and with that secondary intention.
Really many of his songs seem to go second. Many have wanted to read some of his hits between the lines, such as the famous 'whatever they say'.
I find it very fun to go with seconds. Besides, 'Digan lo que say' was the first protest song and its author Manuel Alejandro is incredible.
What is the song that says the most about you?
The one that is singing at that moment since it is the one that I feel like. I don't sing out of obligation nor do I have to look good with anyone. Unfortunately I am not an author and I do not write those compositions but when I sing a song it is because at that moment it is my song.
He is tremendously familiar and lives inside when he is off stage.
Being with my family is the only thing I do when I'm not acting.
Natalia and you will soon celebrate your golden anniversary. An example that none of his three children have been able to follow since they are all divorced at the moment. How are you doing?
Hopefully with time everything will normalize. Today things don't turn out the way you'd like but, anyway, you have to be patient and I think that if you leave with good intentions, things can be fixed.
Do you trust that there is still time to redirect the ruptures?
Yes. In life everything can be redirected well as long as after screwing up you know how to ask for forgiveness or you really feel it since life has millions of opportunities and you just have to know how to see them.
It has everything an artist can get and even a unique uranium disk in the world. Why don't you just sit back at home with your wife and family and enjoy your ample harvest?
Because I like it and I feel that I can. The day it's not like that I'm going to have a great disappointment and I'm already announcing that I'm not a man of farewells. It will be a decision that you make when you think it is necessary. What I refuse is to do a farewell tour because I don't want to die of grief crying in the corners every day that I perform in a place knowing that it is the last time. One day I will go on vacation and I will not return.
At 78, what excites you?
The recording I have going. The feeling of starting daily is wonderful. Every day I go out looking for someone who wants to listen to me and I have that illusion.
How have you managed to keep yours from starring in scandals?
Ours stays at home, the good and the less good, and I assure you that I don't want to live any other way.
Reference-www.abc.es