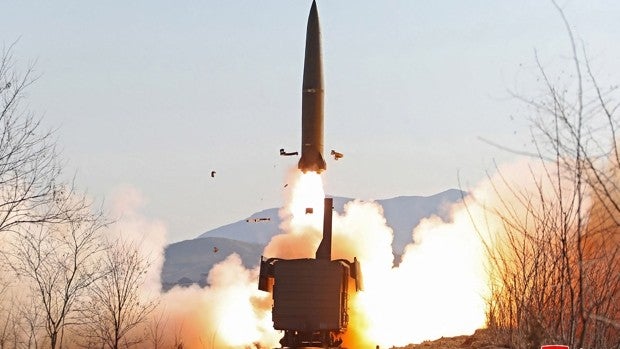 North Korea launches missiles from a railway
Updated:
Keep

North Korea He indicated on Saturday that he had launched two tactical guided missiles from a railway platform the day before, in the third weapons test of the Asian country since the beginning of 2022, despite the new sanctions imposed by the United States.
The test, detected by the South Korean army and the Japanese coast guard, served to "check and evaluate the competence in the action procedures in the launch from railway platforms", indicated the North Korean official agency KCNA.
Launches of these short-range missiles occur after U.S this week imposed new sanctions on Pyongyang, which responded then that it will never give up its "right to defend itself."
In September 2021, North Korea first tested these launches from a rail platform.
Friday's trial "demonstrated high maneuverability and hit rate", according to the agency. "The deployment of a rail-based missile system across the country is being discussed," KCNA added.
The launches took place at 2:41 p.m. and 2:52 p.m. (0541 and 0552 GMT), and the missiles traveled a distance of 432 km at a height of 36 km to the east of the Korean peninsula, said the chiefs of the General Staff of South Korea.
The South Korean Security Councillament« this essay that »does not contribute to stability on the Korean peninsula at this critical moment«.
In Tokyo, the Japanese defense minister, Nobuo Kishi, said the shells fell outside of Japan's exclusive economic zone. These repeated tests show that Pyongyang "seeks to improve its launch technologies," he said.
Despite international sanctions on its weapons and nuclear programme, Pyongyang It has carried out two tests of alleged hypersonic missiles in recent days, on January 5 and 11.
Following the second test, personally overseen by North Korean leader Kim Jong Un, the United States imposed additional sanctions on five people linked to North Korea's missile program.
A spokesman for the North Korean Foreign Ministry accused Washington of getting rid of a "intentional escalationabout this situation.
If "the United States adopts a confrontational posture, the Democratic People's Republic of Korea will be forced to take a stronger and firmer reaction," the spokesman said in comments reported by KCNA on Friday before the shooting.
North Korea has a "legitimate right" to develop new weapons as part of its process of "modernizing its national defense capabilities"added the spokesman.
Reference-www.abc.es