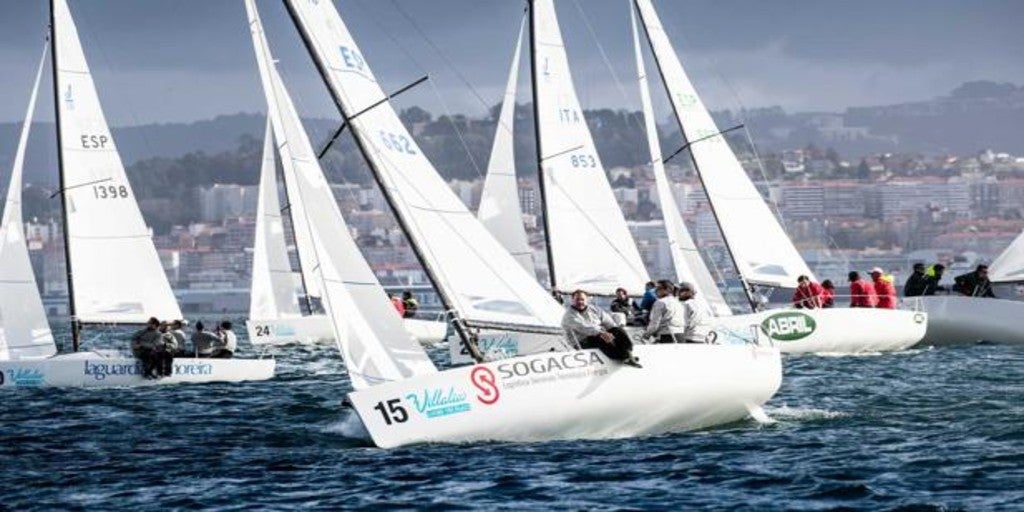 Gonzalo Araújo won with «La Guardia & Moreira» which practically ensures his final victory in Vigo
Vigo (Pontevedra)
Updated:
Keep

La Guardia & Moreira with Gonzalo Araújo at the helm, is the great favorite to win this Sunday in the J70 Villalia Winter Series, which is being organized by the Class 70 and the Real Club Náutico de Vigo. The Sunday session, which will begin at ten in the morning, will be the last of this series in which the fleet has been competing since last October, with the presence of many of the best national heavyweight sailing skippers.
It would have given even more emotion to the closing day… the fact that on Saturday the planned four sleeves had been completed… but despite the efforts of the great team of judges led by Jaime García from A Coruña… it was not possible.
Two sleeves were staged… one very fair due to the low prevailing wind (3 to 8 knots from the northeast)… but the other Jaime opted for the most reasonable, which was nothing more than canceling.
Therefore, a valid sleeve, which has changed some little things… but which essentially served to settle Gonzalo Araújo to be more of a leader (although not definitive), that for its part the Sogacsa of Páramo and Iglesias held the second position, with options to surprise… and that on the third rung Abril Verde is in a handkerchief on the closing day with a Marnatura 1 by Luis Bugallo, who had no luck with the terrible conditions in the Vigo estuary… who by the way achieved a tenth first place in the manga.
The victory was La Guardia & Moreira, followed by Sogacsa and completing the partial podium, Luis Pérez Canal from Ourense with his Abril Verde. Fourth place for Willy Alonso, fifth for Pazo de Cea for Ramón Ojea and sixth for another patron from the City of Burgas… Jorge Pérez Canal with Abril Rojo.
Sailway Academy of the young first team from Ourense Alejandro Pérez Canal was seventh, ahead of Valmy ACtlántico of the Club de Mar de Cariño… being the ninth place for another J70 from A Coruña: Fran Edreira's Correa Kessler and the tenth for the debutants of the Sail Cascais with the Olympic Lusitanian Vasco Sherpa to the rod of Lisbon.
Reference-www.abc.es