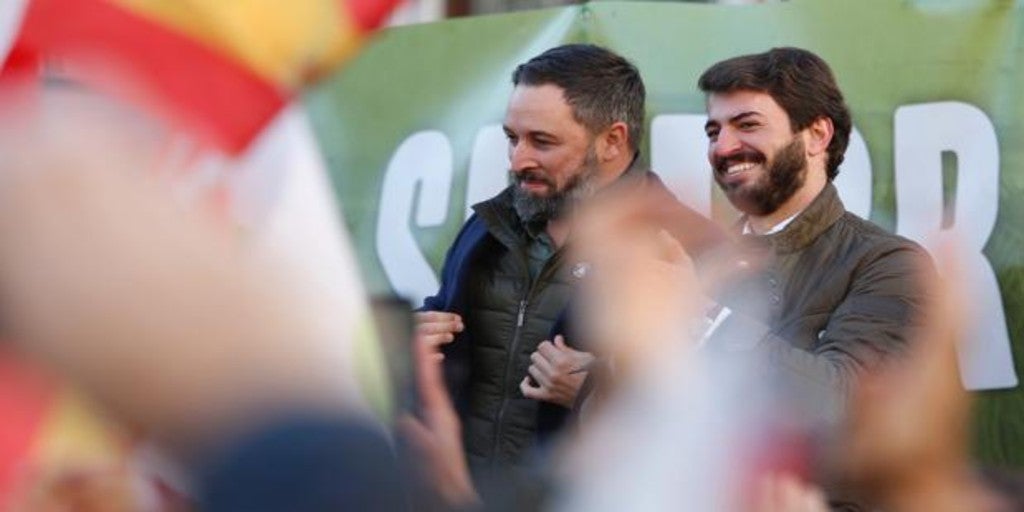 Abascal: «What a good president of Castilla y León is going to be Juan García-Gallardo»
Valladolid
Updated:
Keep

«What a good president of Castilla y León is going to be Juan García-Gallardo». With these words he presented this Saturday in Valladolid the president of Vox, Santiago Abascal, who will be its candidate in the regional elections on February 13 and who is entrusted with the mission of sowing hope in a community that was "the cradle of Spain before it became an archaeological site."
In an act held in the Plaza de la Universidad on a busy morning in the capital of Pisuerga, with the leader of Podemos, Ione Belarra, a few hundred meters from the place, and thousands of "penguins" disembarking on their motorcycles with the parade of flags of the winter concentration, Abascal has presented a candidate who trusts that he will prevail before the PSOE and the popular Alfonso Fernández Mañueco, whom he has described as "progressive" and whom he has warned that "he will not give away votes".
A candidate, Juan García-Gallardo Frings, who considers that he is the "best" for his "ambition" and for taking the step in the "land in which he grew up", without "resigning himself to exile" from a community that considers that "suffers" and in which "the parks, soccer fields and swings are empty today" after being "discriminated against" at the national level in favor of "cessions" to "Catalan embassies or the Basque concert", he assured, while pointing out that this has also happened in other regions of "hesitated Spain".
Terms similar to those expressed by García-Gallardo Frings, who in his first act as a candidate defended the right of young people to have a "decent salary, form a family and prosper in Castile and Leon».
Reference-www.abc.es