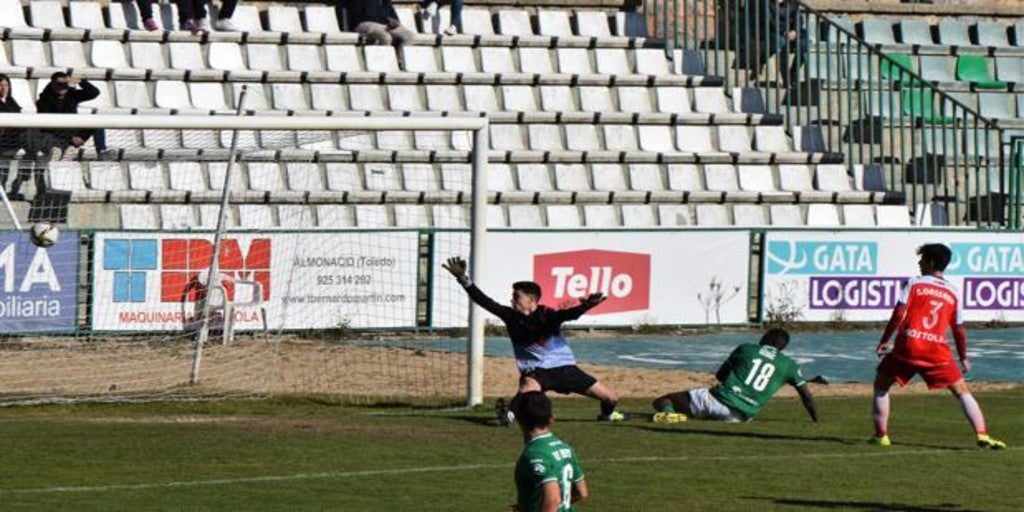 2-0: Two goals from Cedric give Toledo the victory in a friendly against Móstoles
Toledo
Updated:
Keep

Two goals from Iván Cedric certified the victory of CD Toledo against CD Móstoles URJC in a friendly match played this Saturday morning at the 'Salto del Caballo' in front of some 200 spectators. He took advantage of the rest day in his competition.
The defender debuted in the greens David Herrera and the center Andriu, while he reappeared after his injury, and with a good tone, the defender Adrian Jimenez. For On the other hand, the Toledo club confirmed this Saturday that it has discharged Mamau from the federation (he goes to Terrasa, from the Second RFEF), César Ortiz and Valentín Prieto. Rodri and De Felipe, who are with physical discomfort, did not play.
CD Toledo offered a good game against a rival who plays in the same category (Second RFEF), where he is sixth in his group.
The coach of the green squad, Javi Sánchez, acknowledged that, for him, this match was not a friendly one and that it had served him well for the next official commitment (on Sunday of next week, at 12:00 p.m., in the 'Salto del Caballo' against Melilla).
The two goals of the Toledo team were scored by Ivan Cedric. The first of them, as a result of a violent shot by Jesús Cambil from the edge of the area. The visiting goalkeeper rejected with great difficulty, which Cedric took advantage of to shoot the 1-0. The second local target came after a run down the right by Alberto Bernardo, which ended with a cross that the young striker from the 'Salto del Caballo' team slammed into without stopping.
Reference-www.abc.es