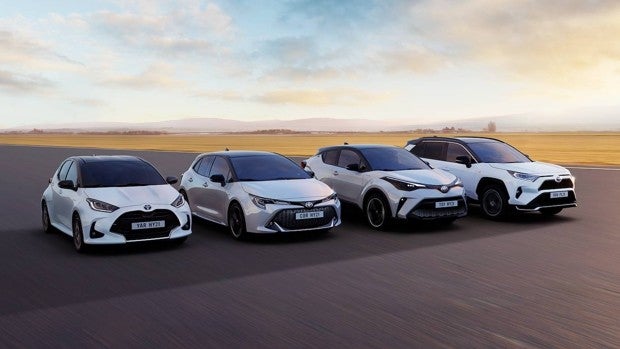 Toyota in Europe exceeds one million units sold in 2021
Madrid
Updated:
Keep

Toyota closed 2021 with 1,003,859 units sold in Europe, 9% more than in 2020, with a market share that grew 0.6 points, up to 6.3%. This is an outstanding figure in a global market that has begun to stabilize after the combined effects of the pandemic and semiconductor supply shortages.
Of the million European sales of
Toyota579,698 units corresponded to electric hybrid models, with a growth of 19%. Thanks to these magnificent results, Toyota has risen for the first time in history to the second position in the car market in Europe.
One of the keys to this success can be attributed to record customer demand for the electrified range, which encompasses a broad offering of hybrid electric, plug-in hybrid, battery electric and fuel cell electric vehicles.
Toyota's best-selling models in Europe last year 2021 were the Corolla family (208,028 units), Yaris (179,383 units) and RAV4 (161,266 units), which accounted for 55% of the total volume, with Yaris Electric Hybrid (143,595 units), the Corolla Electric Hybrid family (166,811 units) and Toyota C-HR Electric Hybrid (112,757 units ) as the most popular electric hybrids. The mix of electric hybrids was 58%, with 69% in Western Europe —6 points more than in 2020—.
Last December, Toyota introduced several new electrified products, which will be one of the centerpieces of your carbon neutral strategy. Globally, the company will offer 30 battery electric vehicles by 2030, covering all segments.
By then, TME expects to have at least 50% zero-emission vehicles in Western Europe in its offering, while the Lexus brand hopes to reach 100% in the same period. Looking ahead to 2035, TME will also be poised to achieve 100% CO2 reduction in all its new vehicles in the European Union. In the shorter term, TME plans to expand its zero-emission product offering to 10 models by 2025.
Reference-www.abc.es