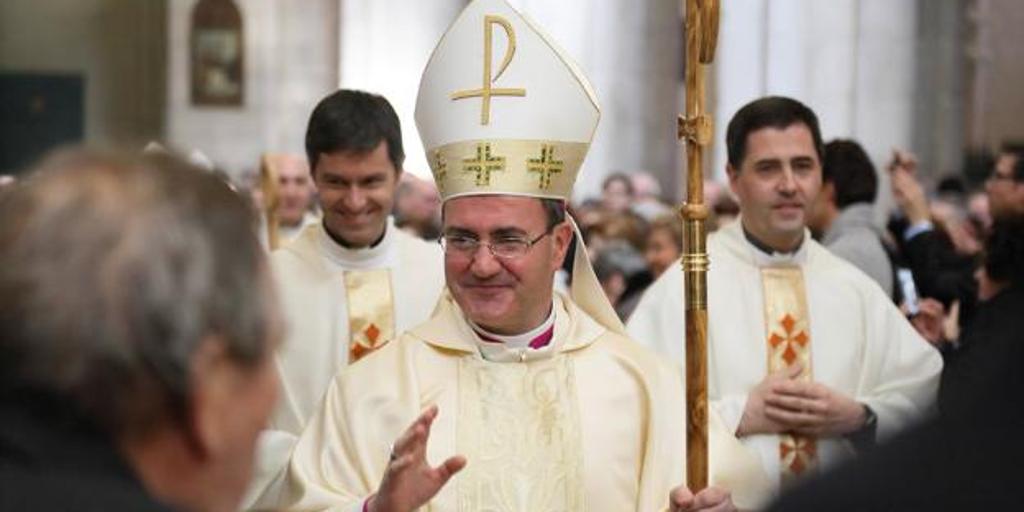 The solanero Santos Montoya is appointed new bishop of Calahorra
Real city
Updated:
Keep

The solanero Santos Montoya Torres has been appointed new bishop of Calahorra and La Calzada-Logroño, as confirmed this Wednesday by the Apostolic Nunciature to the Spanish Episcopal Conference (CEE), in accordance with the decision of the Pope Francisco.
Born in 1966 in La Solana (Ciudad Real), he served as auxiliary bishop of Madrid for four years and will be head of a diocese that has remained vacant since October 2020. His predecessor was the current archbishop of Zaragoza, Carlos Escribano, and previously the current Cardinal Juan José Omella, has reported the La Solana City Council in a press release.
Calahorra and La Calzada-Logroño is a bishopric steeped in history, since there is evidence of prelates of Calahorra since the 5th century, specifically since 400 AD.
La Calzada was added in 1220, and it was in 1959 when this diocese adopted the current name. It is, therefore, a demarcation of enormous ancestry in the history of Spanish Catholicism.
Santos Montoya was born in La Solana on February 22, 1966. Eight days later, on March 2, he was baptized in the parish of Santa Catalina by the priest Zacarías Martín Gallego, as recorded in the parish baptism book.
Son of the marriage formed by Bernardo Montoya and María Manuela Torres, he lived in La Solana while his father worked as an employee of Cajamadrid, but his family emigrated to Madrid when little Santos was 10 years old.
He graduated in Chemical Sciences from the Autonomous University in 1990 and was ordained a priest on June 18, 2000 in Madrid, when he was already 34 years old. In 2012 he graduated in Dogmatic Theology from the San Dámaso Ecclesiastical University and in 2020 he obtained a master's degree in Vocational Discernment at the Comillas Pontifical University.
Until now, his ministry has been developed entirely in Madrid, where he was a diocesan vice consiliary of General Catholic Action (2000-2001). Between 2002 and 2012 he was director of the archiepiscopal college-minor seminary La Inmaculada y San Dámaso. From 2012 and until his episcopal appointment he was parish priest of Blessed María Ana de Jesús and worked as head director of the homonymous college. He was also Archpriest of Delicias-Legazpi.
On December 29, 2017, his appointment as auxiliary bishop of Madrid was made public, assigning him the titular see of Orta (Horta, Horten-sis), which had Cartagena as its metropolitan seat. He received his episcopal ordination on February 17, 2018 at La Almudena Cathedral as one of Archbishop Carlos Osoro's auxiliary bishops.
He thus became the first solanero prelate, on a day when an embassy in his hometown gave him a crozier made of olive wood, precisely from his father's olive grove. The key to the box bears his episcopal motto, on one side his shield and on the other the Cross of Santiago as a sign of identity of his small homeland.
Santos Montoya has always raised his Marian devotion, and in fact he was captain of the Virgen de Peñarroya in 2009. In 2019 he was named 'Galán', a title given by the City Council through the Gaceta de La Solana magazine. Mayor, Eulalio Diaz-Cano, has already sent you an official congratulation on your appointment.
Reference-www.abc.es