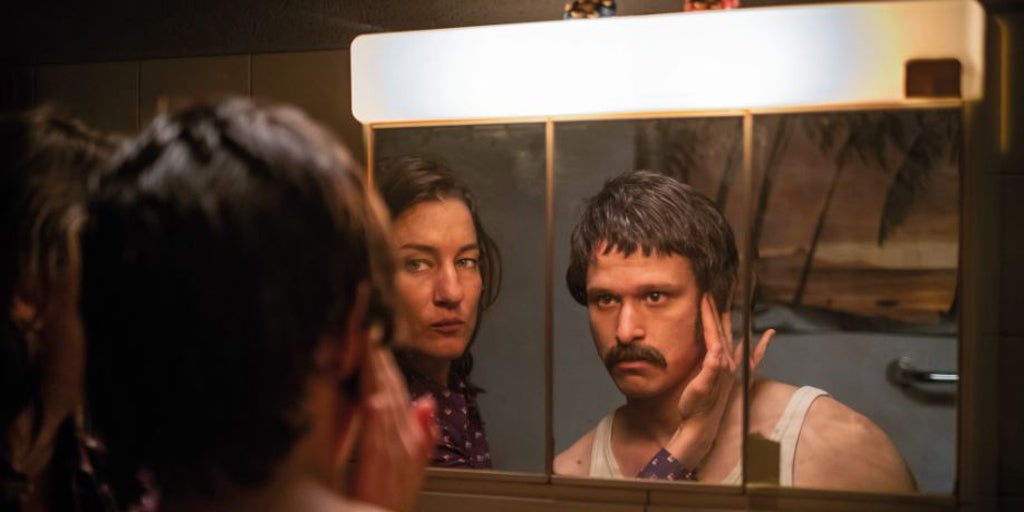 Oliver Rihs, director of 'Caged Birds': "Switzerland is much more than Heidi, mountains and honey"
Updated:
Keep

His incredible ability to escape from prison (he did so eight times between 1974 and 1995) made Walter Storm an icon of Swiss counterculture during a troubled time for the country.
'Caged Birds (Until We're Dead or Free)' tells the story of what was called the "king of fugues" and the particular relationship he had with Barbara Hug, the idealistic lawyer who became his best ally. The protagonists are Joel Basman (recently seen in 'The King's Man: The First Mission') and Marie Leuenberger ('The divine order'). Your manager, Oliver Rihs (Zurich, Switzerland, 1971), visited Madrid to present the film.
– When did you decide that you wanted to make a film about «the king of fugues»?
– It was the producer who sought me out. It's a project I've been preparing for about three years. Walter Stürm in Switzerland is almost as famous an icon as William Tell and Swiss television felt that it was time to do something about him. There have been some attempts before but it was not impossible to get the funding because the budget, by Swiss standards, is high. Until now the money had not been raised.
– What were the biggest difficulties you had to face during filming?
– The hardest thing was to find the 80's settings in Switzerland, where everything is so impeccable and so new. Finding places that would allow us to recover that atmosphere is what was most difficult.
– Switzerland is seen, internationally, as an idyllic country in which there is no type of conflict. Instead, this movie takes us back to a time when it wasn't like that…
– Personally, I am very bothered by this paradisiacal image that Switzerland projects abroad, which is associated with Heidi, mountains and honey. It is much more than that and for me it was necessary to show another face of Switzerland abroad.
– This is the story of an antihero. Why do you think that the figure of the antihero is always so attractive to the public?
– Actually, more than the story of the antihero, what interests me is his relationship with the lawyer, a person completely opposed to him philosophically, politically… in every way. The story of this very unusual couple is what attracted me the most.
– And what is it that unites these two very different characters?
– On the one hand, there is the egocentric, almost narcissistic personality of the delinquent who only thinks about his own needs. In contrast, she is the complete opposite: she dedicates her whole life to others, neglecting even her own health. What they have in common is that they are both caged. She is imprisoned in her body and with the limitations of her illness and he is literally in a prison. That's what makes their relationship so electrifying.
– This film is also a love story. Is that sentimental relationship based on reality?
– On this subject, we had different information. We got in touch with old acquaintances of Barbara Hug and some claimed that this relationship was something more than an attorney/client relationship but others deny it. But we found the version of the platonic love that had arisen between the two more attractive.
– What other elements of the film are fiction?
– 90% of what is described in the film is true. There are some other things that are doubtful, like his relationship with the RAF. It is known that in one of his escapes he was helped by a group of activists and there is a theory that they could be members of the RAF but this has not been confirmed. The rest does correspond to reality.
– How was the search for the main actors: Marie and Joel?
– It was a long road of many castings over two years. Initially my intention was to work with actors who were not known in Switzerland but in the end I ended up choosing two very popular actors simply because they were so much better. In fact, Joel Berger has already won several awards for his role.
– The film portrays the revolts of those young people who in the 80s fought for freedom and culture. Do you think that today's youth has become much more conformist?
– Until recently I would have said yes. But right now, with the Fridays For Future movement, it seems that a new youth is being born that does understand that going out into the streets can move something. The lethargy of the 90s and the first years of the 20th century seems to be leaving behind.
– The 80's in Spain are remembered with great nostalgia. How do the Swiss look towards the 1980s?
– Young people today are practically unaware of what happened in the 80s. There was almost a state of war in Zurich. The city was like a drug headquarters and the repression by the police was corresponding. My film has caused a lot of surprise and a lot of excitement among young people because they have now learned a story that had been practically forgotten.
– You were very young at the time this story takes place. To what extent have you relied on your own memories?
– I have many memories because my mother was very militant in her youth and took me and my brother to the demonstrations. And later, as a teenager, I too was one of those young people who idealized Walter Stürm as a freedom fighter.
– Your filmography is full of punk and irreverent comedies, but this film is something very different. Is 'Caged Birds' going to mark a before and after in your career?
– I think so, that I have reached a turning point. Although I love comedies, I think I've done enough and actually feel much more comfortable in drama. Age plays an important role in that but also the time in which we have lived. We live so many crises that it is more difficult to think of making a comedy.
– The film stands out a lot for its photography and its production design. What were your references when creating the look of the film?
– To make this film, I have devoted myself above all to watching old films. For example, from Kieslowski. And, in general, Polish independent cinema. Our goal was to bring the audience into that '80s vibe. We've done a lot of work with telephoto lenses, to be able to get really close to the characters and to be able to show them all as if they were somehow locked up. You wanted to create the impression that the whole of Switzerland was a prison at the time.
– There is a part of the film that was shot in Spain…
– Yes, in Almeria. Walter took refuge several times in La Gomera, where he was welcomed by a 'hippie' group. But, for practical and also aesthetic reasons, we prefer to shoot in Almería.
– 'Pájaros enjaulados' has had a great international tour, being screened and awarded at several festivals. Did you expect the reception to be so good?
– We had that hope because my goal in writing the script was to tell a story that would be interesting not only in Switzerland but also beyond our borders.
– The film can be understood as a hymn to freedom. Was that the message you wanted to convey?
– My intention is not so much to convey a message to the viewer but rather to formulate questions for them to ask themselves: What is freedom? Who can give it to you? Can you get it by yourself? Those are the concerns that I am interested in unleashing.
'Caged Birds' hits Spanish cinemas on January 14.
Reference-www.abc.es