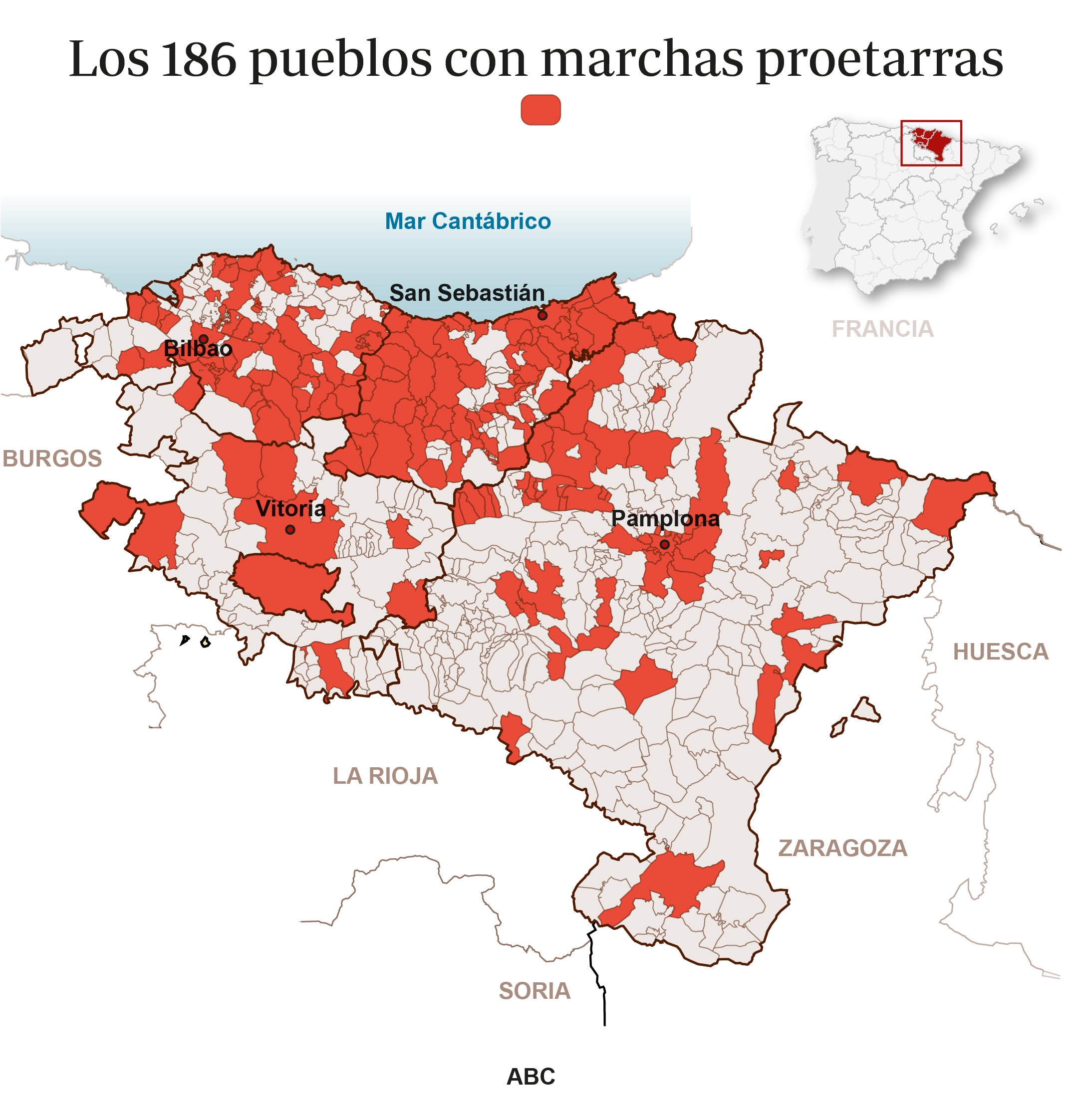 Thousands of protesters close in Pamplona a day of 200 acts in favor of the prisoners
Bilbao
Updated:
Keep

The pandemic prevented yesterday for the second consecutive year from organizing the large demonstration in favor of the ETA prisoners in Bilbao that every beginning of the year the nationalist left served to show muscle and make a staging of political strength. In his place this year they had summoned almost 200 acts throughout the Basque and Navarrese geography in which the general trend was the absence of top-level political representatives.
The day ended late at night with a demonstration that went through the streets of downtown Pamplona. Without the presence of relevant politicians, thousands of people marched through the city center under the slogan "for coexistence, for peace, on the way home" and launched slogans in favor of the rapprochement of ETA prisoners.
In total, 62 rallies and demonstrations had been called in the Navarra Community of Navarra, including the one in Tudela, where approximately fifty people gathered in the town's Plaza San Jaime. The requests of the City Council to the Government delegation to prohibit the call were of little use, which eventually went off without incident.
That was the general trend also in the rest of the mobilizations planned in the Basque Country. At five in the afternoon, the same time that the Bilbao demonstration started, more than two thousand residents of San Sebastián also walked the streets of the city shouting "amnesty." Nerea Kortajarena, EH Bildu parliamentarian, and Juan Karlos Izagirre, spokesperson for the independence coalition in the General Councils of Guipúzcoa, joined a call that also included the participation of the historic abertzale Rafa Díez Usabiaga, former LAB general secretary.
Somewhat more early risers were the people from Vitoria. To try to avoid images of crowds, the mobilization was divided into three columns. After four in the afternoon each of them left a different area of ​​the city to converge on a final stretch to the center of the capital of Alava.
The claim in favor of ETA prisoners also reached the south of France. The self-styled artisans of peace, who in their day were in charge of staging the disarmament of ETA, had called a demonstration in the streets of the town of Bayonne early in the morning. For more than an hour, hundreds of people walked the streets of the city calling for the prisoners to approach, placing special emphasis on what seemed to be a direct allusion to Henri Parot, to those inmates who have been behind bars for more than 30 years.
Less concentrations
Outside the Basque capitals, the calls were limited to photographs of several dozen supporters with flags in favor of the approach of prisoners in the town squares. The Bildu environment thus obtained the 200 photos it was looking for with claims throughout the Basque geography. However, this year 29 concentrations have been called less than in 2021, despite the fact that it was also a year hit by the pandemic and in which there were still no vaccines.
Reference-www.abc.es