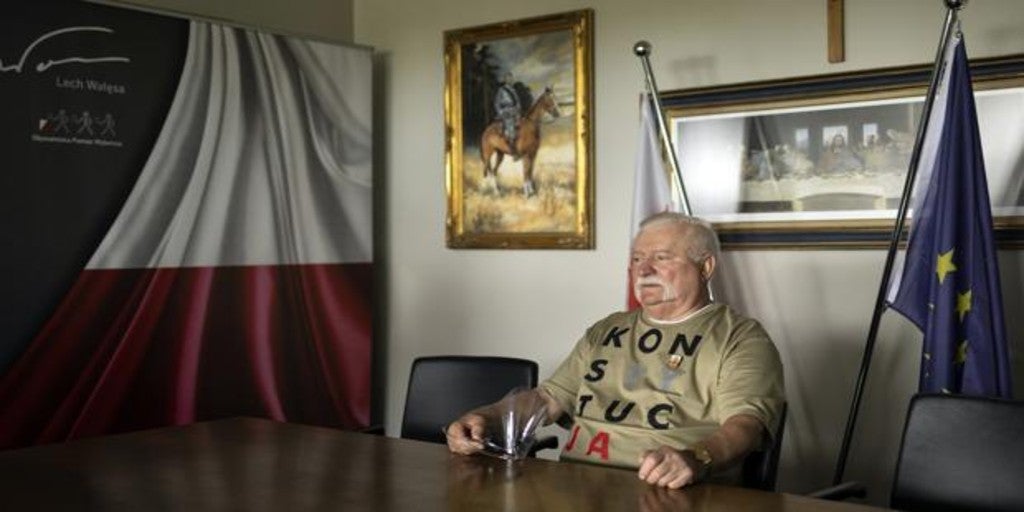 Lech Walesa: Nobel Peace Prize laureate and former Polish president looking for a job
The life of Lech Walesa (Popowo, 1943) is a stark poem about the recent history of Europe. Born during the Nazi occupation of Poland, the opponent grew up in the harshest postwar period and learned electricity before going to work at the Lenin shipyard in Gdansk, already in Soviet Poland. He married shortly after Danuta GolósThey had eight children and, while they were being born, he led a movement of resistance to communist totalitarianism from the Catholic union Solidarity which, unsurprisingly, ended up with him in prison in the early eighties. But his trajectory it is not so limpid and linear as it may seem at first glance. Throughout his political career, he has
He was accused of having collaborated in the 1970s with the Polish communist secret services and of having worked in the 1990s for Western intelligence under the code name Bolek.
A small pension
In 1993, Walesa received the Nobel Peace Prize and, after the fall of the Berlin Wall and during the first free elections, he was elected President of Poland, a position he held between 1990 and 1995. For that work, which undoubtedly marked Polish and European history, today receives a pension of 75 percent of what was his salary, which means about 1,280 euros per month. To this income must be added what he earns with his conferences, which he gives around the world, and with leadership and motivation courses taught mainly to companies. For them, he charges about 4,000 euros per session of about two hours, although he always admits some negotiation when setting the price and offers special rates for regular customers. In total and according to his own statements, he has been pocketing more than a million zlotys a year, about 232,000 euros, until the pandemic.
Once again swept away by a historical event, Walesa's life has taken an unexpected and dramatic turn. The Covid-19 forces him for almost two years to cancel so much the international conference circuit What continuous training courses in companies, two circumstances that have caused the former Polish president to have practically no income. "I had many trips and jobs planned, with appointments in Italy, Germany and the United States, but unfortunately all those trips had to be canceled," he confessed to the Polish media Super Express. "Now I am bankrupt because I receive only 6,000 zlotys from the monthly pension and my wife spends at least 7,000 a month."
To these difficulties, it is added that the Walesa couple did not make a great store of assets during the years of economic prosperity. "There were times when I had money, but then I spent it," says the former president about your failed financial strategy. Her lifestyle has never been particularly lavish, but she did travel casually to her international appointments, sparing no expense, and has helped all of her children settle down. This year, however, the former opponent has been forced to explain to the whole family that "at Christmas no one is going to receive gifts from me because there is nowhere [comprarlos]", As explained to the Polish television channel Polsatnews.
Those words moved the media, who have published interviews in which Walesa swaps roles and openly asks reporters if there would be a job for him in his newspapers. «I have had different jobs in my life. I am trained as an electrician, mechanic and trade unionist, as well as president ", he reviews his resume," so I have a wide range of possibilities, ranging from tractors to the internet. "
Various awards
Walesa does not mention that he received the Shalom Prize in 1983, the Pacem in Terris Prize in 2001, that he was awarded the Grand Cross of the Legion of Honor and made a Knight of the Grand Cross of the Order of the Bath, nor that in 1999 he He was awarded the Presidential Medal of Freedom, the highest civilian decoration in the United States. Nor does it review doctorates 'honoris causa' by universities around the world, the last in 2011 by the European University of Madrid.
«If I can't find something fast, I will beg at the door of the church», Walesa has come to declare. His wife does accept the help of her children under the table, but he refuses. At 77, he is keen to reinvent himself and has posted ads on the over 50 job search portal Flexi.pl, introducing himself as a 'seasoned leader, great speaker, Nobel Peace Prize winner , President of the Republic of Poland between 1990 and 1995 and co-founder and first president of Solidarnosc ». It is also offered to host "training meetings with leaders and companies, incentive courses and promotional services such as joint photos and autograph signing." Although he does not hide the seriousness of his economic situation, he also does not present it as a drama and recalls that it is not the first time he has sought employment since he left the Presidency.
The former Polish president Alexander Kwasniewski, who went to Walesa for advice to find something as soon as he left office, has spoken out on the case. "He started work right away and I needed to introduce myself to conference invitations or consulting opportunities. They have helped us a lot, because when we left the Presidency we didn't even have the pension and, from one day to the next, we did not have money to live, "said the politician," but we are not the only ones who are bad now, many others are also in difficult situations, so we have to grit our teeth and hope that this pandemic finally passes.
Reference-www.abc.es