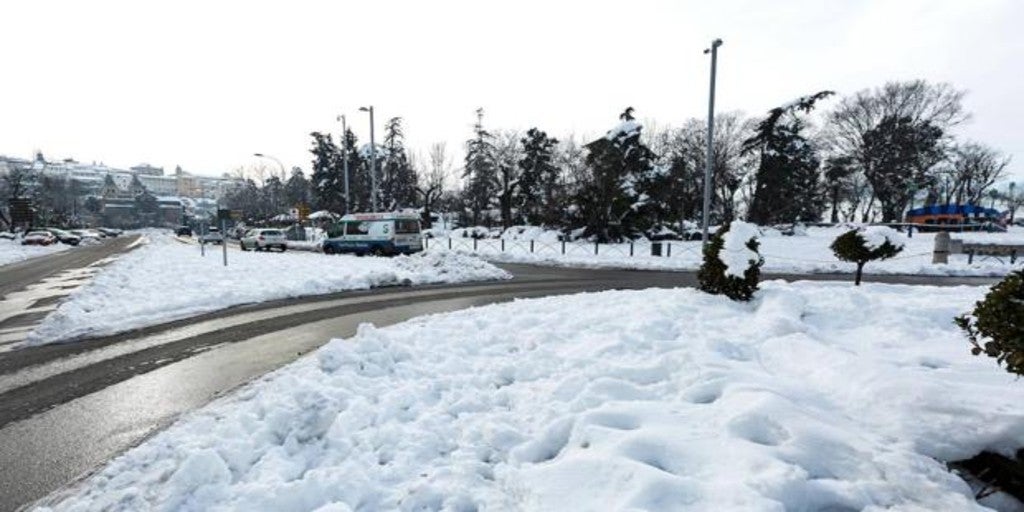 Present and future of the Toledo Paseo de La Vega
TOLEDO
Updated:
Keep

On these dates it is fulfilled one year in which the mottled storm Filomena, with the most lethal of its icy and destructive fury, it raged on all the vegetation of parks and gardens, both public and private, of our city and its surroundings. Without an iota of exaggeration his devastating effects, especially on the trees, were described as a real unprecedented natural catastrophe.
After a few months and with great difficulty, the irreducible force of the sap, stimulated by a later more benign spring, seems to wants to open up to new life in the sapling on old trunks of some olives, in the reborn bud of certain palm trees and in the regrowth of oleanders and laurels.
But from such a calamitous experience of which, like almost everything, climate change must be to blame, it seemed to me that we can take advantage of something positive, applying that that there is no evil that for good does not come.
And it would come to mind in the specific case – unfortunately not the only one but one of the most significant – of the unfortunate state in which almost the entire wooded stratum of Paseo de La Vega remained at that time last January, especially the species of An evergreen that had to bear the full weight of the heavy snow for many days, which without liquefying became an unbearable load of ice.
And it is that with such a deplorable motive, Filomena, with its disastrous effects, will force – I suppose – that in this green space, the closest and most relevant to the immediate surroundings of the city, a replacement and recovery or improvement of a large part of the plant structure be carried out del Paseo that should have been addressed for a long time.
In effect, we receive the happy announcement of an ambitious municipal project destined to undertake such an essential action. Although so untimely and forced by the painful circumstance of the storm, this initiative of our City Council is welcome.
The landscaping and consolidation of La Vega as a peri-urban park for public use dates from nothing less than the first years of the second half of the 19th century. With that reference to the beginning and end dates of the works of its execution, between 1866 and 1871, we can conclude that precisely in these days of such dire circumstances in national life – let us quote, for not listing others, pandemic and Filomena – the Paseo de La Vega turns a century and a half of life. To commemorate the anniversary now, worst impossible moment.
It can also be concluded, therefore, that that same age must have most of the trees that have survived to this day. If only for this data of strict chronology, apart from neglect and defects or simple lack of necessary and good maintenance practices throughout this long period of his life, it is evident that we find a green space which for the most part can be described as expired and aged.
This objective reality of the longevity of the park's trees, a circumstance now aggravated by the deformation of the stem and crown of many permanent leaf specimens, must force a large number of them to a sadly essential felling. This is the case of some units that no longer respond to their initial strictly ornamental purpose and that, due to their deterioration, detract from the whole.
Along with others of its kind that resisted the stake with greater or lesser fortune and should be conserved, it is worth mentioning the unfortunate example of some high-rise cedars that have lost their terminal guide or that of the beautiful conical bearing and dense vegetation that they had in their primitive plantation hardly remains a squalid unsightly presence.
The same could be said of most of the huge Aleppo pines in the rose garden area. In a commendable attempt at probable recovery or to avoid breakdowns with the risk of accidents, a very severe pruning of dry or very deteriorated branches has been carried out. Unfortunately, and given the impossibility of this species to produce new shoots or shoots in the trunk and in the main branches, its inexorable end will have to be that of the tala inevitable, lest we resign ourselves to contemplating the almost skeletal bearing of their unkempt glasses.
But this diagnosis of a good part of the wooded coverage of the Paseo that will force its felling and, consequently, its replacement by other specimens of the same or different species, should perhaps lead us to a more radical rethinking of its renewal.
Since those distant dates of the construction of the Park as such for its use and public enjoyment, the change of uses and social customs has been very important and substantial, which surely were taken into account and then conditioned its design and the distribution of its surface in walks, squares and flowerbeds.
Today, a social demand of this kind of green areas, when not simply decayed, has been largely replaced by small neighborhood gardens, by plots of second residence with their own vegetation or simply by the ease of movement, both in public transport and in private vehicles, to peri-urban parks, (La Bastida , the pine groves on the Madrid road, La Fuente del Moro, La Senda Ecológica…).
In reality, this radical change in social use would lead us to admit that the current function of this type of park is, almost exclusively, its environmental role as green lungs and, thanks to its photosynthesis, as carbon sinking agents, aspects of its utility that are not negligible in a city like ours that does not have abundant vegetation coverage in its environment.
Consequently, we would be facing a project whose main idea would consist of assuming the changes in social use that have occurred on this kind of spaces and their consequent repercussions on the new layouts. It should be noted in our case that the idea of ​​a design that zoned a large part of the space in flowerbeds of geometric shapes and lines responded to the concept of visual contemplation of this type of plant symmetries, closely linked to the simple rest room or the activity of take a walk. The name "walk", which has prevailed over the park, is eloquent enough.
Thus, on the basis of respecting the primitive structure of the Paseo articulated in its longitudinal axes of immediate reference – the wall of the Puerta de Bisagra / Hospital de Tavera – we could therefore speak of a renewed arrangement of its surface in accordance with certain new uses of the same. It would try to maintain the alignments of Plátanos in the central walk and of Tilos in the walk of the Casita de Corcho, in addition to preserving the limited number of specimens of other species that, due to their good vegetative conditions, deserve to be incorporated into the new spatial planning. .
For the rest, this updated zoning of the Paseo could be compatible with safeguarding some landscaped areas that, while still preserving an acceptable state and an estimable aesthetic value, could be transition elements between two well-differentiated stages of the park: that of its initial creation and that of the current renovation.
Of course, almost all the deciduous specimens of those two species mentioned –Platanos and Tilos–, due to their extraordinary value, should go on to join a list of «trees of special protection» on which any action, (pruning, anti-pest treatments , etc.) should be subject to highly specialized technical management.
This transformation of Paseo de la Vega, thus adapted to new uses of space more in line with current demand and a more lively, functional and dynamic conception of them, it could incorporate other aspects of its public utility.
Simply by way of example, and even taking into account that the limited area of ​​the space will not allow large developments, elements of sports or recreational practice could be mentioned (running circuits, skating and cycling tracks, children's play areas) , or areas of cultural expressions, such as small portable stages for theatrical performances, literary or musical initiatives, (Storytelling, puppet, local musical groups, Voix Vives Poetry, etc.)
This proposal would logically save, in addition to the specimens of the set of trees already mentioned, the areas that occupy the kiosks and terraces that have been in regular use and one of the most popular popular attractions by the population, as well as the one destined to the A very desirable return to the Park of the Fairs and Patron Saint Festivities of August and that, as a failed initiative, in bad hour they moved to the La Peraleda site. Of course, a respectful return to the Park as a whole and less thunderous in terms of decibels from loudspeakers and speakers.
That surface of the Paseo reserved for that use that was traditional could also be used for sporadic and very transitory commercial or cultural events, such as Farcama, medieval markets, outdoor artistic exhibitions, Book Fair, etc.
In the same way and also as a mere suggestion, some areas of this new distribution could be a grove or mini-botanical garden, mainly for educational purposes, in which the most representative native species of the flora of the environment are planted as a didactic sample. from the city, (Cigarrales, Riberas del Tajo, La Sisla, San Bernardo …), some small pond or aquariums with the fish fauna that was typical of the Tagus as it passed through Toledo or an ornithological enclosure to house some representative species of birdlife from the banks of the River themselves.
If it is not decided to remove them definitively due to their deplorable appearance, perhaps it was also the occasion to restore the statues of the Gothic and medieval kings, (Wamba, Alfonso VII, Alfonso VIII), who arrived in Toledo from the Royal Palace of Madrid, on initiative joint of Archbishop Lorenzana and the distinguished historian and academic Don Antonio Ponz. On its pedestals located in the central promenade, the brief biographical reviews of the monarchs are barely legible and their state of regrettable deterioration detracts from any prestige of the space with a minimum of dignity,
Logically, to anticipate any biased or misinformed criticism, a public and highly educational campaign prior to the performances, explaining the project and its benefits, would be very convenient.
A large part of that task would be to promote public awareness. Informed that the transforming process would be carried out in a progressive and staggered manner over time, it would be very necessary to have knowledge that in the first phases of it, the Paseo, devoid of a good part of its uppermost wooded level and of the most deteriorated shrub or of less ornamental quality, it would present a somewhat desolate appearance for a certain time.
It would be the moment to remember the promoters and designers of the primitive design, the mayors don Gaspar Diaz de Labandero, don Juan Antonio Gallardo, and the architect don Mariano López Sánchez, who at that time a century and a half ago, on an almost bare surface of all vegetation, placed their enthusiasm on the idea of ​​working on a project whose horizon was that medium and long term that to all subsequent generations, including us, it has reached us to enjoy him in our days.
Perhaps, out of a terrible paradox, Filomena has become the undesirable trigger that now stimulates us to take over from that initial enthusiasm for actions in the present projected into the future.
Reference-www.abc.es